Beachbody Results: Laura Lost 61 Pounds and Won $1,000!
Laura Rasmussen, age 48, lost 61 lbs with 21 Day Fix, Shakeology, and other Beachbody programs. She entered her results into Beachbody Challenge and won $1,000!
Tell us about your life before you started the program. How did you feel about yourself and your body?
After a difficult divorce, I was depressed and hopeless. I was barely surviving on sugar, caffeine, and ibuprofen. I was sick, exhausted, and miserable. Around Christmas of 2015, the scale hit 190, and I couldn't see any way of keeping it from hitting 200. I had the realization that there wasn't any appreciable difference between 190 and 200. I tried to work on it on my own. After all, I had done just about every weight loss method out there. I also was going to counseling and tried anti-depressant medication. The meds didn't work for me. (I have no problem with other people using them. They just didn't help me.) By February I still weighed 186 and was not feeling successful. I really hadn't made any healthy changes.
What inspired you to change your life and begin your transformation journey?
Valentines Day was coming up and I was alone. I couldn't even fathom trying to start a relationship in my physical or emotional condition. I knew I needed to work on myself before I could be a good partner to anyone else. I was just at a breaking point where I couldn't stand being where I was, and I have three kids, so quitting is not an option. I knew one of my former students had recommended Beachbody and that her mom was a Coach. I occasionally saw her posts on Facebook through mutual friends, and I decided that I knew her just well enough to reach out but not so well that it was embarrassing. So I messaged her on Facebook and asked if there was a Beachbody option that might work for someone in my pitiful state. She immediately responded positively with such encouragement that I took the chance.
What is the greatest challenge you faced before beginning the program? How did the program and Beachbody® help you overcome that challenge?
My depression and anxiety continue to be my biggest challenges. Years of damage don't disappear overnight. Beachbody has helped significantly by breaking my addiction to processed foods and soda. I was having two diet sodas before lunch every day and eating from fast food drive thrus whenever my kids were at their dad's. Once I started 21 Day Fix and the caffeine and sugar fog left my brain, I was able to think more clearly and make better decisions, not only about food, but also in life. I am able to step back easier and look at situations more rationally. My life is still has similar stresses as before, but I am better able to cope with those stresses since I am coming from a position of strength instead of sickness. My Beachbody Coach has been a great source of support. I have truly not been tempted to quit. Even though I feel good about my weight, I still have conditioning goals I will strive to meet.
What in particular did you like about the program you chose?
I liked the simplicity of knowing what kinds of foods I should eat and in what amounts. I liked being confident that 21 Day Fix was a sensible program of healthy choices. The nutrition made me feel so much better that I felt able to try the exercise program. The DVD had enough variety to it that I didn't get bored and the modifications were do-able. The whole system just met me where I was. I didn't feel judged or overwhelmed, even though I was so far behind everyone else and so far away from where I wanted to be. Even though I felt like crap, this encouraged me and my Coach supported me. I wasn't sure what results I would get or where I would end up, but I was satisfied knowing that I would be healthier than before, whatever that would look like. I never dreamed I could lose 60 pounds.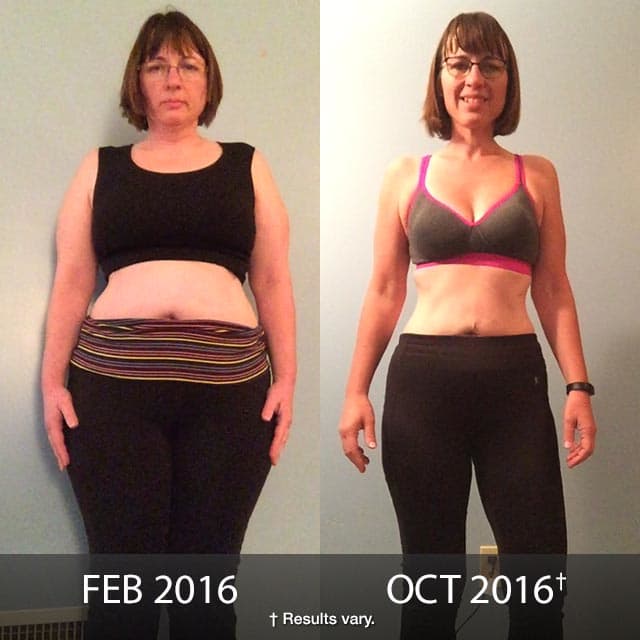 Describe the results you achieved with your Beachbody program. Which achievements are you proud of?
I have lost 60 pounds and have gone from a size 18 to a comfortable size 8 – even a 6 in skirts & dresses. I can walk up stairs without huffing and puffing. I realized recently while carrying a 40-pound bag of softener salt to the water softener that I used to wheel those bags over on a cart. Now I can carry them, and I've lost the equivalent of one and a half of those bags. I teach high school, and my former students hardly recognize me. Two of my coworkers have started their own weight loss journey (though with a different method) and have each lost about 10 pounds so far. I'm very happy about my transformed appearance, and I'm even happier about my improved health.
How has your life changed since completing your Beachbody program?
I have done 12 rounds of 21 Day Fix, and I don't even really consider it to be work anymore. I continue to track my food because that works for me. I exercise at the Y now as a regular priority and enjoy meeting new friends in the community there. My diet has totally changed. I rarely get fast food and am able to try for healthy options when I do end up at a restaurant. The trash I used to eat still smells wonderful, but on the rare occasions that I actually eat any of it, it never tastes that good, and it makes me feel terrible. I physically feel stronger and also feel mentally and emotionally clearer. I continue to deal with depression and anxiety, but from a position of hope instead of failure. I have not attempted to find a romantic relationship, but I am okay with that and rest in the confidence that the right situation will come along when I am ready.
How did participating in a Challenge Group help you reach your goals? How did your group support you and keep you accountable?
Just seeing the variety of workouts that others were doing and seeing their dedication was inspiring and helped me find the motivation to keep going. I was not a regular in posting to the group, and I regret that. I felt as though I was behind and didn't really have anything of value to contribute – not because of anyone else making me feel that way but just because of my own issues. The few times I did post, others were very supportive even though they don't really know me.
How did your Team Beachbody® Coach support you on your journey?
Aurora is wonderful and has a great way of sharing genuine encouragement and solid nutritional advice. She helps me see small steps of success to build on and points me toward the next goals. She encouraged me to post with the group but also ministered to me through individual Facebook messages when I needed privacy or wasn't feeling confident. I appreciate the time and energy she has given to help me.
How did a Beachbody Supplement or Nutritional Product or Program (such as Shakeology® or Beachbody Ultimate Reset®) support your transformation? What are the greatest benefits you gained? Did you see benefits to your energy, sleep, mood/mental clarity, digestion/regularity?
I used Shakeology a few times a week through my first few rounds. I definitely benefited in the digestion/regularity aspect. Without being too graphic, I had painful constipation issues for years, and once I started clean eating and using Shakeology, my problems disappeared within 2 weeks.2 Continuing on the program has kept me healthy in that regard and has been a great improvement in my quality of life.
You can change your life, too. Take the Beachbody Challenge for the tools you need to Decide, Commit, and Succeed! Complete any Beachbody program, and enter your results for a free gift and a chance to win cash and prizes. What program are you committing to next?

†Results vary depending on starting point, goals, and effort.
2These statements have not been evaluated by the Food and Drug Administration. This product is not intended to diagnose, treat, cure, or prevent any disease.