Beachbody Results: Ken Dropped 7% Body Fat in 84 Days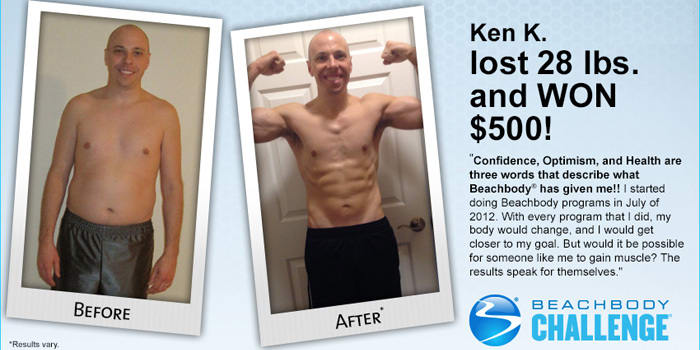 †Results vary depending on starting point and effort. Ken is an Independent Team Beachbody Coach.
Ken Kunke dropped 7% body fat in 84 days. He entered his results into The Beachbody Challenge and won the $500 Daily Prize for December 18th!
Tell us about your life before you started the program. How did you feel about yourself and your body?
Five and a half years ago, my first daughter was born and my workouts stopped completely. At first, it wasn't a big deal, but after all of that inactivity my weight just kept getting higher. I knew that working out should be a priority but between working 10 to 11 hours a day (and enjoying my family) it was put on the back-burner. The whole time I was still paying for a gym membership but wasn't going at all. I felt terrible. My pants didn't fit and as I was walking past the mirror and wouldn't even look at it. I remember when my wife took my first "before" pictures. She handed me the camera. I could barely look at the pictures. I was disgusted.
What inspired you to change your life and begin your transformation journey?
I kept seeing a few of my friends commenting on Facebook that they were coming to Las Vegas (where I live) for a conference. After doing some research I realized it was for Beachbody. I had watched them but never thought about doing it myself. My wife and I ended up meeting up with one of our friends that was here for the conference. After talking with him he inspired us to just "try" a program. We decided on Power 90 (because my wife had bought it years earlier and it was in the closet). I was going to take two weeks to just "get ready" for it, but my wife talked me into starting it the next day. Wow, I just went from thinking about working out to actually doing it within 24 hours.
What is the greatest challenge you faced before beginning the program? How did the program and Beachbody® help you overcome that challenge?
My biggest challenge was finding the time to work out. I consider my schedule packed. My wife and I work opposite so we never have a day off together unless we take vacation. Our shifts are 10-11 hours plus driving time. Whoever is off takes care of our two daughters, ages 4 years and 1. Neither of them go to school yet and the only time we use babysitters is when we have a doctors appointment to go to. So, time was my biggest issue. With the Beachbody programs we get to stay in our own home to work out and we can do the programs while the girls are sleeping. What has worked out best for us is getting up at 5:30am and completing the workouts before the girls get up and then one of us is off to work.
Describe the results you achieved with your Beachbody program. Which achievements are you proud of?
I had already lost 28 pounds and 7.5 inches in my waist by doing the programs. But I always told myself that I didn't have the genetics to be able to gain muscle. So when I decided to do Body Beast I decided to follow the program exactly. The nutrition, the supplements, and the workouts. For 84 days I didn't cheat once. It was an accomplishment that I didn't think that I could do. The results speak for themselves. To lose over 7% of body fat in 84 days is something people dream of doing. I loved the program!!
How has your life changed since completing your Beachbody program?
I feel great and can't wait to start my next Beachbody program. My wife and I have a list of the programs that we want to complete. I think we have our next two years planned out. Confidence, Optimism, and Health are three words that describe what Beachbody has given me! One thing that I think is different about me is that the only workouts I get are Beachbody. No gym, no hiking, no manual labor at work. Beachbody is responsible for all of this. My journey: Power 90, P90X, INSANITY, Ultimate Reset, Focus T25, P90X3, and Body Beast.
You can change your life, too. Take the Beachbody Challenge, for the ultimate motivation to get fit! Select any Beachbody program and once you complete it, share your results for your chance to win cash and prizes.