Beachbody Results: Josh Lost 92 Pounds in Eight Months!
Joshua Murphy lost 92 lbs. in eight months with 21 Day Fix, The Master's Hammer and Chisel, 22 Minute Hard Corps, 21 Day Fix EXTREME, and the Beachbody Performance supplements. He entered his results into the Beachbody Challenge, and won the $500 Daily Prize for November 22nd!
Tell us about your life before you started the program. How did you feel about yourself and your body?
As you all may know by now, I believe in being healthy and fit. As I child into my teen years, I played high level soccer and not only enjoyed it, I also excelled! For years, I had let myself go and was not fully committed with my fitness. This resulted in my weight fluctuating. The past few months I have given the Beachbody programs 21 Day Fix, The Master's Hammer and Chisel, and 22 Minute Hard Corps a shot. I was surprised at how these workouts pushed me past my limits, taking me out of my comfort zone! "Guys don't follow workout DVDs" were my thoughts. My beautiful wife, Sonia Char, was already part of Beachbody on her own journey, and seeing her results and the energy she had made me curious to start as well. My own routines were nothing compared to these workouts. Bam Bam (lol), 22 Minute Hard Corps, Get Some! As of today, I just finished 21 Day Fix EXTREME. Wow I loved it. I started it at 183 pounds and finished the program at 175. Bam Bam! I loved it.
What inspired you to change your life and begin your transformation journey?
My wife and Coach, Sonia.
What is the greatest challenge you faced before beginning the program? How did the program and Beachbody help you overcome that challenge?
Eating junk food. I love the containers. They really helped me out big time, and they really work.
What in particular did you like about the program you chose?
I love working out with Autumn. She pushes me so hard, and she gets me my best results. Next up: Country Heat.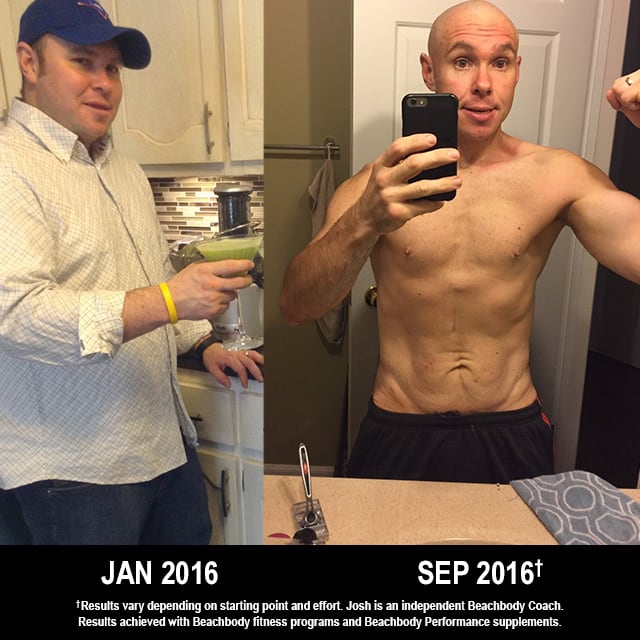 Describe the results you achieved with your Beachbody program. Which achievements are you proud of?
Overall, I went from 267 pounds down to 175, and got toned in places I didn't know I could. I am proud of doing every workout in order and doing the whole program day in and day out without missing one, with no junk food. I am more confident and positive with everything in life. It was really life-changing.
How did participating in a Challenge Group help you reach your goals? How did your group support you and keep you accountable?
It kept me on track for eating, and I posted my workout pics every day. It kept me accountable.
How did your Team Beachbody Coach support you on your journey?
She would check in on me twice a week and ask how I was doing. She would answer any questions I had, pushed me on the days I didn't want to work out, and gave great love and support.
How did a Beachbody supplement, nutritional product, or program (such as Shakeology or Beachbody Ultimate Reset) support your transformation? What are the greatest benefits you gained? Did you see benefits to your energy, sleep, mood/mental clarity, or digestion/regularity?
I love that Shakeology gave me energy.2 I tried the Energize and Recover, and loved it.
How did a Beachbody supplement, nutritional product, or program affect any existing health conditions you have?
I just felt better overall.
You can change your life, too. Take the Beachbody Challenge for the tools you need to Decide, Commit, and Succeed! Complete any Beachbody program, and enter your results for a free gift and a chance to win cash and prizes. What program are you committing to next?

†Results vary depending on starting point and effort.
2These statements have not been evaluated by the Food and Drug Administration. This product is not intended to diagnose, treat, cure, or prevent any disease.