Beachbody Results: Jessica Lost 50 Pounds and Won $6,000!
Jessica Biddle, age 32, lost 50 lbs with 21 Day Fix EXTREME, The Master's Hammer and Chisel, Shakeology, and the Beachbody Performance supplements. She entered her results into The Beachbody Challenge and won $6,000!
Tell us about your life before you started the program. How did you feel about yourself and your body?
I am a 32 year old wife, mom, and NICU RN, and I have had a lifelong battle with my weight. When I was 10 years old, I was put on a medication that caused me to gain 40lbs and ever since then, I have struggled to get fit until now. I have tried many diets in the past, and I would always gain the weight back and then some. In the past 2 years, I got married, had a baby, and moved! My health was definitely put on the back burner and it showed! I was in the worst shape of my life and my diet was awful, I needed to change!
What inspired you to change your life and begin your transformation journey?
I was in the worst shape of my life in November 2015. I hadn't lost any of the baby weight. My diet was awful and I felt awful. I needed to change. We were coming into another holiday season, and I just did not want to go through the holidays feeling embarrassed to be in pictures and uncomfortable around friends and family because of my weight. My friend was starting a Challenge Group after Thanksgiving and it was just what I needed to begin my Transformation Journey and go after a life long goal of becoming super fit!
What is the greatest challenge you faced before beginning the program? How did the program and Beachbody® help you overcome that challenge?
As a wife, nurse, and mom of a busy toddler, I was worried I wouldn't be able to find the time to workout and follow a meal plan. However, Beachbody gives you so many tools to succeed! The 21 Day Fix EXTREME Meal Plan was easy to follow and required minimal meal prep for me as a mom on the go! My toddler never sits still but I can always get my workout in because of Beachbody on demand. It allows me to workout anywhere with my iPad or iPhone. I use it practically everyday! The MyChallenge App has also been another key to my success. I love tracking my workouts, my progress, and staying connected to my challenge group. It motivates me everyday!
What in particular did you like about the program you chose?
I loved 21 Day Fix EXTREME because of the workouts and the meal plan. I always struggled with eating a balanced diet. With 21 Day Fix EXTREME, everything is laid out for you. It is easy to follow, there are so many great recipes to try. I never felt deprived and it was easy to fit it into my life as a busy mom on the go! With a busy toddler, I don't have time to cook. The 21 Day Fix EXTREME meal plan gives you so many options to throw together a quick, healthy meal in a flash! Shakeology has also been a huge part of my success. It has curbed my cravings and gives me tons of energy! I have loved the workouts. I look forward to my workouts everyday. Autumn is so motivating! They are challenging but SO effective. My body has transformed in just 30 minutes a day in the comfort of my own home! With a toddler, I don't have the time or the desire to go to the gym. Beachbody has really simplified everything for you so that anyone can fit these programs into their life!
Describe the results you achieved with your Beachbody program. Which achievements are you proud of?
After completing, 6 rounds of 21 Day Fix EXTREME and 2 rounds of The Master's Hammer and Chisel, I couldn't be more thrilled with the results! I am in the best shape of my life! I have lost 50 lbs, and have accomplished a life long goal of becoming super fit! This has been a number one goal of mine since middle school and to have finally accomplished it now, it feels amazing. I have struggled with my weight for so long and it feels incredible to have finally won that battle. I never thought that I would be in the best shape of my life after having a baby but I am, and I am so proud of how far I have come. Beachbody has taught me how to live a healthy lifestyle that easily fits into my life as a wife, mom, and NICU RN!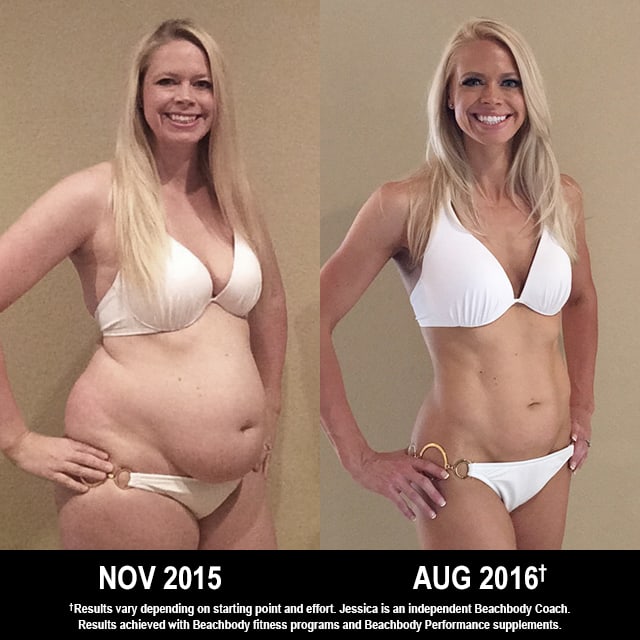 How has your life changed since completing your Beachbody program?
My life is amazing now! I am strong, fit, happy, and healthy! I have tons of energy to chase after my toddler. I can wear whatever I want. I no longer go into my closet and think, "Nothing fits, I have nothing to wear"! It is so great! I am setting goals and going after my dreams! I am so excited for what my future holds. And I am excited to keep going on this journey. I am excited to keep pushing play everyday and to continue to live the Beachbody lifestyle!
How did participating in a Challenge Group help you reach your goals? How did your group support you and keep you accountable?
Being in a Challenge Group was so motivating! It was inspiring to see everyone's progress and it held me accountable! I absolutely love the new MyChallenge App. It is so easy to use and has so many great features that have helped me on my path to success. I love tracking my workouts and my daily Shakeology, and it keeps me connected to everyone in my Challenge Group. It is the ultimate fitness tracker!
How did your Team Beachbody® Coach support you on your journey?
Alyssa was so motivational! She was just an email, text, or phone call away if I needed anything. She is a great Coach!
How did a Beachbody Supplement or Nutritional Product or Program (such as Shakeology® or Beachbody Ultimate Reset®) support your transformation? What are the greatest benefits you gained? Did you see benefits to your energy, sleep, mood/mental clarity, digestion/regularity?
Shakeology has been a key part of my transformation! I can't live without it! It curbs my cravings, gives me energy, keeps me regular, and just makes me feel great! All of the flavors taste amazing but my favorite is chocolate. I don't feel deprived because I can have Shakeology everyday! I have saved so much money because I am no longer going through drive-thru in search of that afternoon pick me up. I don't need to anymore because Shakeology gives me energy all day long! I also love drinking Beachbody Performance Energize before I workout! It helps me excel in every workout and push harder than I thought was possible!
How did a Beachbody Supplement or Nutritional Product or Program affect any existing health conditions you have?
I have hypothyroidism and that can make it more difficult to lose weight. I know Shakeology helped me lose more weight than if I had not been drinking it at all.2
Did you achieve any other measurable improvements with a Beachbody Supplement or Nutritional Product or Program? (e.g. Blood Pressure, Blood Sugar, triglycerides, etc…)
My resting pulse when I started this program was 78. Now, it's around 60 bpm! I am truly in the best shape of my life!
You can change your life, too. Take the Beachbody Challenge for the tools you need to Decide, Commit, and Succeed! Complete any Beachbody program, and enter your results for a free gift and a chance to win cash and prizes. What program are you committing to next?

†Results vary depending on starting point, goals, and effort.
2These statements have not been evaluated by the Food and Drug Administration. This product is not intended to diagnose, treat, cure, or prevent any disease.