Beachbody Results: Howard Lost 51 Pounds with Beachbody, Shakeology, and Beachbody Performance!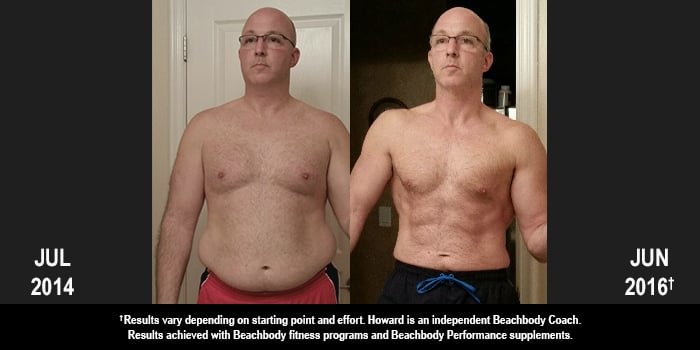 Howard Daniels, age 50, lost 51 lbs with Beachbody fitness programs, Shakeology, and the Beachbody Performance supplements. He entered his results into The Beachbody Challenge and won $2,000!
Tell us about your life before you started the program. How did you feel about yourself and your body?
I was killing myself. I was working two jobs, spending nearly 20 hours a week on the road, eating jelly beans to get a sugar rush to stay awake, sleeping in my car, and eating cafeteria food loaded with salt. I would sit on the couch and eat a quart of ice cream no problem. I would get out of breath drying off from a shower. I was on a downhill spiral, and I looked and felt like crap.
What inspired you to change your life and begin your transformation journey?
At 240 pounds, I had some health issues. I realized I had to make a change, since I was closing in on 50 years old. I found a new job, which freed up my time. My family had gone away for the summer, and I had the house to myself, and a freed up schedule, so I dusted off my P90X and got to work. It was not easy at all, but I kept pushing play and taking pictures. As I saw and felt the changes, I began to get more motivated. Nearly 2 years, and over 50 pounds less, I live to workout everyday and to inspire others that want to improve their health and fitness.
What is the greatest challenge you faced before beginning the program? How did the program and Beachbody® help you overcome that challenge?
Nutrition was the biggest challenge. Not that I couldn't make the necessary changes, but I really had to learn and scrutinize what I was eating. I realized how bad most of the food is on the market. The program taught me the right balance of macronutrients, calories, and to eat clean.
What in particular did you like about the program you chose?
I liked the progression and the variety. I also like that you don't need a lot of equipment. Simple moves done at a quick pace, burned a lot of calories, got the heart rate up, and didn't take up a lot of my day.
Describe the results you achieved with your Beachbody program. Which achievements are you proud of?
I have lost over 50 pounds and about 10 inches overall. I went from a 41 waist to a 33. I can get through all my workouts in pace with the trainers. I just feel great and I love the way I look. My biggest improvements are pull-ups and abdominal muscles.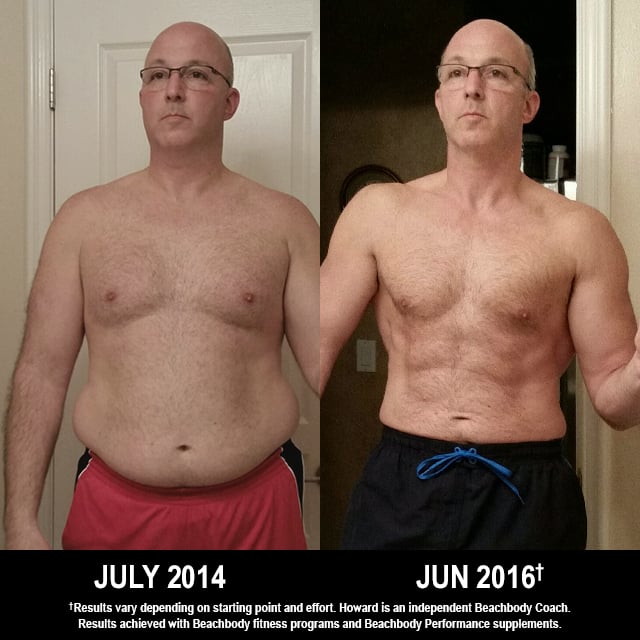 How has your life changed since completing your Beachbody program?
I feel great, and I have become obsessed with health and fitness. I look forward to my workout every day, and I love discussing it with others when they see my results. I have become so aware of the food that is out there on the market, and I have learned to stay away from most of it. I truly don't miss it anymore because I have worked to hard to get to where I am now.
How did participating in a Challenge Group help you reach your goals? How did your group support you and keep you accountable?
It helped keep me accountable. I knew that I would be cheating myself, and be untruthful, if I didn't complete and share my progress and challenges with others. I feel like I would let myself, and them, down if I didn't walk the walk.
How did your Team Beachbody® Coach support you on your journey?
She really motivated me to succeed. She got me involved in becoming a Coach, which led me to run my own Challenge Groups, which held me even more accountable. Also, by becoming a Coach, I stepped up the product involvement by using Shakeology, Energize, and Recover daily, so that I can test the results and discuss it with my Coach, challengers, and teammates.
How did a Beachbody Supplement or Nutritional Product or Program (such as Shakeology® or Beachbody Ultimate Reset®) support your transformation? What are the greatest benefits you gained? Did you see benefits to your energy, sleep, mood/mental clarity, digestion/regularity?
I have been using Shakeology, Energize and Recover daily. Shakeology really allowed me to speed my weight loss, since I am able to decrease my calories and still have the energy to work out. It comes out to the same price as my regular lunch would cost, but it fills me up with quality ingredients that I couldn't possible prepare for myself daily. The Energize gives me just the right amount of boost to get through my workouts without the jitters, and I absolutely love Recover both Chocolate and Orange and I have even mixed them 50/50 and that tastes great. I have researched many post workout options and I feel this is the best combination of Protein and BCAA's without overloading on carbs and sugar. I have had no injuries or even soreness and I am able to push myself hard 6 days a week and I am 50 years old.
How did a Beachbody Supplement or Nutritional Product or Program affect any existing health conditions you have?
I haven't had blood work done since using any of Beachbody's supplements, but I am regular and sleep great. I will know more in December when I go for my annual exam on how my cholesterol and glucose levels are.
You can change your life, too. Take the Beachbody Challenge for the tools you need to Decide, Commit, and Succeed! Complete any Beachbody program, and enter your results for a free gift and a chance to win cash and prizes.

†Results vary depending on starting point, goals, and effort.