Beachbody Results: Find Out How This Mom Lost 33.2 Pounds and Won $500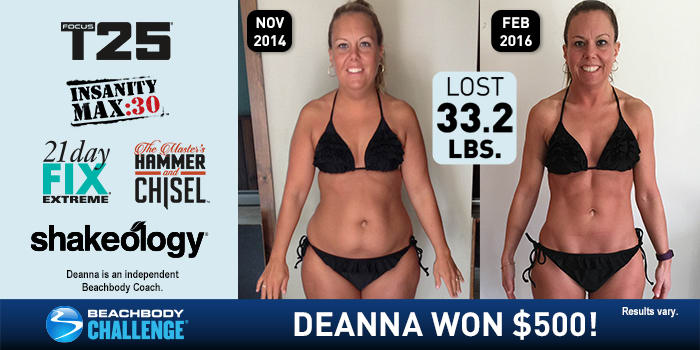 Deanna Simpson lost 33.2 lbs. with FOCUS T25, INSANITY MAX:30, 21 Day Fix EXTREME, and The Master's Hammer and Chisel. She entered her results into the Beachbody Challenge, and won the $500 Daily Prize for April 28th!
Tell us about your life before you started the program. How did you feel about yourself and your body?
I had my son at 20. I was thin and never worked out a day in my life, nor was I athletic. After having my son, I lost weight but never got back to my pre-pregnancy weight! Now, I'm 35 and over the past 15 years, life took over: another child, happy marriage, daily stress, you name it! I've been on a weight loss/gain roller coaster. I've tried several different workouts, gym passes, and food programs to lose weight! I struggle with depression and anxiety, and was on Zoloft for six years, which also has side effects of weight gain! Between 2013–June 2014, I slacked and fell off the wagon with all my attempts to lose weight. Inevitably, I was at my highest weight (besides pregnancy) by the end of June 2014! I had had enough.
What inspired you to change your life and begin your transformation journey?
My best friend was in a Challenge Group and was having good results. With loads of peer pressure and introducing me in person to Tara McCormick, seeing her results as well… I knew it was my turn! I want that to be me… I want amazing results, and I want to help others by being a product of the product! I'm so proud of how far I've come! It hasn't always been easy, but it's become a habit, a love, and my life! I can't imagine a day without a workout or Shakeology!
What is the greatest challenge you faced before beginning the program? How did the program and Beachbody help you overcome that challenge?
Every day there are challenges! My greatest challenges were being accountable and having the motivation to keep going every day! Beachbody helped me to overcome these challenges by providing Challenge Groups/accountability groups. I can't say enough great things about Challenge Groups! I have not missed one since July 2014 when I started, because these are what keep me crushing my goals! Without them, I would have fallen off the wagon long ago just like my history! I learned several times, between Challenge Groups (the one–two week breaks), that I can't do it alone! I love the friendships and motivation/inspiration I have received from all the people I've been in groups with! I couldn't do it without each and every one of the people I have met! We are human, and that's the reality! Every day is one step in front of the other, keep pushing and crushing, and do the best I can do with whatever each day throws at me.
What in particular did you like about the program you chose?
I love that it was intense and used my own body strength for the weight training.
Describe the results you achieved with your Beachbody program. Which achievements are you proud of?
Over the past 18 months, I've lost over 30 pounds and close to that in inches. I've gone from a size 14/15 pant to size two. I see muscle tone. I'm modifying so much less. I have more energy. I'm off my anti-depressantso. I no longer drink diet Mountain Dew, and I'm eating healthier. Even my not-so-good food choices are better! I'm more comfortable.
How has your life changed since completing your Beachbody program?
Working out is my life… It's a lifestyle change, a habit, and a hobby! I thrive on my daily workouts!
How did participating in a Challenge Group help you reach your goals? How did your group support you and keep you accountable?
Accountability, motivation from seeing other people working together on their journey, and inspiration from others' stories. The Group kept me accountable by needing to post daily about my workout and other related posts.
How did your Team Beachbody Coach support you on your journey?
She is always available to answer questions, comments, or concerns. She keeps the Challenge Groups going, and gives constant feedback. The Challenge Groups she hosts are the best, and I wouldn't have gotten this far without them.
How did a Beachbody supplement, nutritional product, or program (such as Shakeology or Beachbody Ultimate Reset) support your transformation? What are the greatest benefits you gained? Did you see benefits to your energy, sleep, mood/mental clarity, or digestion/regularity?
Shakeology has helped me to feel good, be healthier, and maintain when my healthy eating habits go astray. E&E gives me energy daily to push through my workouts and to face my stressful workday. It has helped me to refocus from exhaustion, and keeps me from food-binging at the end of the day when I need some comfort food. Activit provides me with vitamins I may not receive from my nutrition.
Did you achieve any other measurable improvements with a Beachbody supplement, nutritional product, or program (e.g. blood pressure, blood sugar, triglycerides, etc.)?
My health stats at my annual physical were within range of a very active person. The nurse and doctor were extremely pleased with how healthy my pulse, blood pressure, heart rate, and blood work were.
You can change your life, too. Take the Beachbody Challenge for the tools you need to Decide, Commit, and Succeed! Complete any Beachbody program, and enter your results for a free gift and a chance to win cash and prizes.

Results vary depending on starting point, goals, and effort.
oConsult your physician before discontinuing or altering any prescribed medication.