Beachbody Results: Find Out How Nina Lost 31 Pounds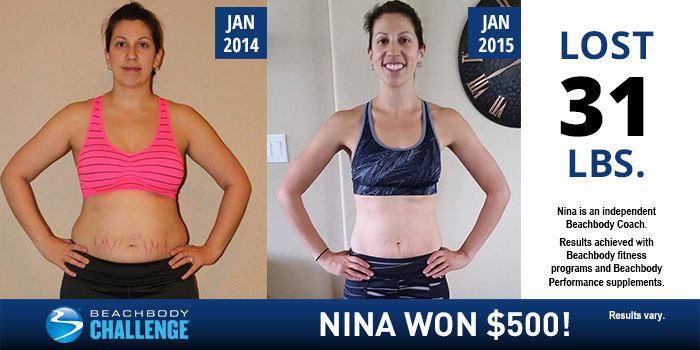 Nina Ortega lost 31 lbs. with FOCUS T25, 21 Day Fix, PiYo, 21 Day Fix EXTREME, 3-Day Refresh, and the Beachbody Performance supplements. She entered her results into the Beachbody Challenge, and won the $500 Daily Prize for March 5th!
Tell us about your life before you started the program. How did you feel about yourself and your body?
Before Beachbody, I was living day to day. I was struggling being the mom, wife, and teacher I wanted to be. Every day, I started my day hitting snooze four to five times before I even got up out of bed. I would go to work sleepy, tired, but yet try to give it my all. By the time I was coming home from teaching, I was exhausted and wouldn't have anything left for the ones who mattered most — my family. I felt like a horrible mom who wanted to do fun activities with my kids but yet I wouldn't. I also felt like I was failing as a wife as well. Before babies, I struggled with my weight. After babies, I was dealing with hypothyroidism, which caused me to gain even more weight and have crazy moods swings, anxiety, loss of hair, and dry skin. I was a complete mess. I thought it was all normal and part of being a postpartum mom, but I was wrong. I hated the way I felt in my skin. I hated feeling like I was carrying around so much extra weight. I just wanted to feel normal again.
What inspired you to change your life and begin your transformation journey?
While on maternity leave after having baby number two, I saw a friend's post sharing about her weight-loss journey. I told her that I wanted to do whatever she was doing! I knew I had to change something in my life in order to be an active person in my children's lives. I decided to commit wholeheartedly to my journey, and become a Coach at the same time I started my weight-loss journey. I knew that if I didn't do something now, it would be harder to make the changes later. Joining my friend's Challenge Group, seeing the way she ate, and being able to post about my journey truly helped me stay focused. Every day, I pushed play for me and for my family. Because let's face it, if momma ain't happy, ain't no one happy! My energy within the first week of drinking Shakeology and working out to T25 was absolutely amazing! Why would I ever want to give that up?
What is the greatest challenge you faced before beginning the program? How did the program and Beachbody help you overcome that challenge?
My greatest challenge before beginning the program was finding balance in my life. I was constantly with high anxiety and unhappy with work and home life, because I felt nothing was ever done. I felt like I was alone in accomplishing my work as a teacher, mom, and wife. By incorporating Shakeology, Beachbody workouts (like T25, 21 Day Fix, and PiYo), and clean eating, I am a whole new woman! I was hesitant to take on a business with working full-time, two small children, married life, and finding time for me. Now I am finding balance in life through all my "life tasks" by going through my day with clarity! I am more relaxed as a person, teacher, and mom. I am no longer on thyroid medicine*, and feeling better than ever. I love being able to share my journey with others, because I just want everyone I meet to feel as great as I do. I am passionate in making it my mission to help others feel better through healthy living.
What in particular did you like about the program you chose?
Why choose one? I am a proud graduate of T25, 21 Day Fix, PiYo, and 21 Day Fix EXTREME! What I loved about T25 was Shaun T. Enough said! This guy motivated me to get my booty up in the mornings at 5 AM! Even when I was up all night with a nursing baby! I loved how fast the workouts were, which was perfect for nap time. What I loved about 21 Day Fix was the weights! This program made me feel strong, and gave me muscles and abs I never knew I had. I loved how simple the moves were, but yet still working my body head to toe! What I loved about PiYo was that it is low impact! I loved how I was still getting an amazing workout without having to feel like I was killing myself. It really gave my knees a break. I also gained better posture and flexibility. I was able to do a cheerleading kick that I hadn't done since high school! Oh, and 21 Day Fix EXTREME gave me a body with some killer muscles and definition! CIZE was so much fun! I danced my booty off! And felt the sweat!
Describe the results you achieved with your Beachbody program. Which achievements are you proud of?
There aren't really enough ways to describe the way I feel these days. Every day, I wake up wondering who the heck am I now? I love me! In the past year, I have had some major life changes, and because I have focused on my health, that has helped me also grow into a mentally stronger person. I am confident in my skin. I have more than enough energy to handle my 5 AM to 11 PM days with five kids in the house! I am in control of my cravings. But the proudest achievement of all is that I am such a better mom and wife! I am happy. I am content. I am the role model I want to be for my children. Thank you, Beachbody!
How has your life changed since completing your Beachbody program?
My life has done a complete 180! I don't even know who I am these days. I now realize that I was missing out on life. It sounds crazy, but my life now is so much more fun, and I can keep up with my kids and husband! I actually crave to be outdoors and on-the-go verses the couch! I now put time to work out as a priority! First thing every morning before work, I look forward to my workouts. Never would I have thought I would have said that! People think I am crazy for waking up early, but I think I am passionate. I have the energy to start my day knowing I did something healthy for me! I am overall a happier, more satisfied, and confident person. My passion to share my journey with others has been so powerful in helping others change their lives too. Being a Coach has brought me an inner purpose on what I should be doing with my career. People are now looking to me for help, and my heart longs to show them that they too can live healthy!
How did participating in a Challenge Group help you reach your goals? How did your group support you and keep you accountable?
Participating in a Challenge Group while on my journey was key! I stuck with my Challenge Group all the way up until I finished T25. It was something that I looked forward to every day and shared my progress. It was great knowing I had the support I needed through my journey! I have made new friends along the way, and the relationships made will always be there. It was easy, simple, and supportive.
How did your Team Beachbody Coach support you on your journey?
She was amazing! Elyse constantly checked in on me to make sure I was doing okay. She posted information that was beyond helpful. She is a genuine person who wants the best for every one of her challengers. She taught me what clean eating was, and has truly been an integral part of my journey.
How did a Beachbody supplement, nutritional product, or program (such as Shakeology or Beachbody Ultimate Reset) support your transformation? What are the greatest benefits you gained? Did you see benefits to your energy, sleep, mood/mental clarity, or digestion/regularity?
Shakeology is what I call my "life-saver"! Shakeology saved me from eating my sorrows away with cookie dough. I have to have my Shakeology once a day to feel energized! It has been so helpful in my cravings. I am able to get through my day with clarity. I am still shocked at how great I feel while on Shakeology! I sleep like a rock, I am able to now function on six to seven hours of sleep instead of oversleeping these days. I am super regular, and I love it! My body is like a machine! The 3-Day Refresh is fabulous! It rebooted my body for clean eating, and helped me lose five pounds and two inches from my body. Easiest detox ever!
Did you achieve any other measurable improvements with a Beachbody supplement, nutritional product, or program (e.g. blood pressure, blood sugar, triglycerides, etc.)?
Yes! When I did a full annual, my results all came back with flying colors! No concerns in any area! Amazing! To go from heading down a path of being overweight and miserable to now feeling like a million bucks, Shakeology has been my saving grace.
You can change your life, too. Take the Beachbody Challenge for the tools you need to Decide, Commit, and Succeed! Complete any Beachbody program, and enter your results for a free gift and a chance to win cash and prizes.

Results vary depending on starting point, goals, and effort.
oConsult your physician before discontinuing or altering any prescribed medication.
+These statements have not been evaluated by the Food and Drug Administration. This product is not intended to diagnose, treat, cure, or prevent any disease.
*Always consult with your physician about your unique medical needs before starting any fitness program or nutrition product.