Beachbody Results: Emily Lost 84.4 Pounds and Won $500!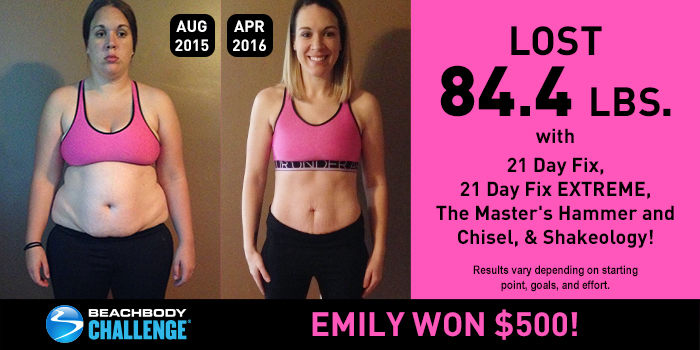 Emily DeCeilio lost 84.4 lbs. with 21 Day Fix, 21 Day Fix EXTREME, The Master's Hammer and Chisel, and Shakeology. She entered her Beachbody results into the Beachbody Challenge, and won the $500 Daily Prize for June 15th!
Tell us about your life before you started the program. How did you feel about yourself and your body?
My life wasn't very active. I felt sluggish and exhausted all the time, and I ate to keep me busy. I am a photographer and spend a lot of my time in front of my computer. I was depressed and never wanted to be in pictures. I have no pictures of myself with my kids when they were babies. My greatest fear was "what if" something happened to me? They wouldn't have pictures to look back, or if they did, they'd remember me as overweight.
What inspired you to change your life and begin your transformation journey?
My kids inspired me to be a better version of myself. They wanted an active mom, and I wanted to give them that. They wanted to take walks and go to the playground. Things I couldn't enjoy while overweight.
What is the greatest challenge you faced before beginning the program? How did the program and Beachbody help you overcome that challenge?
Portion size! I had no idea what a good portion was to eat. 21 Day Fix showed me how to eat correctly.
What in particular did you like about the program you chose?
I love 21 Day Fix because of the short workouts and the eating plan. The Master's Hammer and Chisel is great to mix it up. I like the number of workouts so you never get bored.
Describe the results you achieved with your Beachbody program. Which achievements are you proud of?
I am now much stronger, leaner, and I can keep up with the more advanced moves in the program. I feel energized and confident. Confident with my husband in public, confident because I have enough energy to clean my house so I'm never ashamed of it, and confident to play with my kids and not care who's watching.
How has your life changed since completing your Beachbody program?
I'm just a more active person and my kids are happier. My husband is also doing the challenge. It has strengthened our relationship. I dress more confidently now. My relationship with my husband has immensely improved, and our whole family now eats together. I'm frequently stopped in supermarkets and hear, "I didn't even recognize you!" They are usually proud of me and encourage me to keep going. This isn't the end for me, just the beginning of a lifestyle. I have a goal in my head to get before my one-year mark, and I will be strong like hell to achieve it. It took me nine short months to gain control over a six-year monster that consumed my life.
How did participating in a Challenge Group help you reach your goals? How did your group support you and keep you accountable?
I posted every day with my workouts and what I was eating. It has kept me on track seeing others going through what I was.
How did a Beachbody supplement, nutritional product, or program (such as Shakeology or Beachbody Ultimate Reset) support your transformation? What are the greatest benefits you gained? Did you see benefits to your energy, sleep, mood/mental clarity, or digestion/regularity?
Shakeology helped me sneak in a meal when I was busy.
You can change your life, too. Take the Beachbody Challenge for the tools you need to Decide, Commit, and Succeed! Complete any Beachbody program, and enter your results for a free gift and a chance to win cash and prizes.

Results vary depending on starting point, goals, and effort.