Beachbody Results: Dustin Lost 52 Pounds with 21 Day Fix and Body Beast!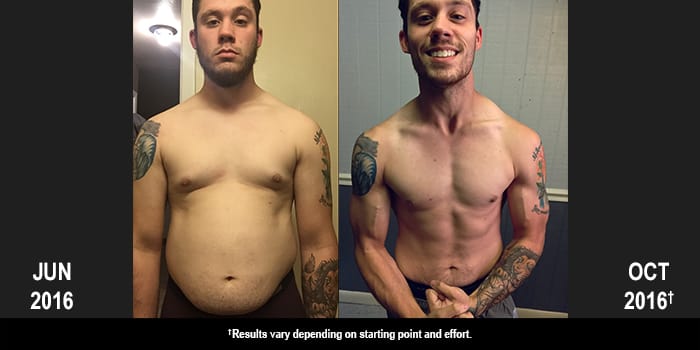 Dustin Usey, age 25, lost 52 lbs with 21 Day Fix and Body Beast. He entered his results into Beachbody Challenge and won $1,500!
Tell us about your life before you started the program. How did you feel about yourself and your body?
I hated my body. I hated seeing myself. I never could stick with a workout program. I couldn't fight off the fast-food cravings. Then my Coach, who is also my brother, got me started with 21 Day Fix, which broke my bad eating habits, and also got me in the routine of working out regularly! When I finished with 21 Day Fix I had all the tools I needed to get serious. That's when I got started with Body Beast with the goal of losing weight on my first round. I realized I couldn't just decide to workout here and there. I couldn't just eat healthy 2 days a week. I needed to make a lifestyle change! And that is just what I did. Now my every-day life is a healthy one!
What inspired you to change your life and begin your transformation journey?
I saw my brother, who is also my Coach, get amazing results from Body Beast! I wanted to get them too. I look up to him and he helped me with everything I needed to succeed in my Body Beast journey!
What is the greatest challenge you faced before beginning the program? How did the program and Beachbody® help you overcome that challenge?
My biggest challenge was my horrible addiction to fast-food and being extra lazy. Now I can't go a single day without wanting to workout or stay on point with my nutrition!
What in particular did you like about the program you chose?
The workouts! Body Beast workouts hit my muscles hard! and it made me feel like i was actually making progress! The workouts were also easy to remember so after a while, I already knew what I was doing and mastering my form!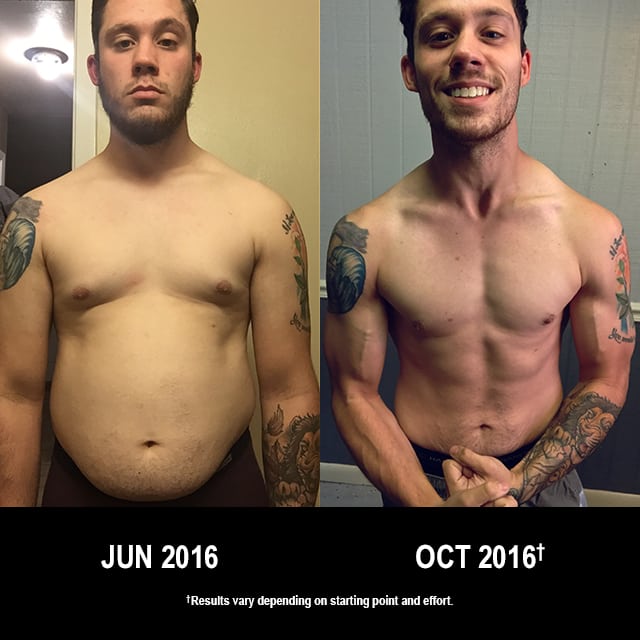 Describe the results you achieved with your Beachbody program. Which achievements are you proud of?
I set a goal to lose body fat and get rid of my gut. That was made possible with Body Beast! I look a lot leaner than I ever have in my entire life and I also have gained a lot of muscle in the process! I can finally show off my body at the beach and not feel super insecure.
How has your life changed since completing your Beachbody program?
Before Body Beast, I was fat and hated my body. I never could go anywhere because clothes didn't fit. My insecurities ate me alive. Now I feel like a million bucks and my clothes still don't fit. But that's a good thing, because they're too big! I now have the confidence to go in public, hang out with friends, take my shirt off at pool parties, and just have fun without feeling so insecure and self conscious!
How did participating in a Challenge Group help you reach your goals? How did your group support you and keep you accountable?
I'm in a Beachbody Challenge Group that my Coach and brother, Chris Usey, set up. I thought it was kind of pointless at first, but then I realized just how important it truly was. Days that I felt lazy and unmotivated where quickly turned into me feeling more determined and motivated to get my butt up and workout! All because others in the group were showing their progress, and I didn't want to fall behind. I realized that on my weakest days, I had the Challenge Group to turn to for motivation!
How did your Team Beachbody® Coach support you on your journey?
My Coach surely has a lot of patience! I must have asked him a million questions a day. He answered every single one of them and helped me with every single bit of my journey. He has supported all my decisions and gave me so much knowledge about WHAT I was doing and WHY I was doing it. My nutrition is at 100% now and that's all because of him helping me master it and teaching me everything he knew about it.
How did a Beachbody Supplement or Nutritional Product or Program (such as Shakeology® or Beachbody Ultimate Reset®) support your transformation? What are the greatest benefits you gained? Did you see benefits to your energy, sleep, mood/mental clarity, digestion/regularity?
Shakeology is my biggest hero! It helped me feel so much better and completely steered me away from the junk food I was into.2 I honestly do not think I could have had a good start to this journey if it wasn't for Shakeology.
You can change your life, too. Take the Beachbody Challenge for the tools you need to Decide, Commit, and Succeed! Complete any Beachbody program, and enter your results for a free gift and a chance to win cash and prizes. What program are you committing to next?

†Results vary depending on starting point, goals, and effort.
2These statements have not been evaluated by the Food and Drug Administration. This product is not intended to diagnose, treat, cure, or prevent any disease.