Beachbody Results: Daniel Lost 61 Pounds and Won $1,000!
Daniel Mills, age 25, lost 61 lbs in 1 year with 22 Minute Hard Corps, The Master's Hammer and Chisel, FOCUS T25, Shakeology, and the Beachbody Performance supplements. He entered his results into The Beachbody Challenge and won $1,000! You can do it too.
On super-sale for a limited time, the Spring Into Health Challenge Pack gives you a year of unlimited access to Beachbody's world-famous programs, including every fitness program Daniel used (and hundreds more!), plus a 30-day supply of Shakeology, and the support of a Team Beachbody Coach! Don't miss out on this offer! Here's his story in his own words …
Tell us about your life before you started the program. How did you feel about yourself and your body?
I was a varsity swimmer while in high school, being at the peak of my health. Once I hit senior year of high school I encountered severe cardiac issues that could potentially kill me. Post season, I underwent heart surgery at the age of 17. I gained about 20 pounds and was in a wheel chair for months due to my condition. I hated myself because I couldn't do the things I used to be able to do. After getting myself out of the wheelchair, I completed P90X.3 That was my first introduction to my idol and hero Tony Horton. I was in great shape and weighed 155 pounds after the program. Unfortunately, the new me didn't last long. I started experiencing immense pain in my hip. I found out I was born with a bone abnormality and had torn my cartilage in my right hip to shreds. I went into surgery at the age of 23 back in 2014. After 9 months of extensive physical therapy, I was able to walk again normally, but my weight took a huge impact. I gained 80 pounds, and hated how I looked in the mirror.
What inspired you to change your life and begin your transformation journey?
After my hip surgery and gaining the 80 pounds I knew I had to do something with my health. My triglycerides were in the 300's and my blood pressure was over 160/90. Before the main release, I had seen the 22 Minute Hard Corps commercials and ads on Facebook. I always had respect to those that have and are currently serving in the military, and I knew that this was the type of workout for me. It felt that this workout was more disciplined and intense without accepting any excuses, and I craved that environment. I know the human body is capable of absolutely incredible and extraordinary things, and I refused to be the exception. I wanted to show not only my friends and family, but other people struggling with weight loss that anyone can get back in shape. Even if they have had heart and hip surgery. Even if they were told they may never be able to run, or even walk every again like I was. Tony Horton inspired me to dig deep and give another rep, even when my body was exhausted.3
What is the greatest challenge you faced before beginning the program? How did the program and Beachbody® help you overcome that challenge?
My greatest challenge was my physical health after my surgeries. It took a lot of determination and perseverance to gain the strength to get out of the wheelchair after my heart surgery. It was even more difficult after my hip surgery. It's not that my surgeon was a pessimist; rather, he was a realist. He told me that the extent of my cartilage damage in my hip could cause permanent disability, and I may never be able to run or walk normally again. It didn't help that after the surgery I acquired permanent nerve damage on the inside of my right leg that has taken all feeling away. After almost two years, I still don't have any feeling, but I don't let it bother me. I told myself, no excuses, and purchased 22 Minute Hard Corps and got to work.3 Seeing Tony on the TV gave me a boost of motivation, along with my Beachbody Coach encouraging me throughout my program. The boot camp style workout gave me the mentality that no excuses were going to be accepted and I was expected to do my best.3
What in particular did you like about the program you chose?
22 Minute Hard Corps was the initial workout, and then I went through and pursued Hammer and Chisel, and then up to FOCUS T25. T25 was different from 22 Minute Hard Corps, in a good way. I felt it was a little more difficult because there are no breaks throughout the entire workout, but that's great! It really tested my mental fortitude and endurance to be able to get through 25 minutes. My favorite workout in T25 was definitely Speed 1.0 and Speed 2.0. It was grueling yes; however, it was so much fun bouncing from one workout to the next.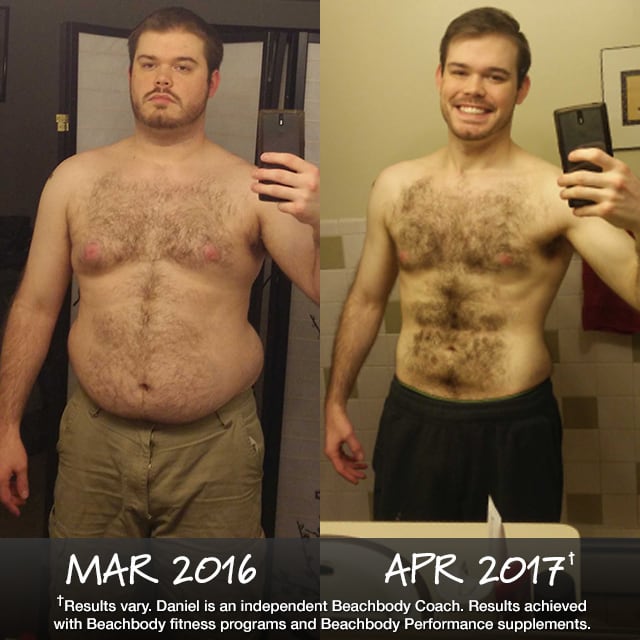 Describe the results you achieved with your Beachbody program. Which achievements are you proud of?
I have lost 25% of my body weight since starting the Beachbody programs. I have gone from 236 pounds to 175 pounds. I have not been under 200 pounds in about 3-4 years. I still have a way to go, but I know I can do it. I am also proud of how my heart has improved. I was breathing heavily and was on my knees in the beginning of 22 Minute Hard Corps. The burpees would exhaust me but at the end of the program, I was doing all the burpees with ankle weights attached. I went from 10 pound dumbbells to 20 pounds, which I actually need heavier weights. My pushup count and ab strength has also increased dramatically. T25 has also been able to continue my fitness goals and I am competing in my first spartan race in July.
How has your life changed since completing your Beachbody program?
I feel so much more confident about my body. I feel like I can do so much more athletically, and I am getting closer to my old self before my hip and cardiac issues. My vitals have improved greatly and my energy is way up. Due to the strengthening in my legs, my hips have been able to obtain more support and I have had a massive decrease in pain. T25 has been able to re-enforce the strength that I have in my legs and my cardiac health has improved by leaps and bounds. My cardiologist has stopped all medications for me, which is something that I never thought was possible.1 I look forward to my future success with Beachbody.
How did participating in a Challenge Group help you reach your goals? How did your group support you and keep you accountable?
Participating in a Challenge Group helped me not only with numerous resources, but held me accountable as well. It helped me realize how many others are working hard to accomplish their goals and we continued to motivate and hold each other accountable. On the days that I was feeling uninspired, primarily Amanda Ross was always there to say the exact words I needed to hear in order to get up and do my workout. Amanda Ross had mini challenges during the weeks, creating a friendly competition between the members of the group. She was and is an incredible Coach. In addition, she had many other ways to involve the members in the group. She provided tons of healthy recipes and workout challenges for us to complete.
How did your Team Beachbody® Coach support you on your journey?
As said before, Amanda Ross is an incredible Coach. She kept me motivated even on the days that I just wanted to lay around all day. She is always incredibly attentive and very quick to respond to any questions or comments that anyone has. Every time I made a post in a Challenge Group, Amanda was always there to comment with motivational words, which continued my desire to improve my health and meet my goals. She also introduced me to products that helped improve my health like Shakeology. Shakeology was one of the greatest products I decided to purchase, and without Amanda there, I may never have decided to invest in it.
How did a Beachbody Supplement or Nutritional Product or Program (such as Shakeology® or Beachbody Ultimate Reset®) support your transformation? What are the greatest benefits you gained? Did you see benefits to your energy, sleep, mood/mental clarity, digestion/regularity?
Shakeology supported my transformation by decreasing sugary cravings like soda, ice cream, donuts, etc.2 It also left me hydrated, full of energy, and full.2 This decreased the amount of snacking that would take place throughout the day. I gained energy and I have been able to sleep better.2 Shakeology also provided me a massive amount of nutrients, which left my muscles feeling revitalized and ready for the next workout.2 I do not intend on discontinuing this product now, or in the near future. I recommend Shakeology to people every day and how much it helps your body.
Tell us about your experience with Beachbody On Demand. If applicable, how has it helped you achieve your goals?
Beachbody on Demand is an excellent resource, more than people think. It is such a great deal and you have access to so many incredible fitness trainers and experts. I haven't really had any bad experiences and whether it's rain or shine, BOD will be there for me!
You can change your life, too. Take the Beachbody Challenge for the tools you need to Decide, Commit, and Succeed! Complete any Beachbody program, and enter your results for a free gift and a chance to win cash and prizes. What program are you committing to next?

†Results vary depending on starting point, goals, and effort.
3Always consult with your physician about your unique medical needs before starting any fitness program or nutrition product.
1Consult your physician before discontinuing or altering any prescribed medication.
2These statements have not been evaluated by the Food and Drug Administration. This product is not intended to diagnose, treat, cure, or prevent any disease.