Beachbody Results: Christine Lost 52.9 Pounds and Won $500!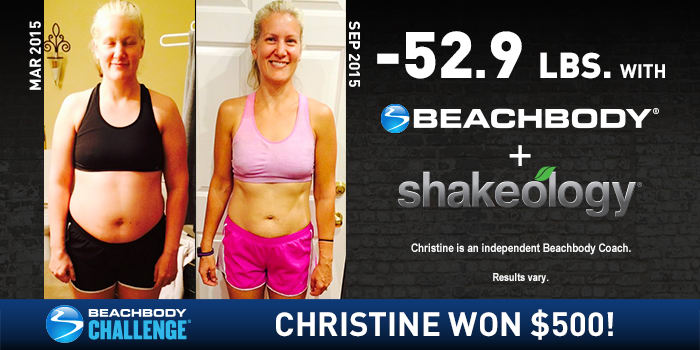 Christine Limpright lost 52.9 lbs. with 21 Day Fix, 21 Day Fix EXTREME, INSANITY, INSANITY MAX:30, and Shakeology. She entered her results into the Beachbody Challenge, and won the $500 Daily Prize for May 4th!
Tell us about your life before you started the program. How did you feel about yourself and your body?
I was not confident, and felt lethargic and sluggish. I had my second baby in October 2014 (my second in 28 months), and I was up to 215 pounds. I had 40 pounds to take off to get to my pre-pregnancy weight, and another 30 to get down to the weight I was 6 years ago (prior to developing asthma and having children). I missed running, playing with my kids, and being generally active like I used to be.
What inspired you to change your life and begin your transformation journey?
My constant back and neck pain, and not being able to run 4km without hurting myself. I was the heaviest I'd ever been in my life.
What is the greatest challenge you faced before beginning the program? How did the program and Beachbody help you overcome that challenge?
As above, constantly being tired and fatigued in addition to making poor food choices.
What in particular did you like about the program you chose?
I liked that it was only 30 minutes a day and that it was easy to follow.
Describe the results you achieved with your Beachbody program. Which achievements are you proud of?
I lost weight, gained more energy, and lost inches off my body. I feel fit, strong, active, and alive again. I have the energy to deal with my kids, work out, and be active and happy.
How has your life changed since completing your Beachbody program?
I now have more energy, have continued to lose weight, and have become fitter and healthier overall. I have been actively coaching for three months now. I would like to continue to build my business/inspire others to change their lives because it is total achievable for anyone!
How did participating in a Challenge Group help you reach your goals? How did your group support you and keep you accountable?
It provides accountability, helps push and motivate each other, and offers education.
How did a Beachbody supplement, nutritional product, or program (such as Shakeology or Beachbody Ultimate Reset) support your transformation? What are the greatest benefits you gained? Did you see benefits to your energy, sleep, mood/mental clarity, or digestion/regularity?
My Shakeology helps keep my cravings at bay, and I drink it every day! It has made a major difference.
You can change your life, too. Take the Beachbody Challenge for the tools you need to Decide, Commit, and Succeed! Complete any Beachbody program, and enter your results for a free gift and a chance to win cash and prizes.

Results vary depending on starting point, goals, and effort.