Beachbody Results: Chris Lost 50 Pounds and Won $500!
Chris Webb lost 50 lbs. with a variety of Beachbody fitness programs, Shakeology, and the Beachbody Performance supplements. He entered her results into the Beachbody Challenge, and won the $500 Daily Prize for November 24th!
Tell us about your life before you started the program. How did you feel about yourself and your body?
Prior to Beachbody, I was a 41-year-old, 50-pound, overweight, fast-food eating, beer drinking, cigarette smoking bartender. I had lost hope for my dreams and pretty much watched life from the sidelines.
What inspired you to change your life and begin your transformation journey?
The realization set in that what I once used to be as a father, uncle, and son had turned into a joke and a poor role model.
What is the greatest challenge you faced before beginning the program? How did the program and Beachbody help you overcome that challenge?
The greatest challenge was making the commitment to change.
What in particular did you like about the program you chose?
The trainers!
Describe the results you achieved with your Beachbody program. Which achievements are you proud of?
I lost 50 pounds and completed multiple Beachbody programs. The thing that I'm most proud of is being the role model that I never had, and that I thought I would never be.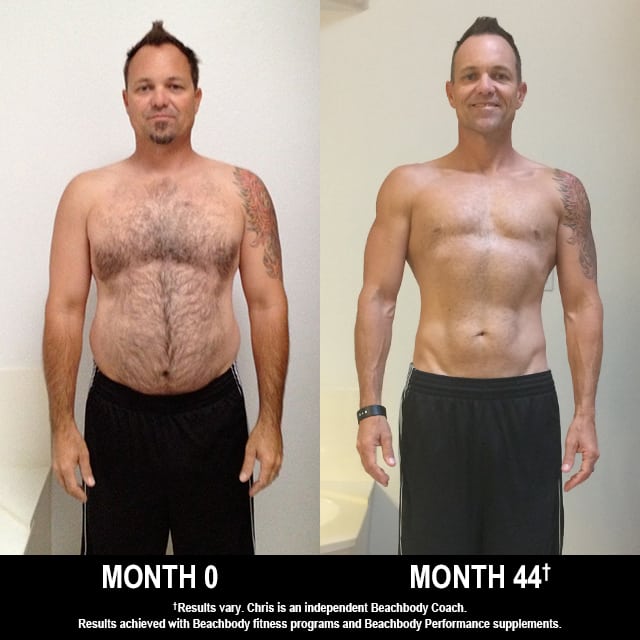 How has your life changed since completing your Beachbody program?
I'm now a marathon runner, obstacle course racer, as well as INSANITY and P90X Instructor. I also quit drinking and smoking, became vegan, and am realistically changing people's lives around me. I have never felt better in my life!
How did participating in a Challenge Group help you reach your goals? How did your group support you and keep you accountable?
Engage, engage, engage! Checking in and knowing that I wanted to post honestly helped keep me on track.
How did your Team Beachbody Coach support you on your journey? 
Sommer believed in me, checked in on me, and really showed me that she cared. All the while doing the same for everyone else in our group.
How did a Beachbody supplement, nutritional product, or program (such as Shakeology or Beachbody Ultimate Reset) support your transformation? What are the greatest benefits you gained? Did you see benefits to your energy, sleep, mood/mental clarity, or digestion/regularity?
I used to skip breakfast, so that's where I started adding Shakeology. I also eliminated two Rockstars (energy drinks) and four to six Diet Cokes per day! Shakeology helped curb my chocolate cravings. I was a fast-food professional — now that's a thing of the past. I've been drinking Shakeology for almost four years, and I feel unstoppable! 198 pounds down to 148 pounds, and I'm actually ripped (lol)!
You can change your life, too. Take the Beachbody Challenge for the tools you need to Decide, Commit, and Succeed! Complete any Beachbody program, and enter your results for a free gift and a chance to win cash and prizes. What program are you committing to next?

†Results vary depending on starting point and effort.
2These statements have not been evaluated by the Food and Drug Administration. This product is not intended to diagnose, treat, cure, or prevent any disease.