Beachbody Results: Carl Lost 107 Pounds!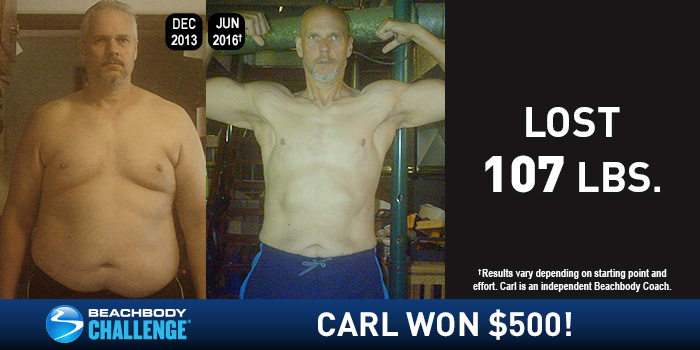 Carl Mikesh lost 107 lbs. with P90X, P90X2, P90X3, INSANITY, and Body Beast. He entered his results into the Beachbody Challenge, and won the $500 Daily Prize for August 24th!
Tell us about your life before you started the program. How did you feel about yourself and your body?
Before I started, I felt embarrassed that I had let myself get so out of control. I had always been overweight. But now at 48, I was at my heaviest at 315 pounds, and I felt very unhealthy. I would try to lose weight and get healthy, and sometimes I would lose some just to gain it all back plus more. I didn't like to go places or try any new activities because I felt very self-conscious about my weight. I would eat when I felt sad, angry, bored, happy, stressed out, or any other situation you could name. I ate until I was so full my stomach hurt, and then I would eat some more. I would wake up in the middle of the night and go to the kitchen and eat again. I felt very discouraged.
What inspired you to change your life and begin your transformation journey?
I was tired of waking up in the morning and the first thing I thought about was my weight and how embarrassed I was by it. My health was also suffering. Due to my weight, I had pain in both feet, which made it hard to even get out of bed. I was also concerned about my knees. I knew if I didn't do something to help myself, I was headed for a sad, painful, and possibly short future. I told myself that I couldn't have any excuses this time. I made a promise to myself that no matter what happened during the day that I would work out for at least an hour and eat right seven days a week. If, for some reason, I missed a work out, I would be sure that the next day I would start again.
What is the greatest challenge you faced before beginning the program? How did the program and Beachbody help you overcome that challenge?
The greatest challenge I faced was not being able to do most of the P90X workouts due to the pain I had in my knees, feet, and shoulders, and also from being too heavy to perform many of the exercises.3 I was able to overcome all of this by watching the modifications on the DVDs and following what Tony Horton said about doing your best and just showing up. When I could not do an exercise that was being done on the DVD, I would never stop moving. I would just jog in place and wait for the next move, then join back in. I also began following Tony Horton and Beachbody on social media for support and inspiration. I even traveled three hours to Rhode Island to work out with and thank Tony Horton for changing my life.
What in particular did you like about the program you chose?
The best part of P90X was that it incorporated so much into one program that it was impossible to get bored. The modifications that are shown make it possible for anyone to do these workouts. Once I started, the results began to show quickly. That gave me the inspiration to keep going. I also loved Tony Horton's energy and his positive attitude. It felt like he was right there in my basement telling me exactly what I needed to hear. After I did several rounds of P90X, I did P90X2, P90X3, INSANITY, and Body Beast. Each one of these programs allows you to go at your own pace and just continue to improve and feel empowered by what you can accomplish.
Describe the results you achieved with your Beachbody program. Which achievements are you proud of?
I began P90X in December 2013 and was not able to complete 10 push-ups or even hang from a pull-up bar for five seconds. Now I am able to do pull-ups and plyo clap push-ups — two moves I thought were impossible for me. I lost 107 pounds so far, and I am still going. I am able to run fives miles four to five days a week, and I'm no longer concerned about my knees. My heel pain and shoulder pain are also gone. I don't try and avoid people when I see them when I go out, and I look forward to new experiences instead of dreading them.
How has your life changed since completing your Beachbody program?
I feel like I hit the lottery! My life has changed in so many ways that it is hard to believe. Physically, I have no more pain when performing everyday activities. I am able to find clothes that fit me in any store I go to. Now I wake up looking forward to the day and feeling positive and open to new adventures. I also became a certified personal trainer so I can help other people become healthy and feel good about themselves. Whenever people ask me how I lost the weight, I tell them all about Tony Horton and the Beachbody programs I've done.
You can change your life, too. Take the Beachbody Challenge for the tools you need to Decide, Commit, and Succeed! Complete any Beachbody program, and enter your results for a free gift and a chance to win cash and prizes. What program are you committing to next?

†Results vary depending on starting point, goals, and effort.
3Always consult with your physician about your unique medical needs before starting any fitness program or nutrition product.