Beachbody Results: Busy Single Dad Loses 74 Pounds, Wins $1,500!
Dion Legaspi lost 74 lbs. with P90X, Body Beast, and FOCUS T25. He entered his results into the Beachbody Challenge and won $1,500!

Tell us about your life before you started the program. How did you feel about yourself and your body?
I have always been on the heavy side since I was young. Each meal was eaten with huge portions of either white rice or fried rice. Fried foods are my favorites. I grew up thinking that I always had to finish what was on my plate in order to be full or satisfied. Being a single dad of three young kids and working full-time gave me no time to cook, so eating out at restaurants and fast food places was the norm and most of the time it was unhealthy food. My only exercise was playing basketball once a week for an hour or two. I would almost always get cramps from the weight I carry, and my feet would hurt for days. I had no energy any other time of the week to either play with my kids or even keep up with them. I hated looking at mirrors to see my body getting worse, and buying clothes was a nightmare since most didn't fit me without going into the big & tall section.
What inspired you to change your life and begin your transformation journey?
In February 2014, my doctor said that I had a high chance of having hypertension with my weight, smoking, eating habits, and lack of exercise.* When my kids wanted to play outdoors, I would always look for an excuse not to as I had no energy to keep up with them. In November 2014, I lost my wife and my kids lost their mother to an unhealthy lifestyle. Being the only parent of three young kids, I had no other choice but to try to reverse the bad things I had done to my body both inside and out. I have to live for my kids sake!
What is the greatest challenge you faced before beginning the program? How did the program and Beachbody help you overcome that challenge?
There were two main challenges that I faced. Giving up the food I would eat every day and replacing it with what the program recommends, and having the time to fully commit to the workout program. Since I don't get home until late at night, I knew the only time frame I would be able to do the program was early in the morning. Getting up at 4:30 AM to work out in order to have time to prepare for school was quite an ordeal. The first week into the program, my body was sore, my feet were hurting, my form was not ideal, but I still pressed play every day and my Coach helped me through the tough times and held me accountable. Having Shakeology for breakfast replaced my morning coffee consumption (loaded with tons of cream and sugar). It also gave me the kick start I need for my morning commute. I am now eating with a healthy lifestyle, and my kids are also aware of what they eat — and with them seeing my results, they sometimes join me in my workouts.
What in particular did you like about the program you chose?
With P90X, each workout day was different, so I did not feel bored. More than a decade ago, my workouts consisted of the same thing every day. Going to the gym became boring and time consuming without seeing the results I expected. I love the muscle confusion that the program has. One day it's cardio, the next day it's weights. The variety of the program got me interested in pushing "play" every day. Body Beast made me stronger, and my muscle gains were impressive by my standards. My muscles have never been so big. Sagi kept me pushing harder every day and the weights I was lifting kept increasing. T25 gave me the endurance that I lacked. I now run 2–3 times a week. I hated running before.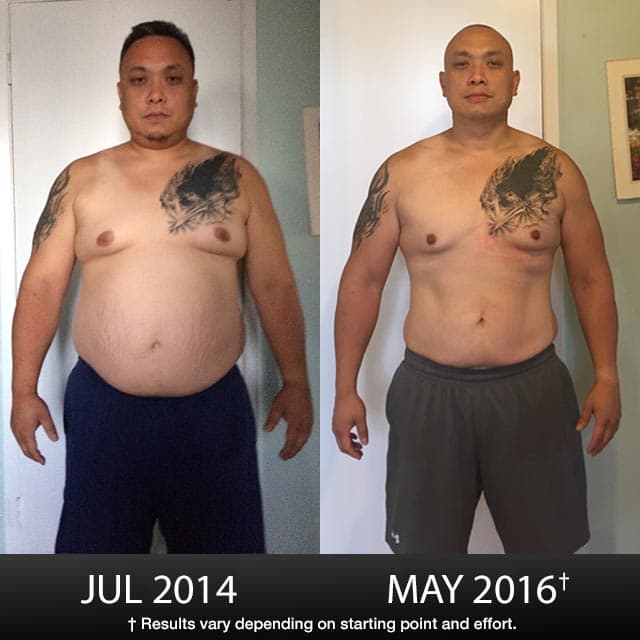 Describe the results you achieved with your Beachbody program. Which achievements are you proud of?
I have lost a total of 74 pounds! That is the most I have ever lost in that short period of time. My belly is significantly smaller and my muscle definition is starting to become visible. I can now play basketball for a longer time without getting cramps and my feet do not hurt for days after playing like they did before. My kids are proud of me for looking a lot healthier.
How has your life changed since completing your Beachbody program?
I now have more confidence knowing that I was able to stick to the program and see the results. My eating habits have changed significantly. I recently saw my doctor and he was so proud of what I have accomplished. I can't forget the look on his face when he saw me after a year. My family and friends are surprised about my success and they would ask me for advice, and I tell them, go to Team Beachbody and there's something for everyone but you have to decide and commit to succeed like I did.
How did participating in a Challenge Group help you reach your goals? How did your group support you and keep you accountable?
We kept each other accountable every day by making sure we stuck to the nutrition and workout programs. Posting what we ate and what workouts we did for the day helped me get through it.
How did your Team Beachbody Coach support you on your journey?
He would check on me to see how I was doing, remind me with daily quotes, and keeping me on track by asking me for monthly results. But most of all, giving me the "great job" remarks meant a lot.
How did a Beachbody supplement, nutritional product, or program (such as Shakeology or Beachbody Ultimate Reset) support your transformation? What are the greatest benefits you gained? Did you see benefits to your energy, sleep, mood/mental clarity, or digestion/regularity?
Having Shakeology every day replaced my 24 oz. coffee consumption that was loaded with cream and sugar. It gave me the energy and the kick start in my morning commute to work. It also curbed my appetite for a big breakfast meal. I feel satisfied after drinking Shakeology in the morning until my lunch break.
How did a Beachbody supplement, nutritional product, or program affect any existing health conditions you have?
Now, my doctor is pleased with my progress and is no longer worried about me getting hypertension.† I sleep better at night and have no sign of leg cramps after a few hours of basketball.
You can change your life, too. Take the Beachbody Challenge for the tools you need to Decide, Commit, and Succeed! Complete any Beachbody program, and enter your results for a free gift and a chance to win cash and prizes.

Results vary depending on starting point, goals, and effort.
*Always consult with your physician about your unique medical needs before starting any fitness program or nutrition product.
†These statements have not been evaluated by the Food and Drug Administration. This product is not intended to diagnose, treat, cure, or prevent any disease.