"Beachbody Helped Me Believe In Myself"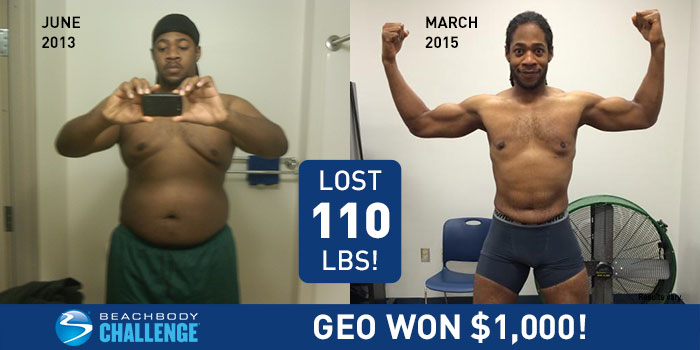 Meet GEO, age 24 from Clarion, PA. He entered The Beachbody Challenge in March 2015 and won $1,000!
Tell us about your life before you started the program. How did you feel about yourself and your body?
I hated my body and I was very depressed. It wasn't always like that though.. I was a wrestler in college and consumed over 3, 000 cal a day. I was injured wrestling and gained a ton of weight. I had so many health problems. I had horrible lower back pain and couldn't sleep more than 4hrs without waking up and having to walk around to ease the pain. I was depressed, couldn't focus in class, and began isolating from my friends. I didn't think I would ever be able to loose the weight.. I had a lot of self-defeating thoughts, which lowered my self-esteem.
What inspired you to change your life and begin your transformation journey?
I truly believe in the law of attraction! So, here's my story.. I was watching the biggest looser and decided I would apply to be on the show. Midway thru the application process, I started thinking, "Geo, you were a division 1 wrestler, you don't need to go on national television to loose the weight, you already have what it takes." So I stopped filling out the application and decided I would go to the college rec center and workout. Some how I ended up walking in the studio room, at the rec center, where this guy was doing P90x. I'll never forget when I heard Tony Horton say, "Do your best and forget the rest." Since then, I was so inspired to keep working out because I realized that I didn't have to be in the best shape, all I had to do was my BEST. So, to this day, I continue to do my best and forget about the rest. Making the decision to get up and go to the gym exposed me to the beachbody movement 🙂
What is the greatest challenge you faced before beginning the program? How did the program and Beachbody® help you overcome that challenge?
It has been said that the biggest enemy we have to deal with is ourself. I was my biggest challenge because I had to change my lifestyle, including my beliefs about health, nutrition, and fitness. By adopting the concept of overall wellbeing, more resources became available. My first month on Shakeology, I had energy and stamina during my workouts and I recovered faster. That's when I realized how important it is to be mindful of what I put in my body. I don't get sick like I use to and my brain is sharper because I've made nutrition a daily part of my life. I got to meet Tony Horton when I was in college and we chatted. That's when I realized I needed to take it to the next level. I decided to enter the body transformation contest because I want to be a voice for unhealthy and overweight individuals. This will be where my journey begins and my purpose will be to inspire others 🙂 and encourage them to pay it forward as I have!
What in particular did you like about the program you chose?
Shakeology was the foundation of my program, because I was guaranteed my daily dose of dense nutrients. If I was busy throughout the day, I would have my Shakeology as a meal replacement. I knew that I was continuously putting optimal nutrition in my body. I love Autumn's 21 Day Fix because it's great for clients (and me), when you want to adopt a new habit and and be rewarded with immediate results in the process. Energy and Stamina, I gotta say Tony Horton and his Plyo workout (from P90X) was my choice when it came to energy and stamina.
Describe the results you achieved with your Beachbody program. Which achievements are you proud of?
I've improved my bad cholesterol, lowered my resting heart rate, and have perfect blood pressure and blood sugar levels. Thanks to Shakeology! I'm most proud of my lifestyle change. I gave up on my dreams to be a professional wrestler until I encountered Beachbody. Now, I'm pursuing my dream. Conquering the mind is the greatest feat, and, for some, it's a daily battle. Beachbody has helped me realize that by changing my outward appearance, I also changed my inward appearance. As a result, everything changes!
How has your life changed since completing your Beachbody program?
I'm more focused and driven now! I want to be a professional wrestler more than I've ever wanted to be a professional wrestler. Beachbody has helped me believe in myself.
How did a Beachbody Supplement or Nutritional Product or Program support your transformation? What are the greatest benefits you gained?
Shakeology has improved my mental focus, energy and stamina, tonal definition. I no longer have to take prescribed meds. Shakeology has eliminated the need for all sorts of nutritional supplements.
You can change your life, too. Take the Beachbody Challenge for the tools you need to Decide, Commit, and Succeed! Complete any Beachbody program, and enter your results for a free gift and a chance to win cash and prizes.