"Beachbody Changed the Way I Look at Life"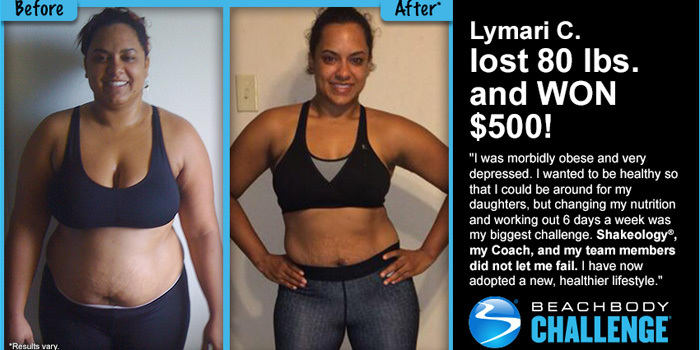 Meet Lymari C.! She participated in The Beachbody Challenge and won the $500 Daily Prize for November 30th!
Tell us about your life before you started the program. How did you feel about yourself and your body?
Before I began doing Beachbody programs I had no motivation, and I had very low self-esteem. My health was very poor. I ended up being hospitalized because my blood pressure was 185/110, and that's when I was diagnosed morbidly obese. I had an extra 120 pounds on my body. I always felt sleepy, tired, and I had no motivation. My body was a reflection of how I felt. I wasn't able to buy clothes, I couldn't do the activities that I liked (I actually preferred not to go out.), and I didn't like taking photos. I was very depressed and unsatisfied with how I looked.
What inspired you to change your life and begin your transformation journey?
My health and my daughters inspired me to begin my transformation. I wanted to be healthy so that I could be around for my daughters. I wanted to be healthier, feel better mentally, and feel good about what I saw in the mirror.
What is the greatest challenge you faced before beginning the program? How did the program and Beachbody® help you overcome that challenge?
My biggest challenge was changing my nutrition and working out 6 days a week. I was not the kind of person to eat vegetables. I am not a salad lover, and I thought I was not going to be able to eat them, but Shakeology, my Coach, and my team members did not let me fail, especially my Coach Monin Guadalpue. My first program was TurboFire and it motivated me to keep going. Then I moved on to a hybrid of Beachbody programs, and now I have added INSANITY. This is a personal success for me, because I never thought I would be able to do one of the tougher programs/challenges that Beachbody has.
Describe the results you achieved with your Beachbody program. Which achievements are you proud of?
The results with INSANITY are great! I was able to tone my arms, glutes, and abdominal area. It's a complete program. Now I am sporting better legs and arms. I have a lot of strength and I have more control over my body.
How has your life changed since completing your Beachbody program?
Beachbody changed the way I look at life. It taught me to establish my priorities. When your health takes a downturn, you realize what's really important, because without good health we're not able to function. I have now adopted a new, healthier lifestyle.
You can change your life, too. Take the Beachbody Challenge, for the ultimate motivation to get fit! Select any Beachbody program and once you complete it, share your results for your chance to win cash and prizes.