Shane H. Lost 52 Pounds in 18 Months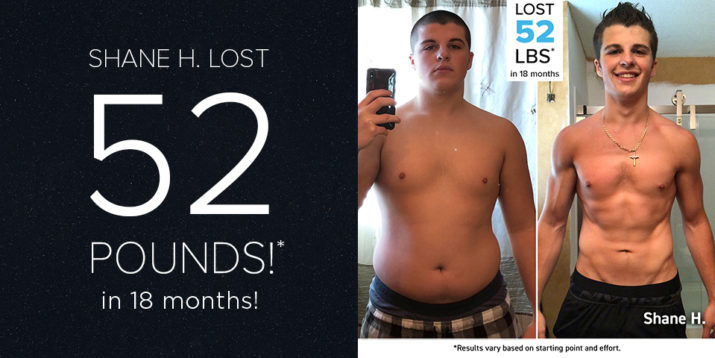 Help us give a BIG congratulations to our eight amazing Beachbody Challenge winners! Not only did they transform their bodies and start living their best lives, but they also won a $500 prize from the Beachbody Challenge contest.
Every month, we'll announce eight new $500 winners who will advance to the next round of the competition as they continue their quest for the $100,000 grand prize in 2021.
Submit your transformation story at BeachbodyChallenge.com for your chance to win. 
---
With the help of Shaun T's INSANITY and INSANITY MAX:30, Shane H. lost weight, gained muscle mass and more importantly, became the man he wanted his sister to be proud of.
Learn more about this Beachbody Challenge winner's inspiring journey…
Shane's Life, Before
"I was insecure everywhere I went. I was afraid of people judging me because of my weight. I was made fun of throughout my entire life for being on the bigger side and I was tired of being referred to as 'the fat kid.'
I felt like I was at a disadvantage in every aspect: I had little confidence in myself. I was paranoid that I was being judged harshly whenever I noticed anybody looking at me. I never liked to be in photos. I felt like I was trapped inside my body with very little hope of ever feeling good about myself.
Then one month after I turned 13 years old, my big sister was killed in a tragic drunk-driving car accident.
She was only 17 years old at the time and it was the summer before her senior year of high school. She was my best friend and I was devastated.
Fast-forward four years: I was 17 years old and in my senior year of high school. I lived with the constant reminder that I had lost my one and only sister.
I decided I wanted to live in honor of my sister. I wanted to work as hard as she did to achieve her own goals. I realized I would only be happy if I was happy with myself, but being overweight prevented me from being happy.
INSANITY seemed like the perfect guide to follow to achieve my body-transformation goal, so I 'pressed play' on January 8th, 2018."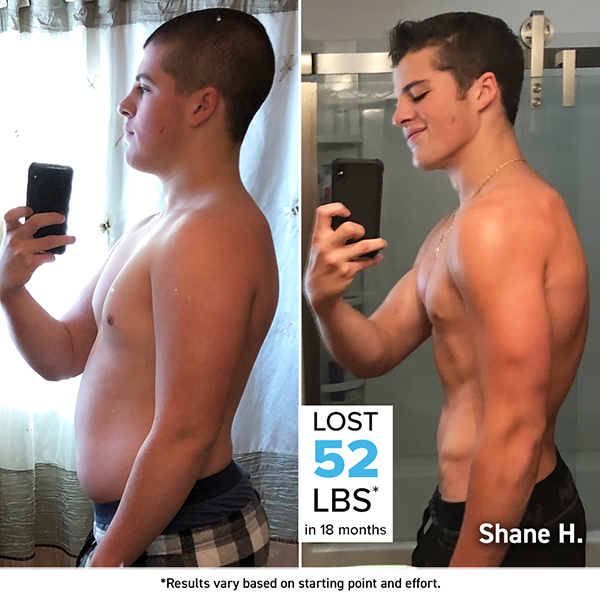 Shane's Beachbody Transformation
"I noticed tremendous boosts in my physical ability and stamina as I worked through the program. Most importantly, I lost a lot of weight and gained muscle mass.
The physical changes were significant. When I began, I weighed 210 pounds at only 5 feet 8 inches in height.
But as the weeks and months went by, I was loving my new body.
I was so pleased with my results from INSANITY that I decided to purchase INSANITY MAX:30.
Shaun T motivated me to be my best self and dig deeper. I repeated multiple rounds of INSANITY, and with INSANITY MAX:30, I continued to lose weight and my muscle tone was phenomenal.
After one year and six months of completing multiple rounds of both programs, I lost just over 50 pounds. I currently weigh 158 pounds."
Shane's Life, After
"My quality of life is so much better since I started my transformation journey. I'm finally happy with my body, something I was not able to say just over a year ago.
People who I haven't seen since high school barely recognize me and my relatives are astonished that I'm the same kid.
I finally have confidence that I am my best self, and transforming my body has led me to a better work ethic in school and a better attitude toward life.
Most importantly, I feel like my sister is watching down on me smiling and proud of the man who I have become since she passed away.
I owe my life to Shaun T and the crew that created INSANITY and INSANITY MAX:30. I could not have done any of this without them."
Check out our other Beachbody Challenge winners.
---
Are you ready to change your life? Take the Beachbody Challenge for the tools you need to Decide, Commit, and Succeed!
Complete any Beachbody program, and enter your results for a free gift and a chance to win cash and prizes.

*Consult your physician before commencing any fitness or nutrition program while pregnant or post-partum.