Lee K. Lost 16 Pounds in 90 Days
Help us give a BIG congratulations to our eight amazing Beachbody Challenge winners! Not only did they transform their bodies and start living their best lives, but they also won a $500 prize from the Beachbody Challenge contest.
Every month, we'll announce eight new $500 winners who will advance to the next round of the competition as they continue their quest for the $100,000 grand prize in 2021.
Submit your transformation story at BeachbodyChallenge.com for your chance to win. 
---
Lee's Life, Before
"I've been a Team Beachbody Coach for a little over five years and have mostly been on with my fitness with the occasional off points. (Hey, we're all human right?)
In this last year, however, I was in stressful job situations. I was also hit with a couple of health issues which resulted in me not being able to work out for six to eight weeks.
To top it all off, this all happened during the holidays, so I gained a lot of extra weight!
When the new year came around and my eight weeks were up, I said, 'Enough with this!'
So, I committed to doing P90X3 and brought a few folks along for the ride!"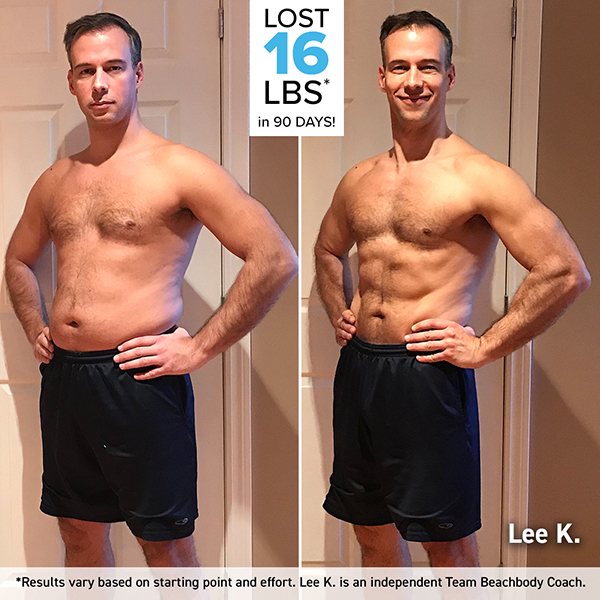 Lee's Beachbody Transformation
"I love the fact that P90X3 gets it done in 30 minutes! It's an intense workout program that really works all aspects of your body to give you a functional level of fitness that is important for leading a healthy life.
I love all of the variety — yoga, the Pilates, isometrics, etc., mixed in with the regular weights, cardio, and calisthenics.
And I really, truly love all the P90X programs with Tony Horton.
My waistline got smaller and smaller. The fat and goo around my waist melted away which is exactly what I wanted to happen. I can see my abs without flexing!
I love how I can easily access the workouts wherever or whenever. I also liked how I could use the Spotify playlists provided by the Super Trainer in conjunction with BOD (Beachbody On Demand) on either my console, PC, or tablet/phone.
Taking part in a Beachbody Group helped me be accountable and consistent. It helped me lead others by setting an example and making sure I showed up every day, I ate right every day, and I helped people every single day!
Groups are just amazing. This is the first year I've ever used Groups and this is the year that I have also personally achieved my best results!!!
Shakeology is just amazing. It really tastes so good and I find it also is quite filling. I also made my own challenge of trying a different Shakeology recipe every day!"
Lee's Life, After
"I'm in my mid-40s but I feel 20 and I can keep up with my kids!
I find that the consistency of doing a daily workout once again has really put some focus in my life.
Working out first thing in the morning really helps me get it done and be able to put my energy, good healthy and focuses energy, into all other aspects of my life.
But I also find that the nutrition aspect is what has been really eye-opening.
Learning to get into the habit of eating the right things, healthy things, with the proper portions, each and every day, has really helped.
When you fuel your body properly, you have so much more energy for your workouts and your life."
---
Are you ready to change your life? Take the Beachbody Challenge for the tools you need to Decide, Commit, and Succeed!
Complete any Beachbody program, and enter your results for a free gift and a chance to win cash and prizes.

*Consult your physician before commencing any fitness or nutrition program while pregnant or post-partum.