Chad R. Lost 27 Pounds in One Year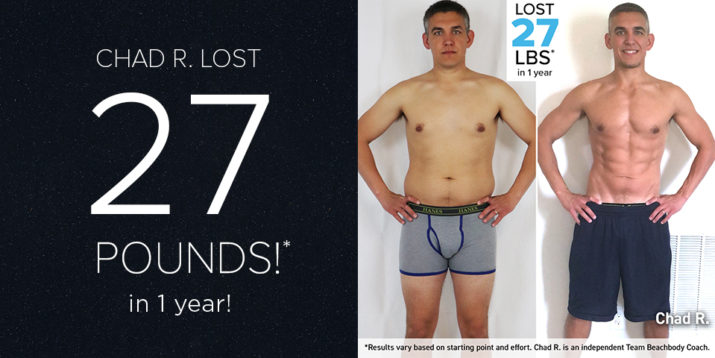 Help us give a BIG congratulations to our eight amazing Beachbody Challenge winners! Not only did they transform their bodies and start living their best lives, but they also won a $500 prize from the Beachbody Challenge contest.
Every month, we'll announce eight new $500 winners who will advance to the next round of the competition as they continue their quest for the $100,000 grand prize in 2021.
Submit your transformation story at BeachbodyChallenge.com for your chance to win. 
---
Chad R. struggled with yo-yo weight loss for a decade, but then he tried LIIFT4 with Joel Freeman and everything clicked.
With multiple rounds of LIIFT4, Shakeology, and Beachbody Performance supplements, he dropped 27 pounds and got in the best shape of his life!
Read more about how he did it:
Chad's Life, Before
"I was overweight through high school. I lost some weight when I joined the U.S. Army, but I've gone up and down about 25 pounds over the last 10 years.
I would lose weight, then lose motivation and gain it all back…then repeat the cycle the next year.
I relied on external factors to motivate me, which is an ineffective and unsustainable way to live — I knew that, but I struggled to break the cycle. I also knew that this was not the example I wanted to set for my family, especially my daughter.
After we had our first child, my wife started 80 Day Obsession to lose the pregnancy weight. I had gained as much weight as she did (or more!), so I started doing the program with her. My wife connected with the program, but I was fairly inconsistent.
Then LIIFT4 launched and I knew I had found my program!
This is when my transformation truly began. I started LIIFT4 in August 2018 and haven't looked back."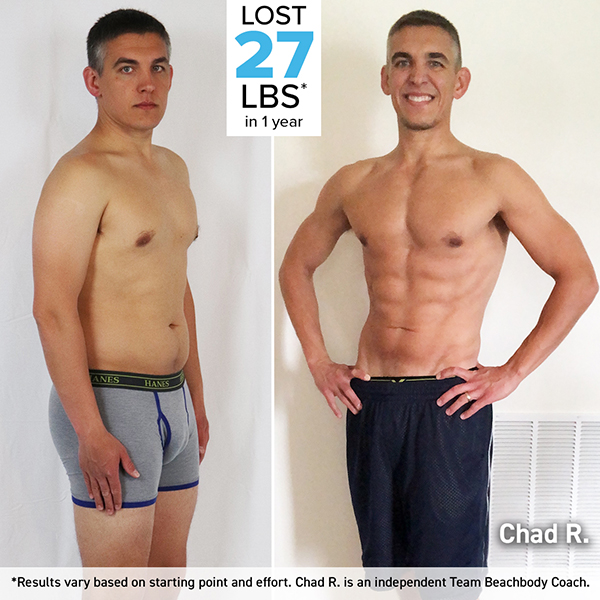 Chad's Beachbody Transformation
"I love that LIIFT4 offers more of a focus on weights while still providing plenty of HIIT/cardio and core work.
The length of the workouts is perfect for me to knock out in the morning or on my lunch break. Joel Freeman and the cast make the workouts fun and engaging.
After I hit my target weight, my focus shifted to building muscle. Though my goals changed a bit, this program still gave me what I needed to achieve them.
I have seen a loss of fat and an increase in muscle. For the first time in my life, I have abs! My body fat has dropped by over 3%. I am in the best overall shape of my life.
Shakeology has become a staple in my morning routine — it's a great way to start off the day and on the rare occasion that I don't have my shake, I can definitely feel the difference.
Energize has helped me to get the most out of my workouts and is the first pre-workout supplement I have found that actually works for me! I believe Recover and Creatine have helped me to see greater results and push harder in my workouts. I started taking Recharge about halfway through my transformation, which is when I started noticing the most significant physical changes with regard to strength and muscle growth.
BEACHBARS are an incredibly convenient snack for when I am on the go or need something between meals. I am happy to have finally found a snack that is packed with protein but doesn't compromise on taste.
Chad's Life, After
"Some of the best changes have been mental. I now look forward to my workouts and look forward to getting out of bed and starting each day.
Doing the programs and working the business with my wife has been a huge difference in our marriage and I believe we are now setting a better example for our daughter.
I no longer feel guilty when I eat a big meal or have a second (or third) glass of wine. Rather than starting down a slippery slope of overeating and laziness, I know my workouts will be waiting for me the next day!"
Check out our other Beachbody Challenge winners.
---
Are you ready to change your life? Take the Beachbody Challenge for the tools you need to Decide, Commit, and Succeed!
Complete any Beachbody program, and enter your results for a free gift and a chance to win cash and prizes.

*Consult your physician before commencing any fitness or nutrition program while pregnant or post-partum.