Amanda G. Lost 55 Pounds in 10 Months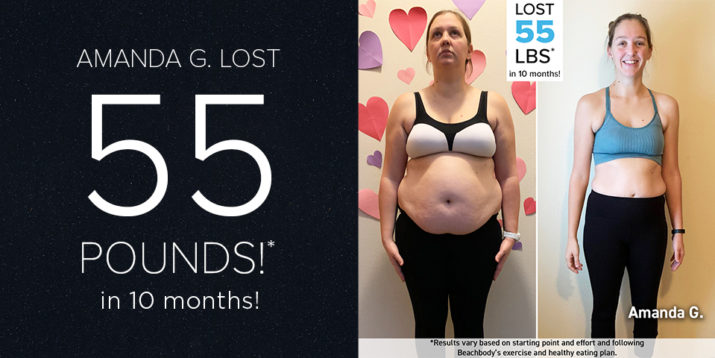 Help us give a BIG congratulations to our eight amazing Beachbody Challenge winners! Not only did they transform their bodies and start living their best lives, but they also won a $500 prize from the Beachbody Challenge contest.
Every month, we'll announce eight new $500 winners who will advance to the next round of the competition as they continue their quest for the $100,000 grand prize in 2021.
Submit your transformation story at BeachbodyChallenge.com for your chance to win. 
---
Amanda's Life, Before
"After having five amazing children, I was the heaviest I had ever been. I felt like the blimp and would avoid taking pictures with my kids even at there big events like my daughter's kindergarten graduation.
I chose to stay at home and hide instead of going out and making memories with my kids.
The final straw that caused me to "push play" was being asked to be the maid of honor in my sister's wedding.
I couldn't imagine standing next to my beautiful sister in the pictures. I didn't want to look back and hate those precious images of such a big moment in her life.
I chose to make changes for myself and my family. I wanted to feel worthy of being a mother to my 5 beautiful kids and married to an amazing husband.
My family deserved more than a mother and wife who was avoiding life — they deserve better than that."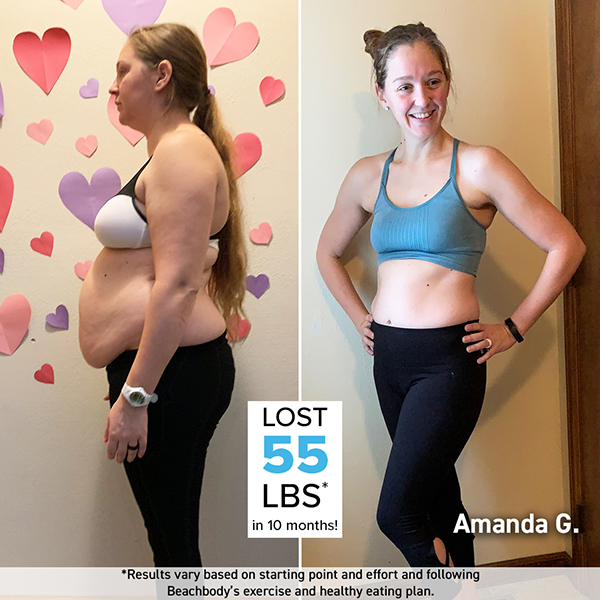 Amanda's Beachbody Transformation
"I loved that I could work out in the privacy of my own home, at my own pace and whenever it fit into my schedule.
I liked 80 Day Obsession and Morning Meltdown 100 because no two workouts were the same. I did TurboFire and CORE DE FORCE when I was traveling because neither program requires equipment.
With these programs, I lost a ton of inches and accomplished more than I thought I would ever be able to achieve!
Not only was I able to complete the programs without modifications, but I also took up running.
I went from running a block at a time to being able to run a 10K without stopping. I ran over 125 miles between March and October!
I went from a size 14 pants to a size 6. I was wearing an XL top when I started and I am now wearing a Small. I lost 55 pounds — my son is 55 pounds! I lost a whole small human!"
Amanda's Life, After
"I'm no longer embarrassed to get my picture taken with my kids and I've even taken a few selfies! I can stand proud of what I have accomplished.
I know that this lifestyle change is something I will do for the rest of my life. I love working out and setting an example for my young family.
I love getting dressed in my new clothes and going on adventures with my kids and dates with my husband. I love that I can say I am a runner and a Beachbody success story!"
Check out our other Beachbody Challenge winners.
---
Are you ready to change your life? Take the Beachbody Challenge for the tools you need to Decide, Commit, and Succeed!
Complete any Beachbody program, and enter your results for a free gift and a chance to win cash and prizes.

*Consult your physician before commencing any fitness or nutrition program while pregnant or post-partum.