Chris P. Lost 168 Pounds in 1.6 Years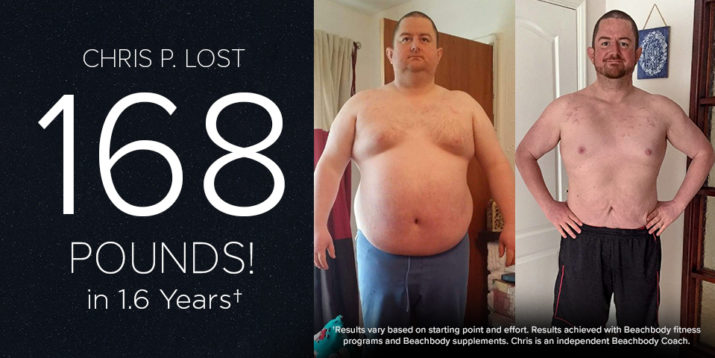 Chris decided his family deserved a healthy and happy husband and father.
With hard work, CORE DE FORCE, 80 Day Obsession, and Transform: 20, Chris turned his life around, mentally and physically.
Read more about his amazing journey!
Chris' Life, Before
"In 2017, I was 35 and it is hard to explain how depressed I had become. Working 100-hour weeks as a security officer, I felt increasingly isolated from my wife and two young daughters.
I felt ashamed of my huge body; I couldn't even see my feet over my belly. I could barely bring myself to look in the mirror, such was my disgust for what I saw.
I hated myself. My mental state was reflected by my physical condition, and I looked like death. I was waiting to die.
I had felt this way for such a long time, a decade before the physical tipping point. I had become a self-fulfilling prophecy. As the passage goes, 'for as a man thinks in his heart, so is he.'
One day I woke up and realized I just didn't want to die. At 35, I had already outlived my mother, who had passed away at age 33 from obesity-related health issues.
I now had two daughters of my own. I didn't want them to grow up without me and experience the same difficulties I had without a parent.
My wife deserved better. Hayley and I met and fell in love when I had nothing. She saw something in me that I didn't see, and I knew she deserved a better husband than what I had allowed myself to become."
Chris' Transformation†
"CORE DE FORCE was right up my street! I was raised on boxing by my grandfather and my father even competed in muay thai. Engaging in a new and healthy lifestyle this way felt like honoring them.
Joel and Jericho were the perfect balance of encouragement and understanding. The program gave me balance in life. 80 Day Obsession took me out of my comfort zone. It's true: If you want something you never had, you have to do what you have never done before!
Autumn Calabrese taught me this and got me wondering what was possible in life. It taught me to push through and stay committed in order to change.
Transform: 20 had the biggest impact on me. Though it 'only' accounts for 16 pounds of my 168-pound weight loss, the transformation in my mind is beyond measure! Shaun T showed me I was so much stronger than I thought and capable of so much more!"
Chris' Life, After
"Suffice to say, many weight-related challenges are no longer an issue. There were victories like physically being able to bend over from a standing position and put my socks on. At my peak weight, this just wasn't possible.
I no longer have aching joints, and I no longer suffer from shortness of breath. I am also no longer pre-diabetic, which is a massive victory.
Now, I actually have a life! My transformation wasn't simply one of body and mind (though it was those things); my transformation was more from death to life.
It felt extreme and profound. I experienced a very similar feeling only twice before: when I fell in love and got married, and when I came to faith.
I am not overstating it or being irreverent when I say that my transformation feels like being 'born again.'
Imagine feeling shackled and caged, living within yourself and emotionally not feeling able to move or breath. Then, imagine someone cutting those chains and opening the prison gates for you — that is how my quality of life has changed since my transformation started.
I get to enjoy a full and quality married life; I get to give the life to my children that I never had and feared they never would have. Now I feel alive!"
†Results vary depending on starting point and effort. Exercise and proper diet are necessary to achieve and maintain weight loss and muscle definition. The testimonial featured may have used more than one Beachbody product or extended the program to achieve their maximum results.