Andrea Rogers Shares Her Secrets for Glowing Skin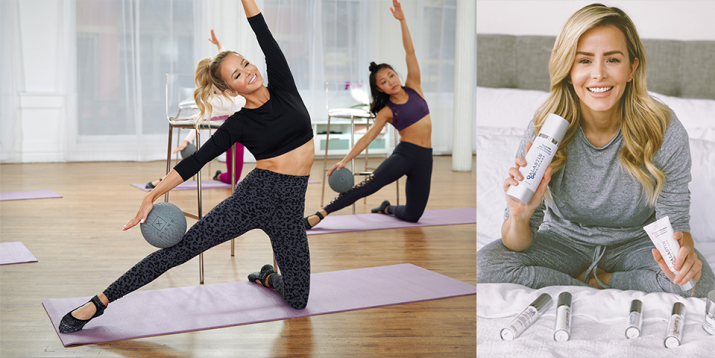 If you've tried Xtend Barre or XB Pilates workouts, you know creator Andrea Rogers is permanently glowing. And we're not just talking about her nonstop positive energy!
Her skin somehow always looks flawless, even after her millionth plié.
Obviously, her skincare game is on point — so how does she get that healthy glow?
"I really invest in taking care of my skin, just as I do with my body and my nutrition," Andrea says. "It's my indulgence."
Ready to step up your skincare routine? Andrea shares her must-have products and skincare secrets.
Andrea Rogers' Daily Skincare Routine
"I'm very big on keeping the routine with my facial skincare," Andrea says. Here's how she takes care of her skin all day long.
Morning
"After I wash my face every morning, I use a ReFa Carat roller on my face and body," she says.
"I apply my under eye cream, followed by a restorative complex or Vitamin C serum. Then I follow that with moisturizer and sunscreen. If I'm not wearing makeup that day, I'll mix the vitamin C serum into the sunscreen."
Post-Workout
Because she's usually working out at home, Andrea goes makeup-free during her workouts. So unless she's shooting a video, her post-workout skincare routine is basically nonexistent.
But on shoot days, she loves Farmacy Green Clean Balm for makeup removal: "That is the best makeup remover you will ever use in your life," she says. "The makeup just melts off your skin."
Bedtime
"In the evening, I cleanse my face with Green Clean," Andrea says. "Then I always add in some type of glycolic peel — right now I'm using Dr. Dennis Gross Ultra Gentle Daily Peel pads — and an anti-aging treatment."
Then she repeats the steps from her morning routine: eye cream, serum, and moisturizer.
10 Skin Care Products Andrea Rogers Swears By
Andrea has a list of must-have skin care products she uses on the regular. "I'm pretty diligent with my skincare, and I give it a lot of attention," she says.
Here are her favorites — including the crazy-cheap body wash she uses almost every day.
1. Eva Naturals Vitamin C Serum
"This is the best product I've ever used. I buy three at a time. It has vitamin C, it has retinol, it has hyaluronic acid, it has salicylic acid. It's just amazing. You can use it morning and night."
Get it here.
2. NIVEA Cocoa Butter Body Lotion
"I love this lotion. I never get out of the shower or bath without my entire body being lathered in lotion — head to toe."
Get it here.
3. Summer Fridays Jet Lag Mask
"I do a mask two or three times a week. It varies depending on what my needs are — whether it's a moisturizing mask, a skin clearing mask, or a detox mask. This overnight mask is super hydrating. You wake up with your skin feeling so smooth and regenerated."
Get it here.
4. EltaMD UV Clear Facial Sunscreen
"I'm a big believer in sunscreen. I sunscreen up every single day. This is my favorite because it doesn't make me break out. If I use a tinted moisturizer — which I pretty much do every day — I use the Elta on my chest and my upper body, and then I use Coppertone Glow on my arms and legs."
Get it here.
5. Coppertone Glow Hydrating Sunscreen Lotion
"I absolutely love it. The illuminating shimmer gives you a little bit of a body-blurring thing going on with your legs and arms. Plus it's SPF 50. My kids also love the 'glitter sunscreen' — they wear it every single day with me."
Get it here.
6. St. Tropez Self Tan Express Advanced Bronzing Mousse
"I never lay in the sun. I did when I was younger, but now you will see me with a hat on, sunscreen on, under the umbrella. So I'm big on doing my own at-home spray tans and self-tanners. St. Tropez is my all-time favorite — I use it two to three times a week."
Get it here.
7. La Roche-Posay Purifying Foaming Cleanser
"This cleanser is so great. I don't always stick with the same cleanser — I like to mix it up a little bit depending on my skin's needs at the time, and seasonally as well." (Another favorite cleanser right now: Obagi Nu-Derm Gentle Cleanser.)
Get it here.
8. CeraVe Facial Moisturizing Lotion PM
"CeraVe is just incredible. Everything in that line is amazing. This is a PM moisturizing lotion, but I use it day and night. It's fantastic. It has a lot of great additives in there that help fight aging."
Get it here.
9. Alastin Restorative Eye Treatment
"This is the best eye cream ever, and I've tried them all! I invest in eye cream because I feel like when I don't, I can see the difference."
Get it here.
10. Solimo Clarifying Pink Grapefruit Body Wash
"I work out often, and I break out when I have any type of sweat happening. So I use this almost every single day on my body, along with exfoliating gloves. It has salicylic acid, so it helps to keep the skin clean and clear — especially behind the arms, and on my chest and back."
Get it here.
Everyday Habits for Clearer Skin
Andrea Rogers' skincare routine isn't just about the products she applies. Here are four ways she takes care of her skin from the inside out.
Watch your nutrition
Healthy eating habits, like cutting out added sugar, can give your skin a boost. Andrea noticed a change when she cut dairy from her diet nine years ago.
"Going dairy-free was a complete transformation of my skin," she says. "My skin just completely cleared up."
Avoid scalding-hot showers
"I adore a hot, hot shower or bath," Andrea says. "But my skin doesn't love it. So I try to stick to mild, warm showers and baths. I'm a big bath person — I'm always adding body oil to keep my skin smooth."
Stay hydrated
"I drink a ton of water," Andrea says. "Other than my protein smoothies, I don't drink anything but water on a regular basis. I'm not a coffee drinker. I'm not someone who has wine every night. I don't consume sugary drinks. But I always have a water bottle next to me."
Get enough sleep
Despite her hectic schedule, Andrea makes sure to get an adequate amount of sleep every night. "That's a big contributor to looking and feeling your best," she says.