I Lost 57 Pounds and Got Back Into My Pre-Pregnancy Clothes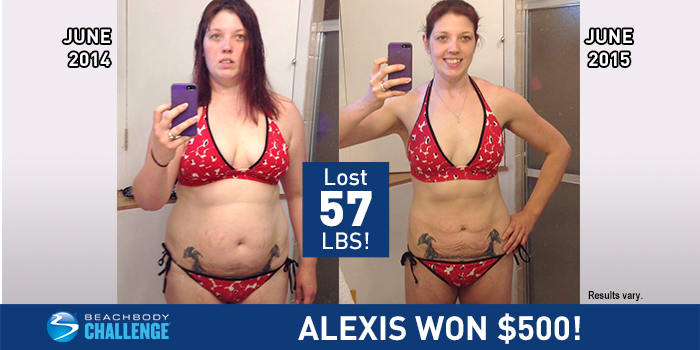 Alexis D lost 57 lbs with Slim in 6, PiYo, and 21 Day Fix EXTREME. She entered her results into The Beachbody Challenge, and won the $500 Daily Prize for August 3rd!
Tell us about your life before you started the program. How did you feel about yourself and your body?
Before I started using Beachbody programs I was uncomfortable in my own skin. It had been over a year since I had a baby and I felt like I still looked pregnant. I couldn't shed those last 20 lbs. I've had back problems since I was a teen and after having a roller coaster pregnancy that caused me to gain almost 60 lbs, my body was in rough shape. I needed to do something so I wasn't in pain all the time. I always liked going to the gym, but with my husband's work schedule and a new baby, it wasn't realistic and I didn't have the time to be consistent.
What inspired you to change your life and begin your transformation journey?
I saw a friend of mine from high school posting on Facebook about Beachbody and all these workouts she was doing. I loved that she was doing something she loved and was so positive, so I kept liking her posts. One day, she messaged me out of the blue asking me to join her Challenge Group. It took some convincing but ultimately I bit the worm dangling in front me. I wanted to be a positive role model for my daughter and I wanted to be fit. I wanted to feel like myself again. I wanted back into my pre-pregnancy clothes.
What is the greatest challenge you faced before beginning the program? How did the program and Beachbody® help you overcome that challenge?
The greatest challenge I faced was my eating habits. They weren't the worst. I had already made some changes in the right direction towards eating healthy but I hadn't been ready to commit to all of the changes I needed to make. When I started Slim in 6 and looked at the Michi's ladder nutrition plan I thought, "I can do this, it's seems simple enough!" The breakdown of each category of foods and tiers was very helpful. I could eat a treat once in awhile. I decided for the first 2 weeks I would do a food diary until I was confident enough with my habits that I didn't have to anymore. In complete disclosure, I love chips, of all kinds. I still had chips in the house when I started. It wasn't until the second week of drinking Shakeology that I realized they were still in my cabinet, and I didn't crave them at all! At this moment I knew I had changed for good.
What in particular did you like about the program you chose?
I loved Slim in 6 because it is a great starter program. I started from the bottom, I was basically sedentary.I hadn't worked out in over a year, and I spent 3 months on bed rest before having my daughter. Having no muscle mass I was scared about starting the program. However, I was able to slowly build up my strength. As the days and weeks went on I was able to lunge lower or lift higher, and I felt less sore each day until I began the next DVD. I loved that it was a progressive workout that i didn't have to modify everything. Moving forward I then tried PiYo. I felt stronger each week than the previous, and I knew I was ready for something even harder. I then tried other Beachbody programs, which I loved, but I was having some issues with an old back injury flaring up so I switched to 21 Day Fix EXTREME. It totally shredded my abs! I was looking to really tone and define my body, and it's been getting more sculpted each week.
Describe the results you achieved with your Beachbody program. Which achievements are you proud of?
I am so proud that I completed the program. I had never been able to workout at home before so this was a huge accomplishment for me. I lost 17 lbs with Slim in 6 and got back into my pre-prgnancy clothes! Since completing each program, I feel like I've put another notch on my belt each time. It's incredible to watch just how quickly my body can change when I dial in my nutrition and really focus on my workouts. I am so proud of the definition I'm achieving in my arms, legs and midsection.
How has your life changed since completing your Beachbody program?
Since completing Slim in 6, I feel more like myself again, only healthier. I decided that I want to pay it forward and give other people the gift that my coach gave me. The gift of health and wellness. The gift of knowledge about myself and my capabilities. I became a Coach and got another workout! Being able to pay it forward and help other women just like me who have struggled with weight issues has been awe inspiring. I get to do something I love, helping people. while helping myself achieve my own goals and stay accountable.
How did participating in a Challenge Group help you reach your goals? How did your group support you and keep you accountable?
Participating in the Challenge Group helped with keeping myself accountable for my workouts and my diet. I didn't want to let myself down, and I didn't want to let down the other people in the group. It was a supportive place for me to post things and it made me more comfortable that I had that outlet.
How did your Team Beachbody® Coach support you on your journey?
My Coach was amazing! I would message her asking her questions and talk about my obstacles. She was a fantastic motivator and an inspiration to me. She has taken more of a step back and let me do my own thing, but she's still there for me as a friend. If it wasn't for her, I wouldn't be where I am today!
How did a Beachbody Supplement or Nutritional Product or Program (such as Shakeology® or Beachbody Ultimate Reset®) support your transformation? What are the greatest benefits you gained? Did you see benefits to your energy, sleep, mood/mental clarity, digestion/regularity?
Shakeology has been a blessing in my life! I am more energized, my digestive system is regular, and most importantly for me it has curved my junk food cravings! If I miss having my shake for a day for some reason I feel more tired and run down. My digestion has also been much more regular, and I no longer get bloated.
How did a Beachbody Supplement or Nutritional Product or Program affect any existing health conditions you have?
Since starting the Beachbody workouts I am no longer in pain everyday. I have the energy to run after my daughter without feeling like my lungs are going to explode or me body is going to give out. Beachbody has been such a positive staple in my life.
You can change your life, too. Take the Beachbody Challenge for the tools you need to Decide, Commit, and Succeed! Complete any Beachbody program, and enter your results for a free gift and a chance to win cash and prizes.