8 Essential Spices to Keep in Your Pantry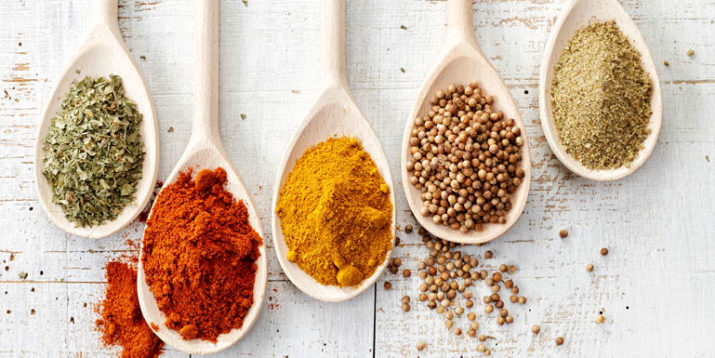 Spices and seasonings are the unsung heroes of our kitchens; they are absolutely essential for all home cooks who want to prepare healthy, clean dishes that are full of flavor.
Instead of adding extra salt, sugar, or whatever mix of both (plus a few additives!) that are in bottled sauces, stock up on dried herbs and spices that lend slightly sweet, savory, or spicy notes to dishes.
Check out our list of the essential spices we just can't cook without, and find out how you can incorporate them into your next meal.
Cinnamon
Warm, spicy, and sweet, cinnamon is a staple of any spice collection. It's useful for much more than just holiday treats.
Cinnamon can be used to spice up breads, cookies, and other baked goods.
For breakfast, stir cinnamon into oatmeal, sprinkle it on Greek yogurt, or mix it into a cup of hot coffee for added warmth. Try this Apple Cinnamon Granola; it's a yummy treat on its own or mixed into Greek yogurt.
Italian Seasoning
Italian seasoning allows you to transport Mediterranean flavors across the ocean and right to your plate with its blend of oregano, thyme, basil, marjoram, rosemary, and more.
The seasoning mix can be used in a variety of dishes, including sauces and soups.
The next time you're craving pizza, try this homemade Artichoke Pizza to bring the flavors of Italy right to your kitchen!
Cumin
Cumin is used by cooks around the world. Its pungent, powerful flavor helps rev up otherwise bland dishes.
Use it in marinades or rubs for meat and seafood, sprinkle it on rice and beans, or toss it into your next stew. Or try this recipe for Slow-Cooker Cheesy Chicken Enchiladas.
They're seasoned with cumin and can satisfy even the strongest cravings for rich Mexican cuisine.
Curry Powder
Curry powder is an aromatic blend of turmeric, cumin, coriander, chili peppers, and other spices popular in Southeast Asia.
It's great with chicken, lentils, seafood, tofu, and steamed vegetables and it adds a bright orange color and burst of exotic flavor. Try it in this Shrimp Coconut Curry.
Chili Powder
Chili powder is a smoky, spicy blend of dried chilies, cumin, oregano, paprika, and other spices and is a staple of Latin American cuisine.
Chili powder is often used in enchiladas, tacos, soups, and guacamole.
Add a pinch of it to stews, grilled meats, or beans for an added kick, like in this Tex-Mex Southwestern Rice and Bean Salad.
Bay Leaves
Bay leaves are known for their distinct fragrance and release their flavor slowly, making them perfect for slow-cooked meals such as soups, stews, and marinades.
Bay leaves can also enhance the flavor of steamed food, such as seafood and vegetables. Just make sure to remove them prior to serving.
On a cold day, try this hearty Chicken Gumbo, flavored with bay leaves and an array of other aromatic spices.
Red Pepper Flakes
You know that ubiquitous glass shaker of red flakes and seeds that's at every pizza restaurant? Those are red pepper flakes.
They're simply crushed red chili peppers, yet they have the potential to add new dimensions of heat and flavor to a dish.
Tossed with olive oil and garlic, red pepper flakes can create a delicious sauce to drizzle on spaghetti or steamed vegetables.
We love them in this recipe for Pad Thai with Spaghetti Squash.
Paprika
Paprika, a bright red spice made from dried, ground peppers, varies in flavor from mild and sweet to smoky and spicy.
In the United States, we sprinkle paprika on top of deviled eggs or add it to ketchup.
Internationally, however, it's used differently. In Mexico, it's featured in a variety of savory dishes, including salsa.
In South America, it's added to empanada filling. In Thailand, it's mixed in with pad thai.
Check out this Spinach, Quinoa, and Chickpea Salad, topped with a simple vinegar and paprika dressing.
With this collection of spices in your pantry, you'll be able to enhance the flavor of all sorts of foods.
Just remember: These seasonings carry a lot of kick, so stick with the amount called for in a recipe and only add more after you have tasted it. Bon appétit!