2B Mindset and Portion Fix: Two Great Nutrition Plan Choices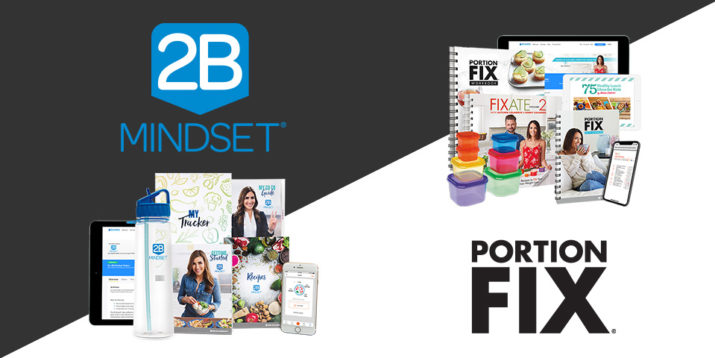 Low carb, sugar-free, high protein, no dairy — it seems like everywhere you look there's a fad diet that cuts out or limits everything that's fun to eat.
The problem with fad diets is that they aren't sustainable over the long term.
For lasting results, it's vital to choose a nutrition plan so your approach to eating isn't a short-term decision based on the latest fad or popular rumor, but one that will serve you for a lifetime.
That's why BODi offers two incredibly effective nutrition plans — to give people a choice in how they achieve their goals: 2B Mindset and Portion Fix.
The science that associates healthy food choices and proper portions with weight loss and health is certain, but the way to achieve each can be approached in different ways.
What works for a friend may not work for you because we all have a unique history that has shaped our relationship with food and body composition, with different issues and triggers.
So, the real question is: Which nutrition plan is right for you?
First, keep in mind this decision is risk-free: We have a 30-Day Money-Back Guarantee so if you try one and it doesn't work for you, you can return it for a refund and try the other.
Now let's talk about what both programs have in common before we break down the differences:
How to Eat Healthy
Both 2B Mindset and Portion Fix show you what healthy eating looks like and provide you with the tools to establish healthy eating habits for life.
Two key things they don't do: Neither plan advocates cutting out entire food groups or banning foods that make eating so enjoyable.
Instead, 2B Mindset and Portion Fix reframe your relationship with food by helping you build a strong nutritional foundation.
They teach you about the basic food groups, how much food you need to fuel your body, how to read labels so when you shop for healthy food you know what you're getting, how to prepare healthy meals, and so much more.
Now let's explore the differences:
Ilana Muhlstein, registered dietitian nutritionist, M.S., created the 2B Mindset nutrition plan because nothing out there helped people who love to eat a lot of food like she does.
She used these principles to lose 100 pounds and keep them off as a mom of three by creating methods and a mindset to help you understand and manage your behavior and choices about food while still being able to enjoy it.
Ilana believes weight loss is easier achieved when you shift from thinking, "I can't eat that" to "I just don't want to," and has created a unique framework for building self-control, changing habits, and crushing cravings that have been holding you back.
With simple and effective nutrition strategies, behavior patterns, and self-awareness tools, 2B Mindset helps people develop and strengthen their own approach to eating for weight loss and weight maintenance through the use of simple devices, such as the four principles which form the "2B" in 2B Mindset.
"2B" stands for "2 bunnies," or the shape you get when you hold up the first two fingers in each hand.
Each finger represents one of the main principles Ilana advocates: (1) Water first, (2) Veggies most, (3) Track your food, and (4) Weigh yourself regularly to introduce accountability and empowerment to your daily decisions.
With these simple guidelines and more in-depth discussion of how to be more "conscious" of how you eat and how to construct a meal, the program teaches you what to eat, but also why, when, and how to approach meals and eating situations.
Ilana's "Plate It" method focuses on eating filling and satisfying meals so you can lose weight without feeling hungry or deprived.
2B Mindset also provides a variety of resources and support for you — instructional videos, practical tips, and 2B-friendly recipes to help you succeed.
Who Is 2B Mindset For?
2B Mindset is for people who want to drop pounds and achieve a healthier relationship with food using a sensible and sustainable approach to eating.
It's for those who want a realistic and effective set of guidelines that take into account stressful situations, social events, temptations, and travel, so you can still manage your food choices and keep losing weight through whatever life throws at you.
Pro tip: Learn more about 2B Mindset.
View this post on Instagram
In Portion Fix, Super Trainer and nutrition expert Autumn Calabrese pairs her color-coded Portion-Control Containers with a scientifically proven calorie calculation to personalize healthy nutrition guidelines for you so you know exactly what and how much to eat.
For once, you'll have total control over food to achieve the weight loss you want with absolute certainty and without starvation or depriving you of the foods you love.
Autumn based Portion Fix on three guiding principles: eating a healthy balance of macronutrients, proper portion sizes, and swapping highly processed foods with flavorful meals made with whole-food ingredients.
Autumn spells it all out and then helps you succeed step-by-step in this 30-day video-based program. It's designed to help you achieve your healthy weight-loss goals, eat for intense fitness performance, and even help you beat sugar addiction.
Portion Fix gives you control over food and is shaped to your preferences and goals with three eating plan options that are based on your body type, lifestyle, and goals.
The program works for the whole family, too — it includes practical tips on how to get your kids involved in creating healthy meals that they'll want to eat.
There are videos that show you how to meal prep and shop for food and include hundreds of recipes from the FIXATE cooking show and cookbooks, as well as accountability support from your BODi Partner or Group.
Who Is Portion Fix For?
Portion Fix is for people who are seeking to have control over food instead of food controlling them with a structured, well-balanced, and perfectly portioned program without cutting out food groups or starvation, and without taking the fun out of eating.
Pro tip: Learn more about Portion Fix.
View this post on Instagram
How Can I Be Sure Which Nutrition Plan Is Right for Me?
At the end of the day, both of these programs are proven to work and it's important to make a decision based on your goals and personal experience and then follow a program to see if it's a fit for you.
And remember: There's a 30-Day Money-Back Guarantee, so if for any reason one program doesn't work for you, return it in within 30 days for a refund so you can try the other program.
But you won't make ANY progress unless you decide and commit. The solutions are ready for you, and the results will pay you dividends for a lifetime.
Still not sure which program is right for you?  Use our Find My Eating Plan tool to determine the nutrition program that's best suited for your lifestyle.