Kim P. Lost 154 Pounds in 16 Months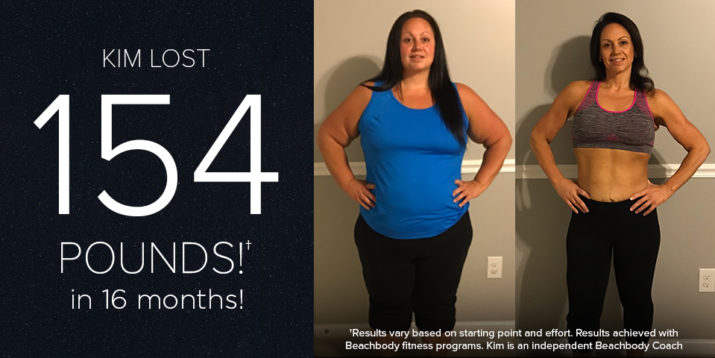 Kim's journey started when she decided she was no longer going to let her weight dictate how she lived her life.
She was determined to set a good example for her children and set them up for success.
With the help of 21 Day Fix and Shakeology, Kim lost 154 pounds and is now in the best shape of her life!
Read more about her amazing journey.
Kim's Life, Before
"Before I started this journey, I was morbidly obese and struggling physically and emotionally. I felt like I was always being judged due to my size.
I hated seeing myself in pictures because I couldn't believe what I had let myself become.
I felt like a hypocrite at work. I'm a physician assistant and part of my job is to counsel my patients on their health. But who was I to give any kind of health advice while weighing over 300 pounds?
I remember walking into restaurants and feeling nervous that I wouldn't fit comfortably into the chairs or booths, or at a picnic if a plastic chair would break underneath me.
We would be doing rounds in the hospital and I would pray that we would take the elevator because I would get embarrassingly winded and my legs would burn going up the stairs.
On airplanes, I had to have the window seat so I could put the armrest up between myself and my husband because I barely fit in the seat. Not to mention I had to buy a seatbelt extender.
My weight was the one thing in life that I felt like I had failed. No matter what I did, I couldn't seem to get my weight under control.
In 2014, I had started losing weight and getting in shape when I was diagnosed with thyroid cancer. And it was at my doctor's visit that I found out I was pregnant.
Two weeks later, we found out it was twins! My pregnancy took a huge toll on my emotions and I ended up gaining almost 90 pounds.
After I delivered my twins, I finished my cancer treatment but battled with postpartum depression, which made it hard to lose the weight.
In the summer of 2017, we took the twins to the boardwalk in Rehoboth Beach, Delaware. But I couldn't fit on the rides with them; they were so upset and couldn't understand why I wouldn't go with them.
It was at that moment, looking in their tearful eyes, that I knew I had to take drastic measures because this couldn't be my life.
I could not let my weight dictate my life and how I would raise my children. I certainly didn't want them growing up with bad eating habits and making lifestyle choices that would set them up for failure.
It's truly awful to bring up these feelings, but it serves as a reminder of where I've come from and where I never want to be again."
Kim's Transformation
"My friend and colleague Andria is a Team Beachbody Coach and recommended that I start with 21 Day Fix, the portion-control containers, and Shakeology.
The beginning was hard. The portion-control containers were easy to use, but they really showed me how insane what I was eating before. I had to cut out unhealthy snacks, but thankfully Andria sent me recipes using Shakeology to make healthier snack options!
Shakeology helped me push through plateaus and refocus when I felt like I was getting off track. Learning to use it in other capacities than as just a shake was paramount for me and it's proved to be an integral part of my health and wellness journey.
The Beachbody On Demand programs are easy to use and easy to access. I really liked that the workouts could be modified until my fitness level improved. In the beginning, I had to modify the modifier!
With two toddlers running around, my free time is very limited, so the duration of the workouts and the ability to work out at home eliminated the excuses and helped me be 100-percent committed.
I loved 21 Day Fix and eventually graduated to 21 Day Fix EXTREME. CORE DE FORCE was a lot of fun and I really liked Joel and Jericho's energy.
The ability to travel with my workouts made consistency possible when I would have otherwise easily fallen off track on vacations and during travel in the past.
And the FIXATE cooking show was a great resource for new recipes to keep meals from getting boring."
Kim's Life, After
"I've lost 154 pounds, which is almost half of my body weight, and I am in the best shape of my life!
I was wearing size 26 pants and 1x–2x tops, but now wear size 8 pants and small tops.
Working out is now a regular daily event. My kids always ask me when it's time to exercise! I'm super active and can keep up with my four-year-old twins with ease. I'm much more confident and optimistic now.
I don't worry about weight limits, chair or booth sizes, and I can join my children on all the rides at the boardwalk and amusement parks.
My attitude at work has improved and I feel like I'm able to counsel my patients appropriately.
Most importantly I feel like I'm going to be a positive role model for my children by leading by example and teaching them good eating habits and an active lifestyle that will stay with them forever.
I don't feel like there is anything I can't do now!"