21 Day Fix EXTREME Results: Richard Lost 18 Pounds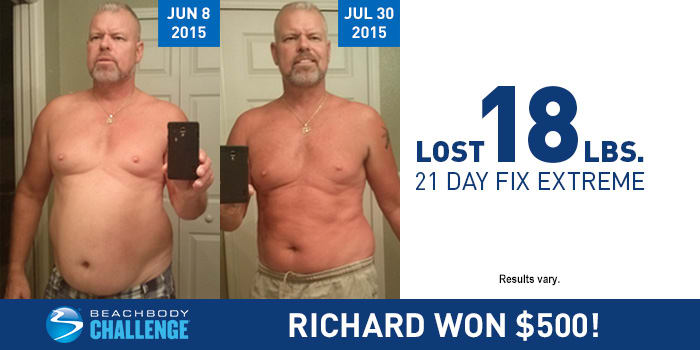 Richard Hiatt lost 18 pounds with 21 Day Fix EXTREME. He entered his 21 Day Fix Extreme results into the Beachbody Challenge, and won the $500 Daily Prize for November 1st! (Richard is an Independent Beachbody Coach.)
Tell us about your life before you started the program. How did you feel about yourself and your body?
I never looked down on myself because I gained a little weight. As I got older, I figured it was just part of aging. It never really bothered me any, until I tried to put on a brand new pair of jeans that I had bought, and I was unable to fit into them. I could not believe it. I got fat.
What inspired you to change your life and begin your transformation journey?
About two years ago, my Queen and I wanted to make a change in the way we ate food. We wanted to grow our own produce so we would know what was going into our food and bodies. I built a greenhouse from the ground up, and started growing some of the best produce I've ever had. The more we read into 'eating clean,' the more we wanted to be a part of this type of lifestyle change. Two years into it, we knew we were eating better, but one thing was still not happening. We weren't losing any weight.
What is the greatest challenge you faced before beginning the program? How did the program and Beachbody help you overcome that challenge?
I got into the program by supporting my Queen, who joined a 21 Day Challenge Group. As we journeyed through it together, I noticed a difference. I felt better. I felt lighter. Hell, I started running again. Looking at myself in the mirror, I couldn't really see the changes; I saw myself in the mirror every day. Taking a "before" picture — something that I really wasn't comfortable with — turned out to have been the best thing I did, as I look at the results today. Now, when I hold the picture up to the mirror, looking at the fat guy looking back at me, I can say, "You are not part of my life anymore."
What in particular did you like about the program you chose?
What I liked about the program was the fact that it gave me the tools that I was missing. When I started our journey in eating clean, I was eating better, but I wasn't eating correctly. The portion containers made a huge difference in the way I eat food today.
Describe the results you achieved with your Beachbody program. Which achievements are you proud of?
The fact that I lost, as of today, 18 pounds, and 13.5 inches is my greatest achievement — for now. My journey continues.
How has your life changed since completing your Beachbody program?
I'm more aware of not only what I eat, but how I eat and how often I eat. I feel my body telling me if I need my vegetables, fruits, or proteins. The way I have it spaced out for the day works awesome.
How did participating in a Challenge Group help you reach your goals? How did your group support you and keep you accountable?
Participating in the Challenge Group helped me reach my goals by teaching me how to understand the program and how to use it effectively.
How did your Team Beachbody Coach support you on your journey?
Carla Krebs was my journey. My Coach is my Queen. I began my journey by supporting her, and now she is supporting me as my Coach.
How did a Beachbody supplement, nutritional product, or program (such as Shakeology or Beachbody Ultimate Reset) support your transformation? What are the greatest benefits you gained? Did you see benefits to your energy, sleep, mood/mental clarity, or digestion/regularity?
Energy for sure! I drink my Shakeology every day and without it, my diet doesn't feel complete. And because it has a sweetness to it, it is the perfect dessert.
You can change your life, too. Take the Beachbody Challenge for the tools you need to Decide, Commit, and Succeed! Complete any Beachbody program, and enter your results for a free gift and a chance to win cash and prizes.

*Results vary depending on starting point, goals, and effort.