21 Day Fix EXTREME Results: Patricia Lost 11.2 Pounds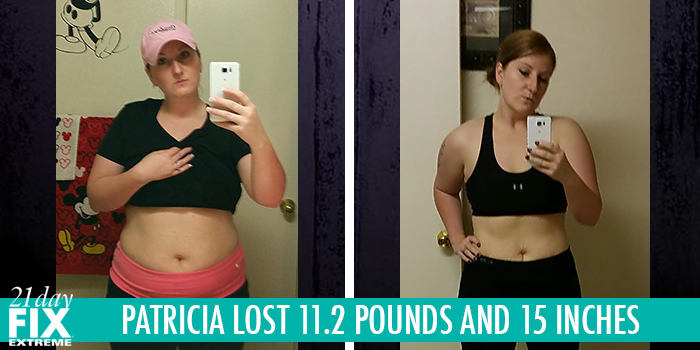 Patricia S. was an Army veteran, but being a full-time mom, wife, and student left her with little energy for physical activities. She wanted to be able to keep up with her children, so she decided it was time for a change and committed to 21 Day Fix EXTREME. She lost 11.2 pounds and 15 inches in 21 days! Read about her success in her own words right here:
Before I started the program, I felt like I had let myself, my husband, and my kids down. I didn't feel like the person I saw in the mirror. My joints always ached, I got migraines, and I I never had the energy to play with my kids. I didn't feel attractive and my self-esteem was at an all-time low. I used the excuse of having children as the reason for being overweight. This wasn't okay. Mostly I had given up on myself.
When I was in the Army, I met the woman who is now my Coach. She was posting all these pictures of her amazing body and transformation. Finally after a month of seeing her look absolutely incredible, it was like a light bulb went off in my head. I want to better myself not only for my family, but for me. I wanted to get myself back. I wanted to be the best me. So after a few months of talking, I finally jumped in. I had nothing to lose but weight and everything to gain. It was seriously the best decision I have ever made in my life!
Starting up, my biggest challenge was myself. I had self-doubt, and I was my worst critic. I found myself trying to compare my body to others–my brain had been wired to do so over the years. It was really discouraging. I really had to train my mind–I'm not the same as those girls. Everyone is different. Once I got pay my own insecurities, it made it easy to follow the program. I would listen to Autumn telling me to give it my all and push through. Beachbody had forever changed the way I eat, the way I exercise, and the way I view myself.
With the 21 Day Fix EXTREME, it was really foolproof. It came with a workout regimen, a meal plan, and portion containers. There was no reason to not follow the program when everything was provided. Everything was laid out and easy to follow and understand. The workouts were a game changer! I never felt like I was needing more to sustain my drive, and I was working muscles I didn't even know I had. Bottom line, this program worked. It was easy to follow, even if you are busy on a daily basis.
I am proud to say I am down 11 pounds and 15 inches. I have energy that I didn't have a month ago. My endurance is at a point it never has been at, and I was in the Army! I can make myself push through those 60 seconds because I know that it works and it is worth it. My mental level of motivation far passes my physical. I know in my head I can do the workouts. My mind doesn't allow my body to give up, and now, I finally have something to be proud of ! I feel amazing. My confidence has improved, and I feel strong and healthy. Now I'm the one dragging my kids outside to play with me instead of the other way around! Beachbody has taken me out of my shell and shown me who I really am, and it is someone to show off!
---
You can change your life, too. Take the Beachbody Challenge for the tools you need to Decide, Commit, and Succeed! Complete any Beachbody program, and enter your results for a free gift and a chance to win cash and prizes.