Transformation Tuesday: Moraima Lost 7.2 Pounds With 21 Day Fix EXTREME!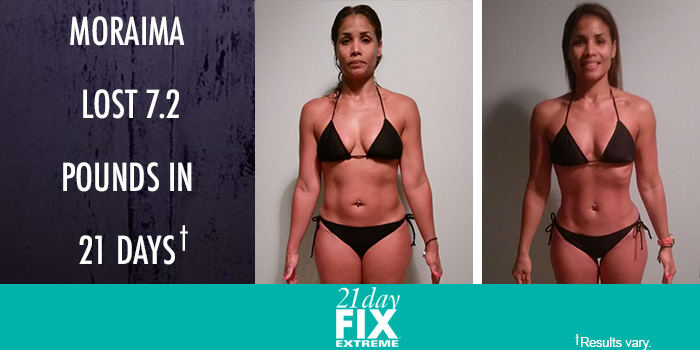 Moraima was tired of going to the gym and not seeing results. As a busy working mother, she didn't have a ton of time in her day to spend hours trying to lose weight. She knew she wanted a tough program that included a nutrition plan that she could do from her home. After trying 21 Day Fix EXTREME, she lost 7.2 pounds in just 21 days! Read about her experience in her own words below:
"My goal before starting 21 Day Fix EXTREME was to lose 3-5 pounds. I wanted to get back into exercising regularly without having to spend so much time at the gym. I decided to go with this program because I was used to doing hard exercises in the past.
I liked so many things about 21 Day Fix EXTREME! I'm a mother and I work full-time, so I have many responsibilities and roles. Before, I was running out of time to go to the gym. With this program, I could do my workouts at home! I loved all the powerful workouts and routines that could be done in a very reasonable period of time.
I also loved the eating plan included with this program. The portion containers really helped me to learn better portion sizes. I saw other varieties of foods and food groups I could eat. The plan was very simple to use and get used to.
I exceeded my expectations! I saw results in both lost weight and inches! It all worked so quickly, and I look so healthy now. I'm most impressed with the lost inches from my belly. I never imagined that I could get these results without going to the gym for hours. I finally had fun doing a routine, and of course, I got fit at the same time!"
†Results vary depending on starting point and effort.
---
You can change your life, too. Take the Beachbody Challenge for the tools you need to Decide, Commit, and Succeed! Complete any Beachbody program, and enter your results for a free gift and a chance to win cash and prizes. What program are you committing to next?