Martha Lost 50 Pounds with 21 Day Fix EXTREME!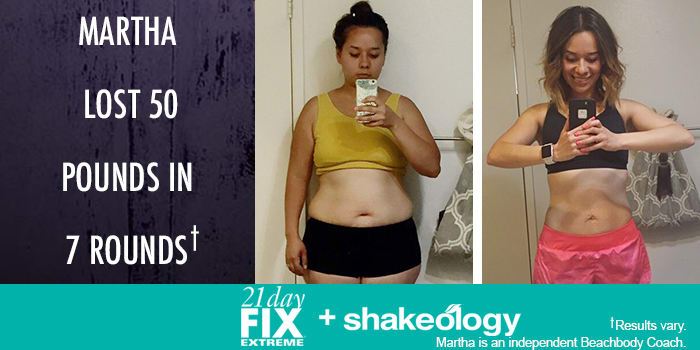 Martha had never worked out before and had poor eating habits. She was struggling to keep up with her kids. She decided to get in shape and used 21 Day Fix EXTREME to lose 50 pounds! She completed 7 rounds and had great results! Here's how she did it, in her own words.
"I actually began my fitness journey with 21 Day Fix EXTREME. It was a bit of a challenge at first, but having a modifier helped tremendously until I was able to do the program with no problem.
My main goal was to get healthy, obviously to lose weight so I wouldn't be overweight and could chase after my two wild toddlers. My goal was never to be skinny, but mainly to be healthy and feel confident and happy with myself and the way I looked and felt.
My fitness level before this amazing program was horrible. I never worked out and I ate very poorly. Hardly incorporated any veggies into my daily diet and I ate fast food a few times a week. Overall, I had a very poor nutrition. I skipped breakfast a lot of the time because I would get too busy and forget to eat.
As soon as I began this fitness program I noticed an incredible boost of energy right from the beginning, something I hadn't felt in a long time. I knew it was because I was working out and fueling my body with the proper nutrients I had been lacking. I also noticed the weight melting off. Not only was I losing weight, but inches, too, mainly off my mid-section. And so my confidence and self-esteem began to elevate like no other.
This is now my lifestyle. I will never go back to the old, unhealthy me. I will continue to use the meal plan. I also plan to come back to this amazing killer workout. I will forever be grateful 21 Day Fix EXTREME changed my life like no other. I truly believe in and rave about this program because I know it works.
The one thing I like the most about 21 Day Fix EXTREME is how easy it is to follow. Anyone can really do this. No counting calories, points, etc. It teaches you exactly how and what to do. I also love that the workouts are only 30 minutes long and they all have a modifier. Working out from home was my only way out. I absolutely have no time whatsoever to go to the gym, and that's another reason why I love this fitness program.
I have reached my weight loss goal. I lost a total of 50 pounds. I haven't felt this good about myself in a long time. It's such an amazing feeling knowing that I lost all this weight the right and healthy way. I guess you can say I celebrated by going on a shopping spree, because none of my clothes fit anymore. That was, by far, one of the best feelings ever.
I have had a lot of people compliment me on how great and healthy I look now. They have even jumped on and joined me. They saw how my results were achieved the right and healthy way that they decided to made a lifestyle change for the better too."
†Results vary depending on starting point and effort.
---
You can change your life, too. Take the Beachbody Challenge for the tools you need to Decide, Commit, and Succeed! Complete any BODi program, and enter your results for a free gift and a chance to win cash and prizes. What program are you committing to next?