21 Day Fix EXTREME Results: Kory Lost 15 Pounds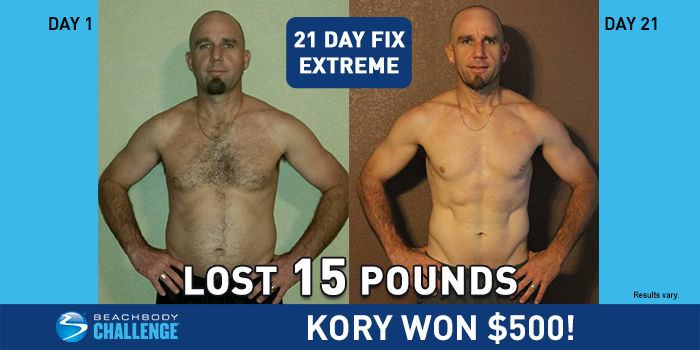 Meet independent Beachbody Coach Kory K. He lost 15 pounds in 21 Days with 21 Day Fix EXTREME. He entered his results into The Beachbody Challenge, and won the $500 Daily Prize for June 12th!

Tell us about your life before you started the program. How did you feel about yourself and your body?
Before I started 21 Day Fix EXTREME I had stopped running and training for marathons. I had slowly started to gain weight again, coupled with poor nutrition and lack of portion control. I had lost all my muscle foundation and started feeling weak. I longed for someone to help with my portion control and nutrition.
What inspired you to change your life and begin your transformation journey?
My life has been riddled with disappointments and rejection. Cancer, heart disease, high blood pressure, and diabetes has been very common in my family, and I knew I had to make a change if I wanted to be around to see my boys grow up.
What is the greatest challenge you faced before beginning the program? How did the program and Beachbody® help you overcome that challenge?
I faced an enormous challenge of recovery after fighting and beating cancer. Hodgkins Lymphoma and the chemo had beat me down and taking me to a whole new low. I knew that in order to gain my strength back and start building a new body from the ground up, I had to have some help. So I searched to find a Coach and a program that would push me to be all I could be, building a solid foundation from the inside out. Beachbody stepped up to the plate and showed me how to not only build a strong core but also build a heart and soul that will continue to help others do the same. My boys are forever thankful for the extended life that Beachbody helped me develop.
What in particular did you like about the program you chose?
I personally think this is a great starter program because it lays out the basics, teaching you portion control which was the hardest thing for me to do. The container system works like a charm; within a week I already trained my mind to select the proper portion.
Describe the results you achieved with your Beachbody program. Which achievements are you proud of?
I transformed my body from thin and weak to strong, cut, and energetic. I have never seen my abs before, also I'm doing pull-ups and push-ups like a crazy man.
How has your life changed since completing your Beachbody program?
I am stronger physically, mentally, and spiritually. I am confident and proud of the body I have worked so hard for. Others have really noticed how I am more driven to help others succeed now. I want everyone to experience Beachbody products.
How did participating in a Challenge Group help you reach your goals? How did your group support you and keep you accountable?
I felt like I was working out with a team of brothers that were focused on one goal, and that was to succeed at what we started. Logging in daily was a great chance to ask questions to guys that were feeling the same things I was. We grew closer as friends each and every day.
How did your Team Beachbody® Coach support you on your journey?
My Coach John Heller is amazing inside and out. I don't know where to even start about how great this Coach is. John truly cares about my success and he was in constant contact with me the whole time pushing, motivating, and building me up. I am a Coach today because John cared enough to make it personal.
How did a Beachbody Supplement or Nutritional Product or Program (such as Shakeology® or Beachbody Ultimate Reset®) support your transformation? What are the greatest benefits you gained? Did you see benefits to your energy, sleep, mood/mental clarity, digestion/regularity?
Shakeology is an amazing product, filled with everything I needed. I believe that Shakeology was a huge part in my results and I don't know how I would do without it. My cravings for fried foods, junk foods, soda and other sweets was all gone after I started Shakeology, not to mention I had amazing energy and I slept like a baby.
†Results vary based on starting point and effort.
You can change your life, too. Take the Beachbody Challenge for the tools you need to Decide, Commit, and Succeed! Complete any Beachbody program, and enter your results for a free gift and a chance to win cash and prizes.