21 Day Fix EXTREME Results: Kiley Lost 8 Pounds In One Round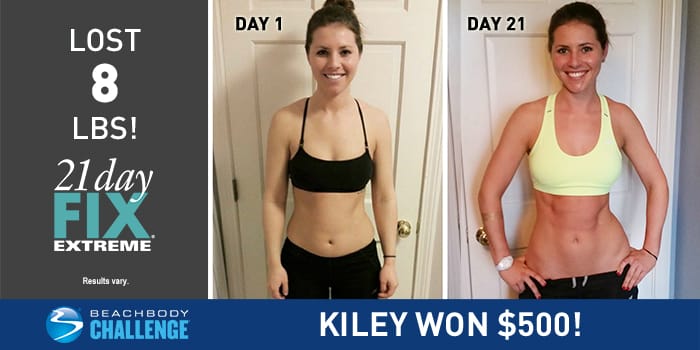 †Results vary depending on starting point and effort. Kiley is an independent Beachbody Coach.
Kiley Jolicoeur lost 8 pounds with one round of 21 Day Fix EXTREME. She entered her results into The Beachbody Challenge, and won the $500 Daily Prize for October 13th!
Tell us about your life before you started the program. How did you feel about yourself and your body?
All of my life, I have been an athlete, always involved in sports, pretty consistent with my workouts, and I ate fairly healthy. But everything changed about a couple of years ago. I started to feel tired all the time, dizzy, had heart palpitations, and had a hard time getting through the day. I was still able to get through my workouts until the beginning of 2015, when it got really bad. Most days I struggled to even get out of bed. I went from working out six days a week to barely getting through two workouts twice a week, my eating got off track, and I lost all my body composition I worked so hard for for the past several years. I gained weight and felt horrible: low energy, weak, and just sick. After a few months of feeling this absolute low, I was finally diagnosed with Lyme disease, which is where my story changed.3
What inspired you to change your life and begin your transformation journey?
After a few weeks of my treatment for Lyme disease, I regained enough energy to start working out again. I wanted to really jump back into everything, and start getting my body back and feel comfortable in my own skin again. So I jumped in the 21 Day Fix EXTREME. I got my nutrition on track right away, and even though I still couldn't give 100 percent in my workouts, I did what I could and modified what I needed to. I was determined to do whatever I could to just feel healthy and normal again, and I knew this program had what I needed to get there.
What is the greatest challenge you faced before beginning the program? How did the program and Beachbody help you overcome that challenge?
The biggest challenge I faced was not believing in myself, and that I could be healthy and feel normal again. I thought I would always feel sick, and not be able to get my body back. I overcame that challenge with the help of my Challenge Group. I knew I had to show up and get it done every day, so I didn't let my people down. Having Autumn push me and motivate me through the screen every day was a huge help!
What in particular did you like about the program you chose?
I loved the variety of the workouts; it keeps you interested and engaged for the three weeks. I also love the length and intensity. It was a perfect combo, because you're pushing hard but you can get through it since it's only 30 minutes.
Describe the results you achieved with your Beachbody program. Which achievements are you proud of?
I lost inches and weight, and put on muscle. I started to gain my muscle back. I am proud that I finished the program, and it helped me get better and feel normal again. I made a huge improvement with my body composition. I started to get back to where I was before I got really sick, which I didn't think was possible.
How has your life changed since completing your Beachbody program?
I can't even begin to describe the amazing changes this program started for me. After being diagnosed with Lyme disease and feeling as sick as I did, I didn't even think I would feel normal again. I gave up on that feeling. I gave up on having my healthy body back. This program was the kick in the pants I needed nutritionally, and gave me the push with workouts I needed to just keep going. It helped me see results right away, which gave me hope and motivation to keep going. I have continued, since completing this program, and did another round, coupled with Body Beast. I am now in the best shape I think I've ever been in. I'm healthy, nearing the end of my Lyme treatment, and feel amazing. I am so grateful for this program, Beachbody, Shakeology, and all the other programs that have helped get me where I am.
How did participating in a Challenge Group help you reach your goals? How did your group support you and keep you accountable?
During this time, I was running a Challenge Group mixed with both 21 Day Fix and 21DFX challengers. I knew I had to keep going and keep pushing, so I didn't let my people down. They were working hard to get their workouts and Shakeology in, and I had to do the same.
How did a Beachbody supplement, nutritional product, or program (such as Shakeology or Beachbody Ultimate Reset) support your transformation? What are the greatest benefits you gained? Did you see benefits to your energy, sleep, mood/mental clarity, or digestion/regularity?
Shakeology has helped me in so many ways over the last year. But it was key in helping with my energy, digestion, and so much more, while I was going through my treatment and trying to get healthy again.2
You can change your life, too. Take the Beachbody Challenge for the tools you need to Decide, Commit, and Succeed! Complete any Beachbody program, and enter your results for a free gift and a chance to win cash and prizes.

3Always consult with your physician about your unique medical needs before starting any fitness program or nutrition product.
2These statements have not been evaluated by the Food and Drug Administration. This product is not intended to diagnose, treat, cure, or prevent any disease.