21 Day Fix EXTREME Results: Dan Lost 11 Pounds in 21 Days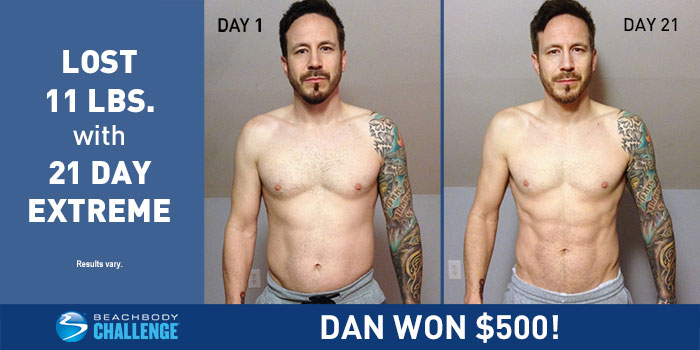 †Results vary depending on starting point and effort. Dan is an independent Beachbody Coach.
Meet Dan M. He lost 11 pounds in 21 Days with 21 Day Fix EXTREME. He entered his results into The Beachbody Challenge, and won the $500 Daily Prize for May 9th!
Tell us about your life before you started the program. How did you feel about yourself and your body?
I spent years eating with impunity… as much of whatever I wanted, whenever I wanted. I was winded easily and lost much of the muscle gained in my youth. I felt poorly about what I had to look at in the mirror and what my wife had to see. Physically, I was no role model for my children. In my 20's, I worked out regularly but throughout my thirties, my physical activity was climbing off the couch to get to the fridge, walking from the car to go to the pizzeria, and rolling down the car window to reach the drive-thru window. It was pretty pathetic, and my poor shape contributed to being depressed. I would turn to food to make me feel better and it did… and didn't. Even as I'd cram whatever greasy, cheesy food I was eating in my mouth, I felt guilty. I knew I was digging my grave with a fork and knife, but I couldn't stop; I didn't know how.
What inspired you to change your life and begin your transformation journey?
At 41, I realized what a true mid-life crisis was- being in the worst shape of my life; unable to physically do things I wanted to do and leading a truly unhealthy life. My mother and father died young, as did my in-laws. Being overweight and completely out of shape gave me real pause to consider how poor physical fitness can lead to serious illness. I want to be around for my family. I want to inspire them. It's hard to do that with a stomach so big you can't look down and see your own shoes. I have gone on to complete two rounds of P90X, two rounds of Body Beast, one round of 21-Day Fix, and now 21-Day Fix Extreme. I even became an Independent Team Beachbody Coach to help others in their health and fitness journey.
What is the greatest challenge you faced before beginning the program? How did the program and Beachbody® help you overcome that challenge?
The biggest challenge I faced, was not knowing how to reach my fitness goals. Beachbody programs take the mystery away by providing easily understood workouts and nutrition plans that guided me every step of the way. Overcoming my eating addiction has been and continues to be a major obstacle. I could seriously be a competitive eater. Man vs. Food? Adam has nothing on me! Beachbody helped me realize that I can become motivated about being strong, fit and fueling my body right rather than hitting fast food joints on the way home (and some not on the way home). I've dieted in the past but my obsession with food always won. I'd be back to my old ways, eating as much pizza, hamburgers, hot dogs, and mac n cheese as I wanted. Beachbody helps me realize that healthy living and fitness is not about the "quick fix." It's not a fad. It's a lifelong commitment of bettering yourself. No matter how old you are, with Beachbody programs, you can be in the best physical condition of your life!
What in particular did you like about the program you chose?
I chose 21 Day Fix EXTREME to get a better handle on nutrition and to shred body fat. This program pushed my physical and nutritional boundaries, compelling me to work harder toward investing in my future self. I've seen serious fat loss like no other program or plan I've ever followed. One of the things that I love best about the program is that there is a dedicated person on the DVDs devoted to showing the modified moves. I don't just quite as high, or move as fast as I once did, but you don't have to, to get the benefit from this.
Describe the results you achieved with your Beachbody program. Which achievements are you proud of?
The long upstate New York winter derailed my nutrition this year I found that my weight went up 5 pounds (and my body fat percentage). 21-Day Fix helped me burn that off and more, in just three weeks. I'm more aware of proper nutrition now than I was previously. This program may be the best one that Beachbody produces in making nutrition understandable for every one.
How has your life changed since completing your Beachbody program?
After seeing the results take place, 21Day Fix EXTREME has strengthened my resolve to fight for my 8% body fat goal! It's been elusive in the past, because I'm such a food addict. I have let my eating get in the way of hitting my goal, and now I truly see hope for the first time.
How did participating in a Challenge Group help you reach your goals? How did your group support you and keep you accountable?
I begin running a 21DFX group this month, coaching a challengers toward achieving their own success. I knew that I had to walk the walk and dive into the program before running them through it. I'm so glad I did. I feel confident bringing my experience the the group, helping to guide them so their future selves will thank them!
How did a Beachbody Supplement or Nutritional Product or Program (such as Shakeology® or Beachbody Ultimate Reset®) support your transformation? What are the greatest benefits you gained? Did you see benefits to your energy, sleep, mood/mental clarity, digestion/regularity?
Shakeology was, and is, the highlight of my day regarding nutrition. It tastes like dessert, and knowing how good it is for me nutritionally is better than the icing on the cake! I spent 30+ years eating junk food, but knowing that I can have my shake each day helps overcome any cravings. So mentally, Shakeology keeps me focused on what I really want and need for my body. I love the versatility of the recipes you can use for Shakeology. I wish I could have it three times per day!2
You can change your life, too. Take the Beachbody Challenge for the tools you need to Decide, Commit, and Succeed! Complete any Beachbody program, and enter your results for a free gift and a chance to win cash and prizes.

2These statements have not been evaluated by the Food and Drug Administration. This product is not intended to diagnose, treat, cure, or prevent any disease.