Autumn's Breakfast on the 21 Day Fix EXTREME
The countdown has officially begun for all NEW 21 Day Fix EXTREME. We are now only days away from the February 2nd launch. To celebrate the program, Autumn is following the EXTREME eating plan for 21 days and wants to show everyone what she's having for breakfast this morning. Get the full recipe below. Are you as excited as we are about this new program?
Click here to subscribe to my channel and see more of my videos!

Autumn's Favorite Breakfast:
Total Time: 49 min.
Prep Time: 15 min.
Cooking Time: 34 min.
Yield: 1 serving
Ingredients:
1 cup water
¼ cup dry steel-cut oats, gluten-free
4 large egg whites
1 large egg
Nonstick cooking spray (or nonstick coconut cooking spray)
1 cup raw spinach
½ tsp. ground cinnamon
1 tsp. raw honey
½ tsp. pure vanilla extract
Preparation:
1. Bring water to a boil in small saucepan over medium-high heat.
2. Add oats; mix well. Reduce heat to low. Gently boil, stirring occasionally, for 20 to 30 minutes, or until thick and soft. Remove from heat.
3. While oats are cooking, combine egg whites and egg in a small bowl; whisk to blend.
4. Heat medium skillet, lightly coated in spray, over medium heat.
5. Add egg mixture and spinach; cook, stirring frequently, for 3 to 4 minutes, or until set. Set aside.
6. Top oats with cinnamon, honey, and extract; mix well.
7. Serve oats with eggs.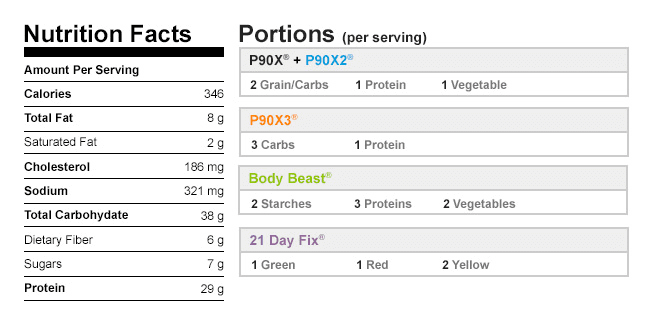 If you have questions about the portions, please click here to post a question in our forums so our experts can help. Please include a link to the recipe you're asking about.