20 Date Ideas That Don't Center On Food
Dating game got you feeling, and looking, a little sluggish? Instead of heading out for another heavy meal and some drinks, why not try something a little healthier on your next date?
Doing an activity on a date not only eases pressure, it lets someone see a cool, fun side of you that may not come across in a stuffy restaurant.
Plus, if you've been together for a while, trying something new could reignite those flames.
According to numerous scientific studies, novel experiences can flood the brain with dopamine and norepinephrine, the same chemicals that are released when you first fall in love.
Here are 20 healthy date ideas from the super active to the not-so-active that will help you stay in shape.
And ladies, suggest some of these ideas! Not only will he appreciate your willingness to share the planning, but your waistline will also thank you.
1. Hiking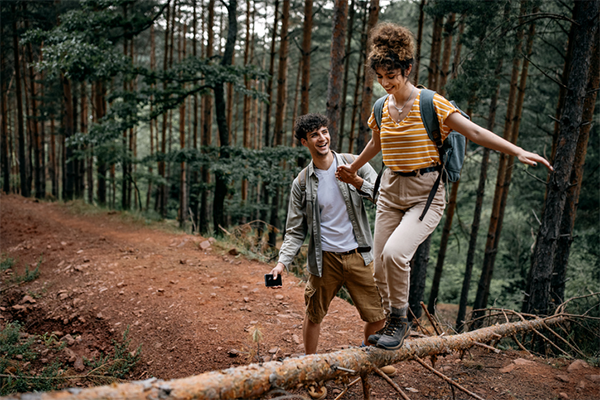 It's not too strenuous and you get to wear workout clothes that show off your assets. The best part: you can take a bunch of deep breaths of fresh air to keep your cool if you get the butterflies.
2. Amusement Park
First dates can be a little awkward but you can be sure that the roller coaster's first big drop will help you drop your guard and get your adrenaline pumping.
3. Dance Lessons
Dancing is intimate and sexy, so you may want to start out with a line dancing lesson and save the salsa lesson for the second date.
4. Museum or Art Walk
Walking around a museum might not sound "sexy," but if your date enjoys the arts, they just might get inspired by a romantic piece. And remember, smart is sexy, so no matter what, it's a chance to enrich your brain.
5. Mini Golf
Get silly on a date with mini-golf, the king of non-sports. Relax, have fun, hit a ball through a windmill, and have some laughs.
6. Bowling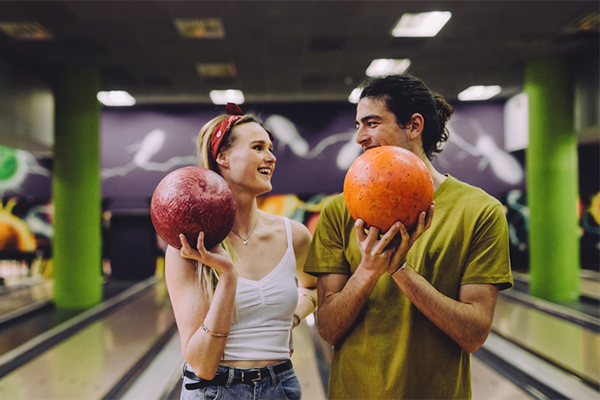 This is where you can show off your athleticism or you can just roll the ball from between your legs and hope it hits a pin. And when you throw on those sexy bowling shoes, no one can take themselves too seriously, which helps you both just be yourselves.
7. Batting Cages
Swing batter batter swing! You'll need some skill to hit a home run, but if your date is having trouble with his or her swing, you'll get the opportunity to get close and help with their form.
8. Planetarium
Is there anything more relaxing and romantic than staring up at a starry night sky? And everybody knows, when you wish upon a star, your dreams come true. Even if it's a planetarium star. So make those wishes, lovers!
9. Paintball and Laser Tag
Paintball can sting, so if you want to be sure no one goes home with a bruise, laser tag might be the way to go. Personally, I would opt for paintball, it really gets the adrenaline going and leaves you flushed and feeling alive.,
10. Mug Painting
You can sit across from each other, eat a big meal, drink wine, and feel completely awkward when you make eye contact, or you can paint some mugs and put the awkwardness into your art. Bonus: If it goes really well, you'll have a souvenir from your first date that you can sip from on your wedding night.
11. Roller Skating or Ice Skating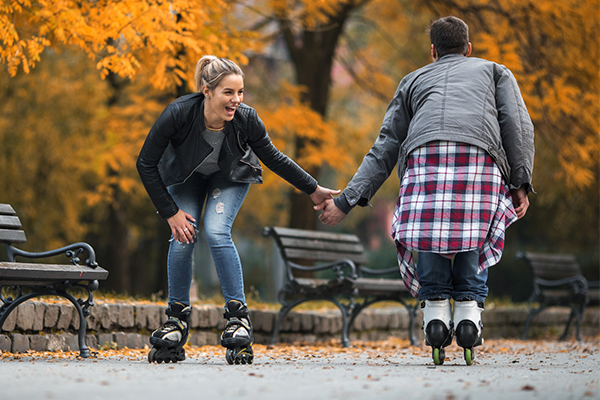 You might fall, you might be off balance, and you might look a little silly. But you know what? That's endearing. Be willing to fall, since then your date has to help you up. How else would you get to hold hands so quickly? Roller skaters—if your date is game, dress up 70s style.
12. Yoga
Yoga is a great way to relax and keep anxiety levels down. Try your first yoga class today with 3 Week Yoga, exclusively on Beachbody On Demand!
13. Go to a Park to Picnic and Play
Play Frisbee, play catch, play badminton, kick the soccer ball around, fly a kite, or teach your date how to throw a football. Just get out there and play! And bring some nice healthy snacks and a blanket so you can take a break, lay down, and watch the clouds go by.
14. Visit a Wildlife Center
Check out your local wildlife, maybe pet some cool animals, and show them your cuddly, sweet side.
15. Sunset Walk on the Beach
The negative ions, the slow rolling waves, the warmth of the sun, and the sand between your toes…it's the perfect scenario for a first kiss.
16. Build a Snowman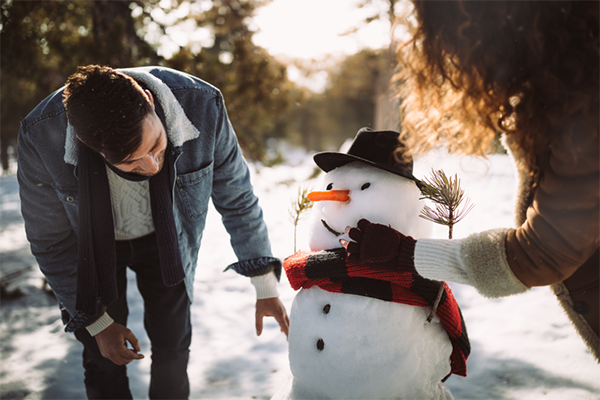 If the weather outside is frightful, that means it's probably perfect snowman-building weather! Have fun with your snowman. Bring different options for eyes, noses, and mouths. Give Frosty an old scarf and a funny hat. And don't forget to name your snowman. It'll be an inside joke you two can share for years to come.
17. Go for a Bike Ride
Either on separate bikes or, if you really want to build trust, rent a tandem bicycle and head out for a ride. Stop at a local tea or juice place to replenish and get to know each other.
18. Arcade
Where else can you race cars, shoot hoops, and save the world from killer zombies? Also, there aren't too many things that will loosen you up like a good dance off. Time to find your inner M.C. Hammer.
19. Watch the Airplanes Take Off
Drive near your local airport, park, lay on the hood of your car, and watch the planes take off. It's a great way to spark conversation about all the places you want to visit…possibly sparking the idea of a romantic getaway.
20. Indoor Parachuting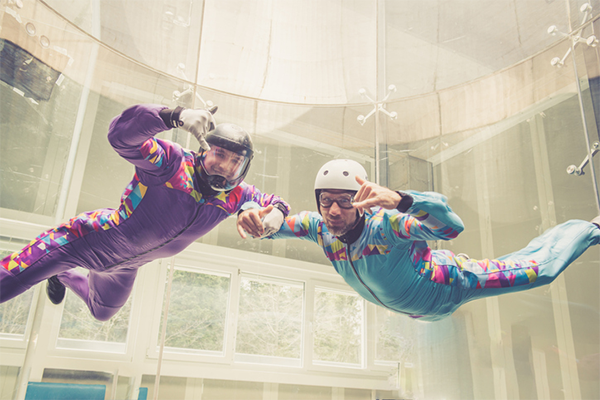 Just think, afterwards your date can tell his/her friends that you made them feel like they were flying. Throw on your parachute jumpsuit to earn your wings, and maybe even a second date.
Get out there, get moving, do something different, and, most of all, have fun! Get those endorphins flowing, get your adrenaline pumping, and show your date that you're into more than just another cheese plate and bottle of wine.