$100,000 Winners of the Beachbody Challenge 2017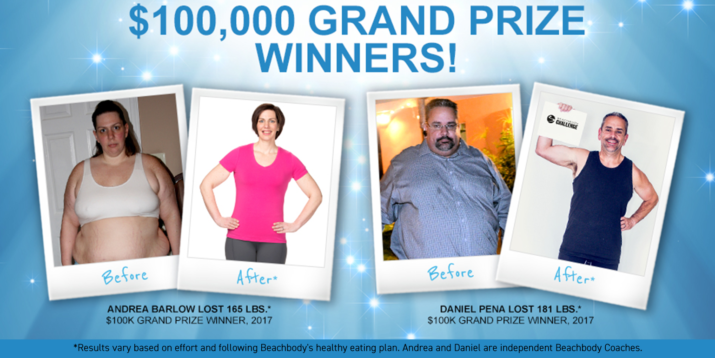 Meet the Grand Prize Champions of the Beachbody Challenge 2016 – 2017! They achieved the most inspirational health & fitness transformations of the year with Beachbody's proven system of fitness, nutrition, and support, and your votes helped them win over $100,000 each!
New Orleans, Louisiana (July 16, 2017) –  The annual Grand Prize Champions of the Beachbody Challenge were announced this weekend in New Orleans, live on stage at the Mercedes-Benz Superdome. The $100,000 winners are Andrea Barlow, age 31 from Collegeville, PA, and Daniel Peña, age 48 from Simi Valley, CA.
"The Beachbody Challenge helps inspire people to take charge of their lives with a proven system of world class fitness programs, nutrition plans, and peer support to help them achieve their goals, and it offers rewards for meeting those goals and participating," said Jon Congdon, co-founder, President, and Chief Marketing Officer of Beachbody. "It's exciting to see people who change their lives and achieve awesome transformations with Beachbody programs. Andrea and Daniel are two great examples of that journey!"
The Beachbody Challenge contest is currently open only to legal residents of the 50 United States (incl. DC), Puerto Rico, and Canada (excluding Quebec) who are at least 18 or the age of majority at time of entry.
---
Andrea Barlow lost 165 pounds and won over $100,000!

Results vary based on effort and following Beachbody's healthy eating plan.
Andrea Barlow is a working mom of two with hypothyroidism, a common disorder that makes it difficult to lose weight but easy to gain.
Tipping the scale at over 330 pounds, she found herself missing out on fun activities with her children, like going on amusement park rides, because she could not fit into the seats. Her desire to take a more active role in her children's lives was a major factor in her decision to start her fitness journey.
But she readily admits the journey wasn't easy. Aside from the physical challenges of starting an exercise program while morbidly obese and breaking a lifetime of unhealthy habits, she faced a series of adversities and tragic family emergencies along her journey that easily could have stopped her in her tracks (and previously, they would have), but she leaned on the support of her Team Beachbody Coach, Krystle Bailey, and her Challenge Groups, who Barlow says became like an extended family.
With their support and her sheer willpower to press forward, Andrea stuck with the program and overcame all obstacles, losing 165 pounds in two years, and she has kept it off to date! (Results achieved with a variety of Beachbody fitness programs combined with the Portion Fix nutrition plan, Shakeology, and Beachbody Performance supplements)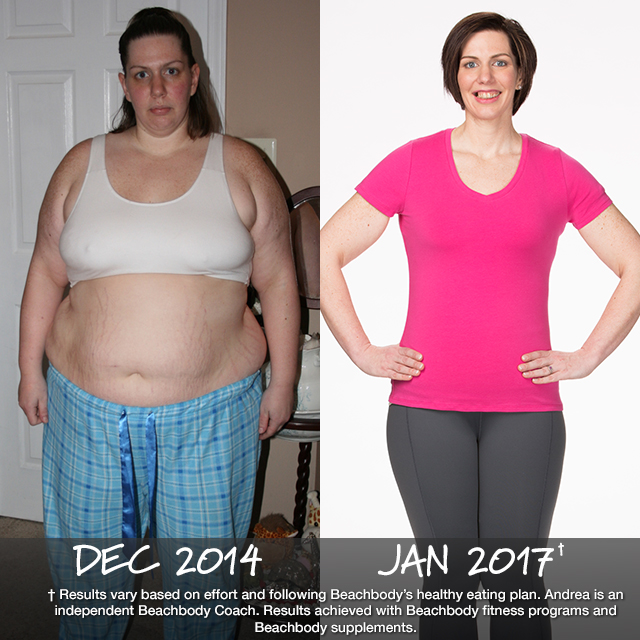 "Normally, I would have just quit" said Barlow, "but I ended up reaching out to the support system I was plugged into, and they would empower me. And, through that empowerment, I felt strong enough to stick with my workouts and stay focused on my nutrition. I knew that the only way I was going to beat the old me was by doing what the old me wouldn't. Every day that I pushed play through my adversities, I learned how to be stronger mentally and in charge of my choices. My journey with Beachbody has taught me how to feel empowered and not powerless."
---
Daniel Peña lost 181 pounds and won over $100,000!

Results vary based on effort and following Beachbody's healthy eating plan.
Four years ago, Daniel Peña was morbidly obese. Weighing in at 350 pounds, this father of two felt like he was "carrying around the weight of another person all the time," and he needed to sleep with a special (CPAP) machine to make sure he'd continue breathing through the night. He was inspired to start his fitness transformation by his wife and two daughters.
He heard about Beachbody from commercials on TV, and he decided to start with the P90X3 fitness and nutrition program, largely because the workouts are only 30 minutes long. Although he was sore through much of the first 90 days, he could feel the changes taking place within his body, and he continued to complete other Beachbody programs as well, like Focus T25 and even INSANITY — the latter of which is both revered and feared as the most intense fitness program ever put on video.
Overall, with pure hard work and determination, Daniel is now half his size, literally, after losing an astonishing 181 pounds in about two years, and he has kept it off for another two years since! "The quality of my life has vastly improved," he says, as he now enjoys physical activities like running trails through the canyons of Simi Valley, competing in 10Ks and half marathons. His next goal, he says, is to complete a full marathon by the end of 2017.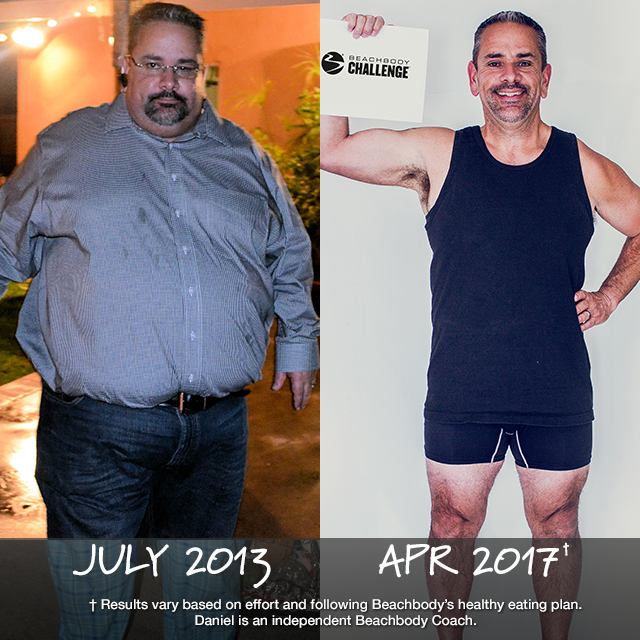 "I didn't start out obese," said Peña, "but I slowly worked my way up to it over 10 years. I started using the excuses that it was my genes and losing weight was out of my control. I kept seeing commercials for P90X3, and it sparked something within me. I said, 'If they can do it, so can I.' I took a chance on the program and it paid off big time… Beachbody saved my life, and I'm fairly positive that I have added years back to my life. Additional years to see my two daughters get married… Additional years for my wife of 23 years and I to continue growing together. At 48 years old, I am in the best shape of my life."
---
The Grand Prize Champions were selected from over 75,000 submissions from satisfied customers throughout the U.S. and Canada (excluding Quebec) who achieved their health and fitness goals. The decision was made, in part, based on the results of an online community vote that took place in June.
Consumers who participate in the Beachbody Challenge earn the chance to win prizes by submitting their personal success stories into the contest.  To date, the Beachbody Challenge contest has awarded over $11M in prizes since its inception in 2007.
No one who enters the Beachbody Challenge walks away empty-handed. Every single qualifying contestant earns a free gift*, like a T-Shirt or other promotional item as a reward for their hard work. But, the biggest and best prizes are awarded at an annual celebration event, where the top eight goal-getters of the year win some serious cash prizes live on stage. The prizes awarded in 2017 ranged from $25,000 – $100,000!
"The Beachbody Challenge was created to add an additional layer of motivation as people do this very hard thing of lifestyle change to get healthy," said Carl Daikeler, CEO, Beachbody, LLC.  "It's just so easy to quit a fitness and nutrition program without an additional source of accountability.  But the prospect of winning a free shirt and perhaps even a big cash prize has really resonated with people.  And none of it is based on pure weight loss. This is about inspiration to achieve a goal. That's what Beachbody is all about."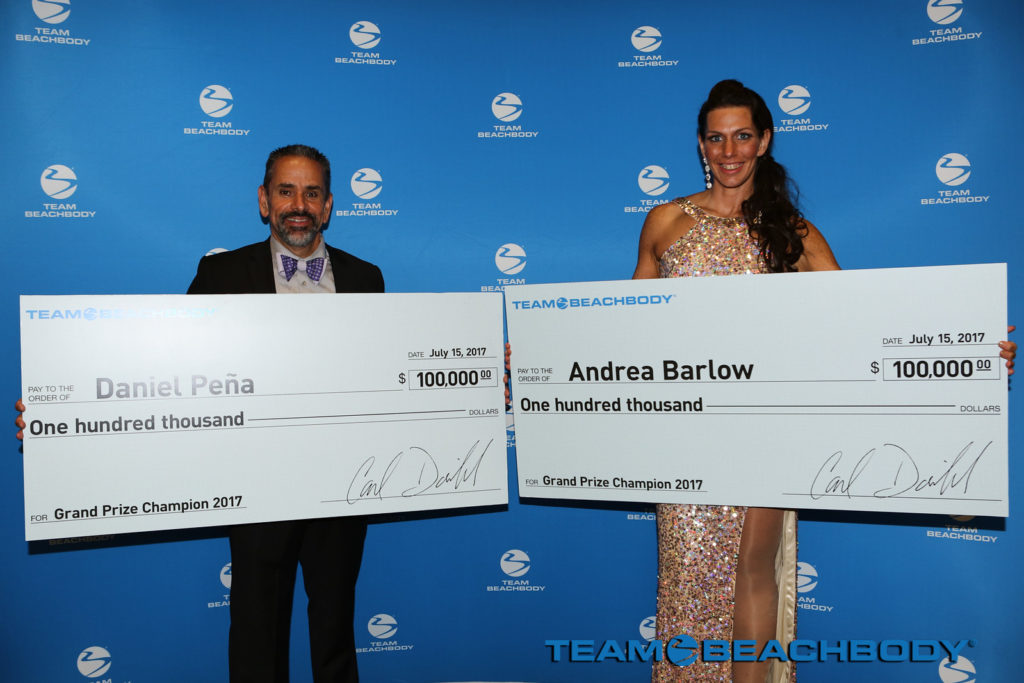 Take the Beachbody Challenge for the tools and support you need to Decide, Commit, and Succeed! Complete any Beachbody program, and enter your results. We'll send you a free gift*, and you'll be entered for a chance to win cash prizes!

Void where prohibited.  Open to legal residents of the 50 United States (incl. DC), Puerto Rico, and Canada (excluding Quebec) who are Team Beachbody members and 18+ or the age of majority or older at time of entry.  Ends 3/31/18.  See here for official rules.
†Results vary based on effort and Beachbody's healthy eating plan. Andrea and Daniel are both independent Beachbody Coaches.
*Free gifts available while supplies last