What's the Best Way to Lose Weight?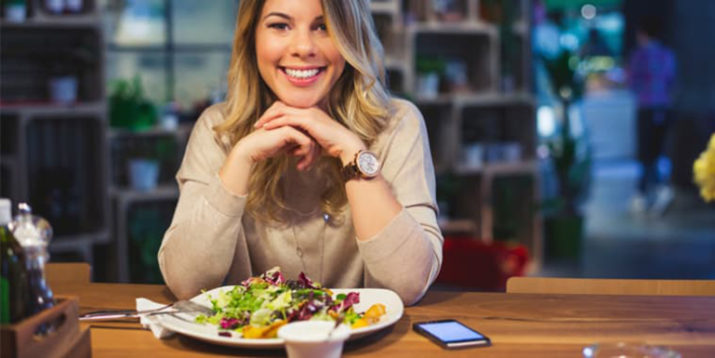 It's no wonder the diet industry is one that never runs out of steam. Diets work in the sense that they make you super aware of what you're doing; they can make you as mindful as a mountain climber. But, then why are so many people still trying to lose weight?
Because diets do work… until they don't. There's lots of research out there that shows that, ultimately, diets fail. Yet that news flash doesn't mean you have to throw in your fork and give up.
Scott Kahan, M.D., director of the National Center for Weight & Wellness in Washington, D.C., and spokesperson for the Obesity Society, has looked at hundreds of diets, and shares this fact: "There is no scientific evidence to support the belief that one diet is better than any other."
The diet that works is the one you will stick with, Kahan stresses. If it's overly strict and unrealistic, then it's not sustainable. Think about it: How long can you really slurp up that cabbage soup — even though it's just 45 calories per serving — for breakfast, lunch, and dinner before giving up?
Simply put, some diets make more sense than others. These ways of eating should offer healthier and more filling choices that will ultimately satisfy you, rather than make you feel cranky, hungry, and just plain fed up.
And, in addition to what you're eating, you need to pay attention to what you're doing, too, such as these three key things:
1. Make Lifestyle Changes
There are simple changes you can make to succeed at weight loss, and you probably know some of them already: Ditch the elevator and take the stairs. Hoof it to work if you can, or get off the bus or subway a few stops short of your destination, then walk the rest of the way. Park your car in the most distant part of the parking lot.
If you're a regular binge watcher, it may be time to cut back on the habit… even if that means watching fewer episodes of NCIS in one sitting. Though it's been more than 25 years since research from Harvard linked TV time to obesity, the evidence continues to mount.
2. Increase Your Physical Activity
The National Institutes of Health advocates keeping track of total daily calories. Since to lose weight you need to burn more calories than you eat or drink, exercise, combined with increasing your amount of daily activities or steps, can help.
Exercise not only helps contribute to weight loss, it also makes you much less likely to regain the weight you've lost, according to the Centers for Disease Control. So keep it up! Any exercise is good, of course, but data shows the best success for those who exercise 1 hour a day (particularly running or walking), points out obesity expert Donna Ryan, M.D., professor and associate executive director for clinical research at the Pennington Biomedical Research Center.
If you have a solid fitness base, there's a lot to be said for high-intensity interval training (HIIT). Australian researchers found that women who did a 20-minute HIIT workout three times per week burned nearly six pounds more than the women who exercised at a steady pace three times a week for 40 minutes at a clip. One of the best things about it? You can do it at home!
And don't underestimate the power of muscle: It's essential for keeping your metabolism humming along. Fitness pro Joan Pagano says, "Muscle is metabolically more active than fat, revving up your resting metabolic rate to burn more calories throughout the day."
3. Dial In Your Diet
Is all food created equal when it comes to dieting? Actually, certain foods and ways of eating can be more advantageous than others. A 40/30/30 diet (carbs/protein/fat) is reasonable, moderate, and not very high in fat or carbohydrates, says Kahan. "What we eat is as important as how much we eat, and it's that balance that is the essential factor in weight change and long-term weight regulation."
Does the thought of carbs make you cringe because you think they contribute to weight gain? There are lots of carbs on the healthier end, Kahan explains, such as fruit, vegetables, and beans. In fact, many of these are part of a healthy diet (for instance, the Mediterranean diet, which according to one study, may help people lose weight).
The same goes for fats, which are part of a balanced diet. The data is clear that not all fats are bad. There are healthy fats, which, in moderate amounts, can be factored into a weight-loss plan, and can even have health-protective benefits, according to the Academy of Nutrition and Dietetics. These include omega-3 fats and monounsaturated fats, found in sources such as fatty fish (salmon), walnuts, avocados, and even peanut butter.
But a word to the wise: Pay attention to what you eat — monitor your portions and the types of foods you eat. Several studies found that making conscious food choices, and knowing when you're hungry and when you're full, are helpful weight-loss strategies.
How to Maintain Your Goal Weight
Regardless of how you lose the weight, losing large amounts can lead to a slower metabolism, says Kahan, who adds, "That slowing can be combated with basic behaviors, like physical activity — especially strength training — and continued attention to healthful dietary changes."
To maintain a dramatic weight loss for the long term demands a lifestyle overhaul. But, "if [that overhaul] is overly strict and unrealistic and you're eating as little as possible, it won't work in the long run," he says.
The lesson? Figure out which sacrifices you can live with (e.g., giving up cheesecake if it's not plausible for you to eat only a tiny sliver once in a while) and which ones you can't (e.g., that margarita on the rocks at girls' night) will help you keep your new shape.