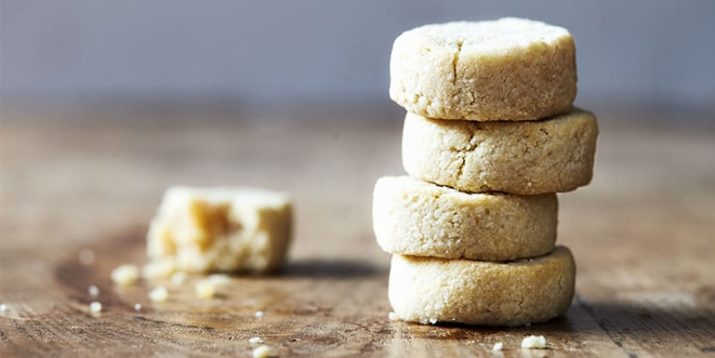 When it comes to cookies, the classic chocolate chip tends to get a lot of attention.
I get it, I like chocolate as much as the next person. But when the holidays roll around, sugar cookies quickly rise to the top of my list.
These vegan sugar cookies are super easy to make and require just seven ingredients.
Typically sugar cookies are synonymous with heaps of white sugar and plenty of butter.
But this sugar cookie recipe is completely vegan and gluten-free — there's zero butter or wheat flour in these vegan sugar cookies.
Coconut oil provides a decadent "buttery" feel without the dairy. And rather than bleached white flour, this recipe uses gluten-free almond flour and sugar is replaced with maple syrup for unrefined sweetness.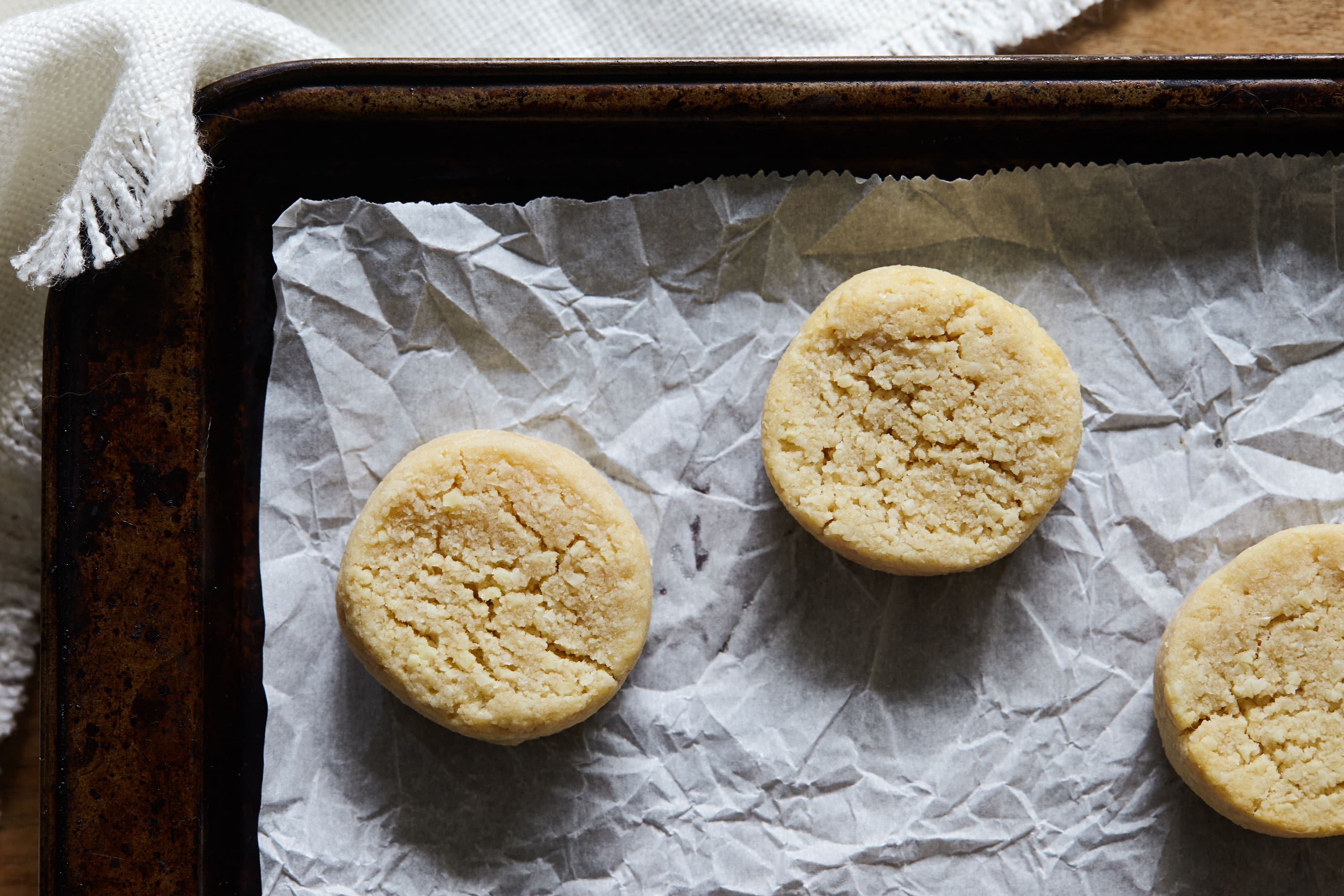 Despite the ingredient swaps, you can still follow the standard sugar cookie preparation process. Sugar cookie dough is quite soft after mixing, so it'll need to be refrigerated so it can firm up before being sliced into rounds.
For perfectly circular cookies, make sure you use a sharp knife. For the cleanest slices, cut the dough using unflavored dental floss for the cleanest slices. (Sounds weird, but I swear it works!)
These vegan sugar cookies can be dressed up or down to suit your preferences: For the simplest route, slice them into rounds and leave them plain. They're delicious as is.
Want to get fancy and dress them up? Add simple toppings like drizzled dark chocolate or a sprinkle of chopped nuts.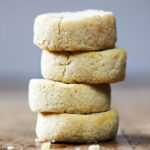 Vegan Sugar Cookies
These vegan sugar cookies are just as soft and buttery-tasting as their non-vegan counterparts!
Prep Time 15 mins
Cook Time 10 mins
Total Time 25 mins
Servings 12 cookies
Calories 73 kcal
Ingredients
Nonstick cooking spray
1 cup almond flour sift after measuring
1 dash sea salt (or Himalayan Salt)
1 dash baking soda
2 Tbsp. pure maple syrup
1 Tbsp. extra virgin organic coconut oil melted
1 tsp. pure vanilla extract
2 tsp. unsweetened almond milk
Parchment paper
Instructions
Preheat oven to 325° F.

Lightly coat large baking sheet with spray. Set aside.

Combine almond flour, salt, and baking soda in a medium bowl; mix well. Set aside.

Combine maple syrup, oil, and extract in a small bowl; mix well.

Add maple syrup mixture to almond flour mixture. Add milk slowly; mixing to break up clumps of dough. Form dough into a ball with clean hands. Place on parchment paper. Roll into a 7-inch long log. Freeze for 50 to 60 minutes, or until firm.

Cut log into twelve slices. Spread slices out on prepared baking sheet.

Bake for 8 to 10 minutes, or until set.

Cool for 10 minutes on baking sheet. Loosen with metal spatula, remove from sheets and cool completely on a wire rack (or on parchment paper).
Nutrition Facts
Vegan Sugar Cookies
Amount Per Serving (1 cookie)
Calories 73 Calories from Fat 54
% Daily Value*
Fat 6g9%
Saturated Fat 1g6%
Sodium 38mg2%
Carbohydrates 4g1%
Fiber 1g4%
Sugar 3g3%
Protein 2g4%
* Percent Daily Values are based on a 2000 calorie diet.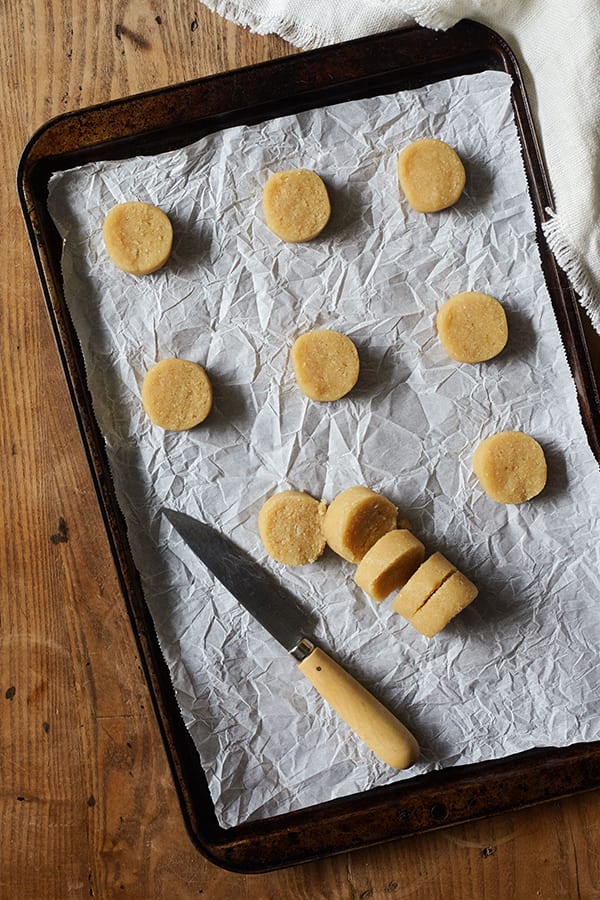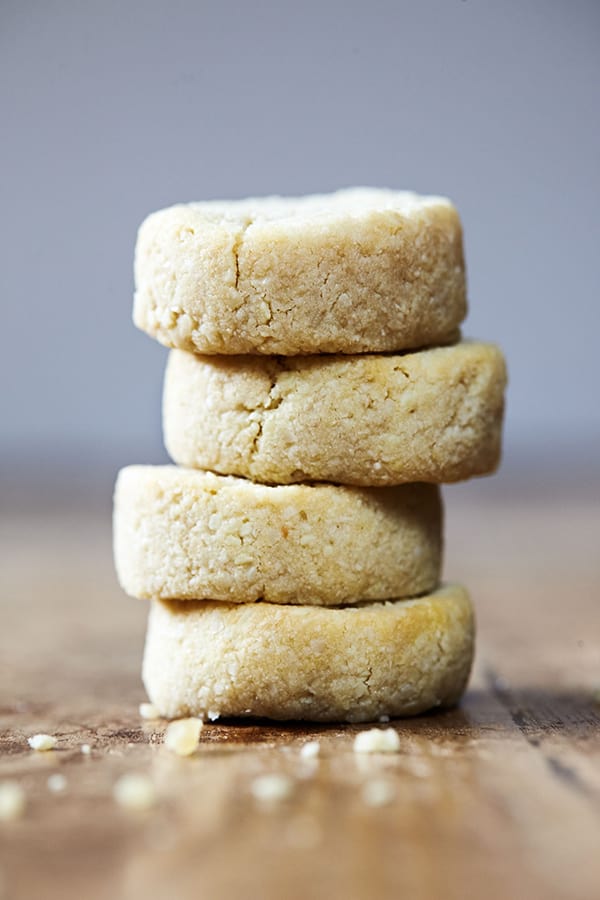 Container Equivalents
½ Yellow
½ Blue
2B Mindset Plate It!
Enjoy as an occasional treat. Be sure to track it.
Photographs by Anguel Dimov and Brianne B of Natural Girl Modern World
Save