Vanilla Peach Overnight Oats
Go ahead and hit that snooze button, 'cause if you prepped these Vanilla Peach Overnight Oats with Vanilla Shakeology the night before, breakfast will be ready when you get up.
For this sweet and simple overnight oats recipe, simply fill a 16-oz jar with rolled oats, Vanilla Shakeology, water, a touch of vanilla extract for even more vanilla flavor, and slices of fresh (or frozen) peach.
Seal the jar and place it in the fridge overnight. In the morning, the oats will be soft and ready to eat.
You can also heat it up in a microwave if prefer your overnight oats warm.
We use rolled oats in this recipe because they keep their shape nicely and get soft but not mushy. Oats also provide this breakfast (or dessert) with a hefty serving of fiber, which can help you feel fuller longer.
You can vary the flavor by using different fruits and flavors of Shakeology, or by adding spices like cinnamon and ginger.
Swap out the vanilla extract for other natural extracts like coconut or almond.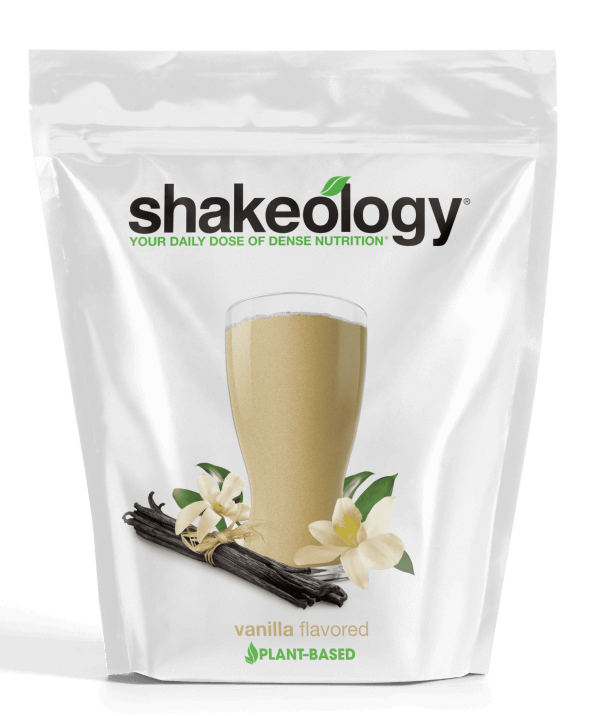 Vanilla Shakeology
Experience the sweet, creamy flavor of robust vanilla as your daily superfood dessert.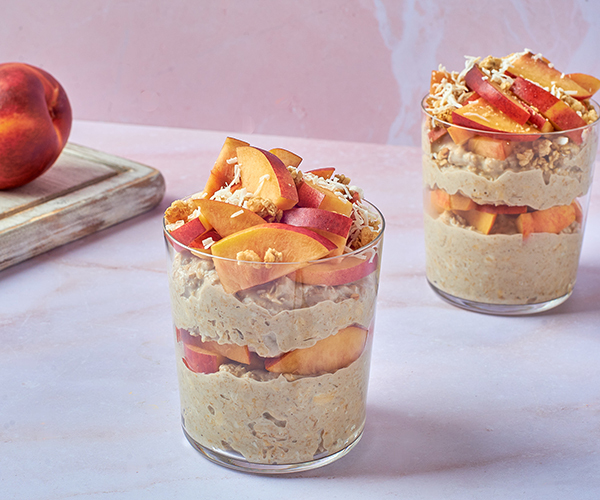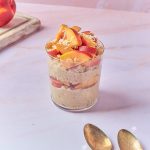 Vanilla Peach Overnight Oats
Make your mornings easier, and more delicious, with this overnight oats recipe featuring Vanilla Shakeology and fresh peaches. No cooking required!
Prep Time 10 mins
Cook Time 0 mins
Total Time 8 hrs 10 mins
Servings 1 serving
Calories 355 kcal
Ingredients
½ cup / 40 g dry rolled oats
1 scoop Vanilla Shakeology
⅔ cup / 180 ml water
½ tsp. pure vanilla extract
1 medium peach, chopped
Instructions
Add oats and Shakeology to a 16-oz. (450-ml) jar; stir to combine.

Add water and extract; mix well. Seal lid; refrigerate for 4 hours or up to overnight.  

Just before serving, top with peach. Refrigerate in an airtight container for up to 24 hours. 
Recipe Notes
Fantastic Fiber (F), Gluten-Free (GF), No Dairy (ND), Protein Power (P), Vegan (V), Vegetarian (VG) 
The Nutrition Facts box below provides estimated nutritional information for this recipe.*
* Total Sugar 20 g, Added Sugar 5 g
Nutrition Facts
Vanilla Peach Overnight Oats
Amount Per Serving (1 serving)
Calories 355 Calories from Fat 45
% Daily Value*
Fat 5g8%
Saturated Fat 1g6%
Cholesterol 10mg3%
Sodium 150mg7%
Carbohydrates 57g19%
Fiber 12g50%
Sugar 20g22%
Protein 23g46%
* Percent Daily Values are based on a 2000 calorie diet.
Container Equivalents (Regular)
1 Purple
1 Red
2 Yellow
Container Equivalents (Vegan)
1 Purple
1 Red
2 Yellow A
2B Mindset Plate It!
This recipe makes a great breakfast.