A few years ago, my friend Kajsa Alger, chef-owner at the time at Street restaurant in Los Angeles, brought tuna poke (pronounced pok-ay) to a party at my house. I had heard of this staple of Hawaiian cuisine, but had never tasted it. Poke is a simple preparation of raw fish, but it's entirely different from sashimi and ceviche. My friend's poke featured chunks of the freshest ahi tuna dressed in soy sauce and sesame oil, slivers green onion, and a dusting of toasted sesame seeds. With the first bite, I was hooked. I wanted to eat poke all day every day, but back then I could only find it in fancy restaurants. And in Hawaii.
Now you don't have to book a flight to the islands (not that you shouldn't…) or book a ticket at a Michelin-star restaurant to taste poke. It has officially swum the Pacific Ocean and become a major food trend. Poke shops are popping up all over the country. You can even order poke made to order at many Whole Foods markets.
If poke hasn't reached your city yet, it's coming. In the meantime, you can make it! It's easier than it sounds, and there is no cooking required. Make sure to ask the merchant at the fish counter for sushi grade fish. It should be the freshest catch, brought to the market that day. Since poke is raw fish, keep it refrigerated and buy it the day you plan to eat it.
To make this tuna poke, start by whisking together a simple four-ingredient dressing. The one we use in this tuna poke recipe includes soy sauce, sesame oil, green onions, and serrano chile. Then, use a sharp knife to slice the fish into bite-sized chunks. Toss it with the soy dressing and you're almost done. Poke can be eaten right away, but if you let it marinate in the refrigerator for about an hour, it'll taste even better. When you're ready to eat, simply add chunks of avocado and sprinkle on some sesame seeds. Want to make this a grab and go meal? Spoon some poke onto a sheet of nori (dried seaweed) and roll it up like a burrito.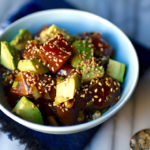 Tuna Poke with Avocado
This tuna poke is inspired by the classic poke dishes of Hawaii.
Prep Time 1 hr 20 mins
Cook Time 0 mins
Total Time 1 hr 20 mins
Servings 4 servings, 1 cup each
Ingredients
¼ cup reduced-sodium soy sauce
4 tsp . toasted sesame oil
4 green onions , thinly sliced
1 medium serrano (or jalapeño) chile, seeds and veins removed, finely chopped
1 lb . sashimi grade tuna , cut into 1-inch cubes
1 Tbsp . toasted sesame seeds
1 medium avocado , cut into cubes
Instructions
Combine soy sauce, oil, green onions, and serrano in a medium bowl; whisk to blend.

Add tuna to soy sauce mixture; blend until well coated. Refrigerate, covered, for at least one hour.

Add sesame seeds and avocado to tuna mixture; toss gently to blend.

Divide tuna mixture evenly between four bowls; serve immediately.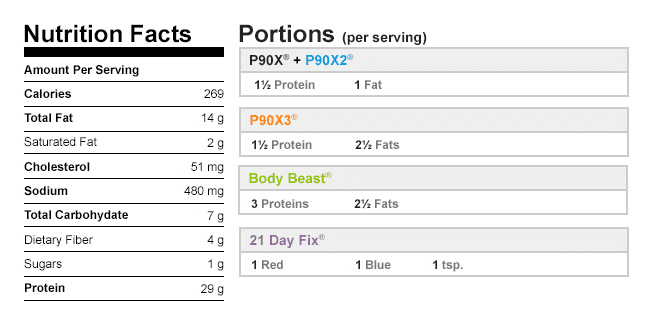 If you have questions about the portions, please click here to post a question in our forums so our experts can help. Please include a link to the recipe.
Photo by Kirsten Morningstar