P90X Results: Michael Lost 26 Pounds with P90X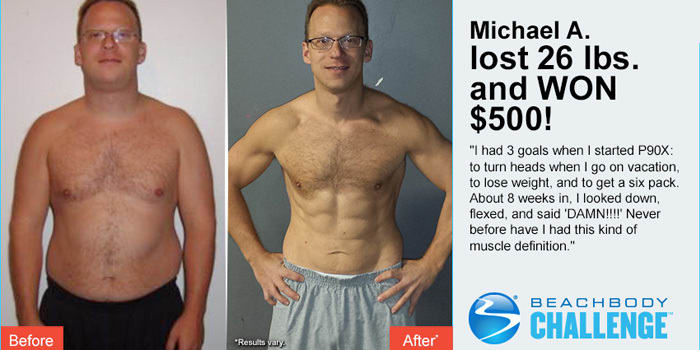 †Results vary depending on starting point and effort. Michael is an Independent Team Beachbody Coach.
Michael Altman lost 26 pounds with P90X. He participated in The Beachbody Challenge and won the $500 Daily Prize for August 20th!
Tell us about your life before you started the program. How did you feel about yourself and your body?
Growing up, I was always the fat kid. My parents sent me to a weight loss camp when I was 8 years old. I have been struggling with my weight my whole life. I had recently gotten divorced, and was in a new city where I did not really know anyone. Emotionally, I was wrung out. Not realizing it, I turned to food. I felt disgusted about my body, and was embarrassed to take my shirt off. Looking at pictures of myself, I saw a double chin and a big belly. I was ashamed. I got tired very easily. A friend was going running, and invited me to come along. I couldn't keep up, and actually felt like I was going to pass out a few times.
What inspired you to change your life and begin your transformation journey?
Last summer, I looked at a picture that someone had online of me by the pool with my shirt off. I had a double chin, and my stomach stuck out. I was horrified and disgusted. I realized that I was unhappy, and that the pictures actually showed what I was feeling on the inside. I was lonely, depressed, and had low self confidence. I knew that I had to make a change. I was unhappy, and instead of finding happiness in others, I realized that it had to come from within. When I got divorced, I tried finding happiness in a new relationship, but at this point I knew I had to work on me.
What is the greatest challenge you faced before beginning the program? How did the program and Beachbody® help you overcome that challenge?
I  lost weight numerous times in the past, but always gained it back. Heck, what person doing a diet program hasn't? P90X taught me how to eat clean. Also, I learned to stop questioning. The third phase of the diet program had me eating whole grain pasta! I was actually losing weight! I used to be a slave to the scale. I finally put it away and trusted in the program.
What in particular did you like about the program you chose?
It was the perfect combination of weight training and cardio. Not only that, but it was also motivational. I looked forward to doing the videos. I took quotes from the videos and applied them to my life. "Do your best and forget the rest." After block 2, I could actually start to see a difference, and others could see it too.
Describe the results you achieved with your Beachbody program. Which achievements are you proud of?
Well, a picture speaks a thousand words. I had three goals when going on the program: turn heads when going on vacation, lose weight, and get a six pack. The six pack, I thought, "Yeah right…like that will ever happen!" About 8 weeks in, I looked down, flexed, and said, "Damn!" I have never had this muscle definition. Whenever I pass by a mirror, I start flexing. Sometimes, I actually can't believe that it is me in the mirror. I am in the best shape now at 38 than I have been my entire life.
How has your life changed since completing your Beachbody program?
I am more confident, happier, and outgoing. I don't put up with any drama from women. I know that I deserve to be happy. True happiness comes from within, and P90X helped me achieve that. However, I wasn't done with my journey. When P90X3 came out, I knew I had to do it as well. That success story will be coming shortly.
You can change your life, too. Take the Beachbody Challenge, for the ultimate motivation to get fit! Select any Beachbody program and once you complete it, share your results for your chance to win cash and prizes.