Transformation Tuesday: Laura Lost 8.8 Pounds with Body Beast!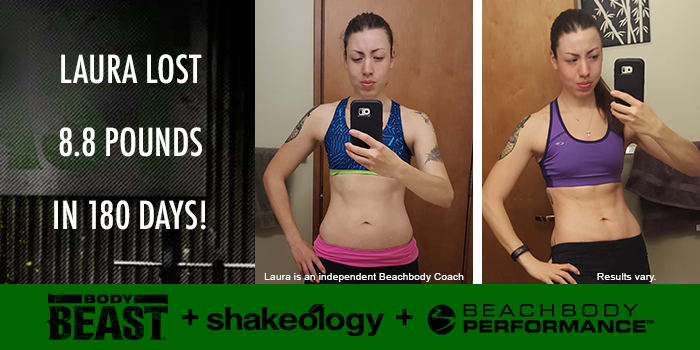 Laura fell out of shape after making a big move with the military. She decided to try a workout that was a little out of her comfort zone to get fit and add muscle. She completed two rounds of Body Beast, and lost 8.8 pounds and 11.75 inches! She tells her story in her own words right here:
I used to weigh 220 pounds before I decided to commission into the U.S. Air Force. Back then, I relied on fat burners to get me to where I needed to be. Fast forward to 2015, I wanted to change my perception that my weight determines how I look.
When I started Body Beast, I had just completed a military move to South Korea with my daughter and cat. I was under a lot of stress, and I lost the results I had from a previous transformation. I was still motivated to exercise and figured it was time for something new to recharge.
I also wanted to focus on my overall fitness. Body Beast was something outside of my comfort zone, and I did not want to regret not at least trying it. My primary goal was to change my mindset of thinking skinny is fit. I have seen so many women with muscles who were absolutely fit, and I wanted to see "fit" in a whole new light, with added muscle.
I feel great! I can see the difference in my physique, specifically in my arms, lats, and legs. Oh, my quads! They are finally shining through a little. I am continuously testing my limits because I know I can do more. I am listening to my body as I continue to progress in my journey and I cannot wait to get my Body Beast back on.
What I have learned from Sagi and Body Beast has been so life changing. I lived most of my life overweight, and I finally realized that the "ideal" body weight I had imagined was not what I truly wanted. Sure, I could be 135 pounds and skinny, but now I don't care if I weigh a healthy 160 pounds, as long as it's all muscle. I appreciate the change in mindset that Sagi's Body Beast gave me. I am finally at peace with my weight and where I stand.
---
You can change your life, too. Take the Beachbody Challenge for the tools you need to Decide, Commit, and Succeed! Complete any Beachbody program, and enter your results for a free gift and a chance to win cash and prizes.