Transformation Tuesday: Jonie Lost 63 Pounds With PiYo!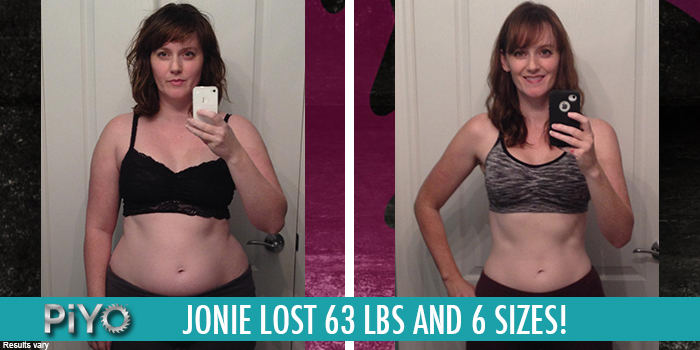 Jonie suffers from chronic pain, which made working out difficult for her. She was having a hard time finding a program that would let her work out pain-free until she found PiYo. She lost an amazing 63 pounds and a total of 6 sizes in 8 months! Hear her story in her own words below:
I suffer from chronic pain, and being overweight was not aiding in my ability to manage my pain. My chronic pain causes depression, but when you add in a lack of self-confidence because of your weight, how you look, and the size of clothing you are putting on, that depression can hit hard. I remember going to the store just to buy a pair of size 18 jeans, and I cried in the dressing room. I knew then I wasn't going to let myself go any further.
PiYo was recommended to me by my Coach, who always raved about it. I needed something that was low impact, but that I could still lose weight and build strength from. The low impact in the program appealed to me, and there was no jumping. Although some moves were hard and took me a long time to finally do, I could get through a workout without extreme pain.
I had moments I wanted to quit, but my Coach kept on me to keep going, even if it was only 10 minutes. So I did. Every day I drank my Shakeology and did PiYo, and slowly the weight fell off. The weight loss was the biggest thing at first, but then I noticed my strength was building. 
Now, I love myself. I feel like that sexy mom I always wanted to be. I have confidence. All of my hard work gave me this body and makes me very proud, which in turn creates more confidence. I still struggle due to my chronic pain, but PiYo has allowed me to actually exercise and build strength whereas there was no other workout I was able to do before due to my limitations. I haven't been this size since high school, and I feel better than I ever did then. 
---
You can change your life, too. Take the Beachbody Challenge for the tools you need to Decide, Commit, and Succeed! Complete any Beachbody program, and enter your results for a free gift and a chance to win cash and prizes.