Transformation Tuesday: Chanelle Lost 18.6 Pounds with FOCUS T25!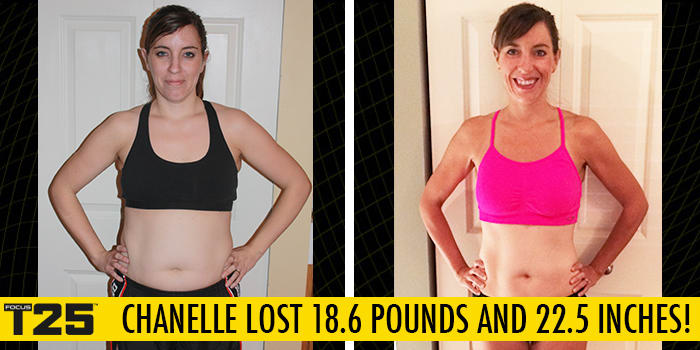 Chanelle M. was tired, unhealthy, and she wanted to make a change. She couldn't afford the time or money it took to join a gym, so she bought FOCUS T25 and got to work. In two rounds, she lost 18.6 lbs and 22.5 inches! Read her story in her own words right here:
In January of 2014, as my birthday approached, I started to reflect on the past year and the year ahead. I purposely didn't make a New Year's Resolution that year because it was always the same thing and I rarely reached it- to get myself back into shape. My neighbor had mentioned FOCUS T25 to me a couple of times, but I knew myself and workout DVDs: I would start them and never keep up with them. As I was driving home from work one day in tears because I was so frustrated that I was tired and exhausted all of them time and I just wasn't happy with myself, I knew I had to change something and that I was the only person that could make that change. 
I wanted to be a happy mom and one that had energy for my boys. I was so self-conscious that I was still hanging onto pre-pregnancy weight and my youngest son was almost 16 months old. I would go to get ready for work, a date with my husband or a girls night and end up crying in the closet because my clothes wouldn't fit right, and it made me not want to go anywhere.  No matter how hard I worked with making healthier choices, the weight just wouldn't leave. I decided I had enough. I told my husband the week of my birthday that I was going to order FOCUS T25 and I didn't care if it had to be a birthday present. Our ten year anniversary was in August and I really wanted to fit back into the dress I wore for our rehearsal dinner and we were also going to the beach with my family in June, so I had two things to set in front of me as goals. Honestly though, I just wanted my body back and to feel better about who I was.
I wanted to show my boys how to live a healthy life, but I didn't have the money for a gym membership and I knew I didn't have the time to leave my family and go to the gym to workout. With two little ones, both my husband and I working, time was a big excuse for me. FOCUS T25 eliminated those excuses! I could always make time for 25 minutes. We didn't just have the extra money laying around to buy FOCUS T25 so I actually purchased it on our credit card. I hadn't ever stuck with a DVD workout and spending that money I think pushed me to really dedicate myself because I knew my husband thought it was just one more thing I was trying and I wanted to prove that the money I spent was worth it!
About a week after I purchased the program my friend posted on Facebook that she was going to be leading a FOCUS T25 accountability group. She had just finished month 1 of the program and shared her results and I was inspired! Her before and after pictures looked amazing and she was my friend, I knew her! So having that personal connection to her made me really want to stick with FOCUS T25. I asked to join her group and worked out with other moms all over to keep me motivated through the private Facebook group that she set up. That challenge group was exactly what I needed! My friend, now coach, was motivating and encouraging throughout the entire challenge and I felt like I connected with the other women in the group, as well. It was nice to be able to workout at home but still have a connection with other women. I also realized accountability with my nutrition and my workouts was the missing piece in my life.
When it was time for me to do my weigh in the first week, I was shocked! I not only had lost 2 pounds, but I had lost 2 inches off of my waist. I was sore and I was frustrated because the workout was harder for me, but seeing results within the first week was so encouraging! I was working on eating clean as well, and it was easier to do with that accountability. Throughout my first month I started to also notice that I was getting stronger, I was able to do more moves and I had more energy to play with my boys. I noticed it was easier to get the large double stroller in and out of the back of my trunk of the car, these little things all started to show me that FOCUS T25 was doing so much for me. 
Throughout the weeks, I started to notice my moods were better, I had more energy and didn't just want to come home and sit on the couch; I wanted to be up and active with my boys. By the end of the program, I was amazed because I had never had completed anything like FOCUS T25 or had results like what I was experiencing. I had gone to gyms before and taken exercise classes, but I had never had results like I was having. To see the numbers on the scale continue to drop and my clothes getting too big felt amazing! 
One of the greatest results from FOCUS T25, though, was that I gained my confidence back. That right there is what I want for my kids. I want to be a confident mom, and I am now! My boys are 4 ½ and 2 ½ and now they enjoy working out with me when they can, and talk about healthier food choices on their own. I want to be an example for them now so that as they grow up they know how to take care of their bodies. I didn't grow up eating clean foods and that is something that FOCUS T25 helped me with as well. Our family eats clean now, we follow the 80/20 rule as much as we can. Today I am smiling more, I am a better mom and I enjoy shopping and going out with friends and family again.
After having such amazing results, I decided to sign up to be a coach. I wanted the ongoing accountability with my health and fitness but I also really wanted to pay it forward and help other women just like me that were moms who believed their bodies were just going to look a certain way after having kids. To this day I know I will never go back to where I was. I feel absolutely amazing, I am in the best shape of my life after having kids and I want others to have the same results! FOCUS T25 really taught me that we are made to thrive and not just survive. When you take ownership for where you are, have accountability and are responsible for doing your part and are consistent, you can achieve anything and will have great results!
I tried on that dress I wanted to wear to celebrate our 10th wedding anniversary and it was way too big! I not only reached my goals with FOCUS T25, I exceeded them, which shows me I really am in the best shape of my life! I am holding onto that dress as a reminder of how far I have come.
---
You can change your life, too. Take the Beachbody Challenge for the tools you need to Decide, Commit, and Succeed! Complete any Beachbody program, and enter your results for a free gift and a chance to win cash and prizes.