This Working Mother of Two Lost 40 Pounds in Less Than 25 Minutes a Day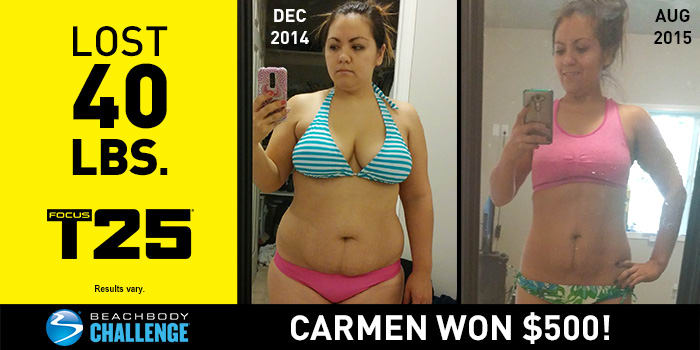 Carmen Broga lost 40 lbs. with FOCUS T25 and Shakeology. She entered her results into the Beachbody Challenge, and won the $500 Daily Prize for December 19th!
Carmen is an Independent Beachbody Coach.

Tell us about your life before you started the program. How did you feel about yourself and your body?
I tried all kinds of weight-loss programs, diets, and pills. I got some results, but always gained the weight back right away. My eating habits were way off track, because I was a busy full-time working mom. I needed quick and on-the-go results with my nutrition and weight. I would feel sluggish and cranky, with no energy for anything or anyone. I was always in pain from my back or hip and had headaches. On top of it all, I suffered from depression and PTSD, so eating junk was my go-to feel-better remedy.
What inspired you to change your life and begin your transformation journey?
When I was diagnosed with depression and PTSD, I was given two opportunities: either medicate or find ways to overcome my condition. I first tried the easy way — medication. I didn't like how that made me feel. So I took the next approach, which was to walk, run, and release stress and frustration that way. I started doing 5K runs, then I added FOCUS T25 and PiYo, and then entered a triathlon group. Now I feel amazing.+
What is the greatest challenge you faced before beginning the program? How did the program and Beachbody help you overcome that challenge?
The biggest challenge was myself. I quit so many times before, and all were from excuses I brought upon myself. I had to convince myself I could do this over and over, and I did!
What in particular did you like about the program you chose?
I liked that with FOCUS T25, it was only 25 minutes. As a working mom with two kids, a home, and two dogs, I barely had time for myself. With FOCUS T25, I was able to work out and not feel like I was taking time away from my family.
Describe the results you achieved with your Beachbody program. Which achievements are you proud of?
I started this out to feel better emotionally. I was also physically hurting with back pain, headaches, and hip pain from previous accidents. Since doing my Beachbody workouts, I have no back or hip pain and my headaches are under control. I am happier, more energized, and feel alive! Losing weight just followed.
How has your life changed since completing your Beachbody program?
I feel great, and because of that, my family benefits. I have energy to run with my kids. We can do 5Ks together now. They are also seeing how healthy I've been eating, and are now following in my footsteps. I also now have friends wanting the same thing from life, and I'm helping them achieve what I have achieved.
How did your Team Beachbody Coach support you on your journey?
She encouraged me and motivated me. We ran together and are now in the same triathlon group.
How did a Beachbody supplement, nutritional product, or program (such as Shakeology or Beachbody Ultimate Reset) support your transformation? What are the greatest benefits you gained? Did you see benefits to your energy, sleep, mood/mental clarity, or digestion/regularity?
It was great to have a quick meal. I never ate breakfast, and since drinking Shakeology for breakfast, my energy level went up quickly.
You can change your life, too. Take the Beachbody Challenge for the tools you need to Decide, Commit, and Succeed! Complete any Beachbody program, and enter your results for a free gift and a chance to win cash and prizes.

*Results vary depending on starting point, goals, and effort.
+These statements have not been evaluated by the Food and Drug Administration. Beachbody products are not intended to diagnose, treat, cure, or prevent any disease.