The Master's Hammer and Chisel Results: Jeremiah Lost 23 Pounds!
Jeremiah Puget lost 23 lbs. with The Master's Hammer and Chisel, Shakeology, and the Beachbody Performance supplements. He entered his results into the Beachbody Challenge, and won the $500 Daily Prize for October 28th!
Tell us about your life before you started the program. How did you feel about yourself and your body?
I have always been active and have done INSANITY and P90X. Life has been good, and I approached the previous holiday season without a care. As I have aged, I started to gain a few pounds every year. So when I tipped the scale at the heaviest weight of my life at 254 pounds, a number that can also be described as one-eighth of a ton, I decided I needed a change. I was finding it hard to stay active and noticed that all my clothes were tight and not in the right way.
What inspired you to change your life and begin your transformation journey?
I was ready for a change. A co-worker lost 10 pounds, and I remembered that it had been years since I had dropped weight. I wanted to wake up feeling better, and I wanted to surf better. There's nothing worse than struggling in your favorite sport or activity, so I decided to commit and knew I would succeed. I saw a post that said, "You can't outrun a bad diet." I had seen 21 Day Fix and the portion-control system seemed interesting. Trying out a new system was motivating for me. I have had previous success with P90X and INSANITY. Tony and Shaun T are awesome trainers, and their programs got me back into and kept me in shape before. However, when regular workouts no longer kept the pounds away, I knew that it was time for a change.
What is the greatest challenge you faced before beginning the program? How did the program and Beachbody help you overcome that challenge?
No portion control, a bad diet, and late-night snacking had made me grow in all the wrong ways. I was completely undisciplined and struggled to dial in a healthy diet. Working out a lot was no problem, but as I neared 40, my metabolism had definitely slowed way down. The program was perfect, all the foods you can eat, just in the right portions. Honestly, it helped me focus on better choices and smart meal preparation. Always have something simple and clean to eat when you're tired or on-the-go. One of the best things I did this time was track portions. I wasn't perfect through Round One, but I saw the best progress in several years. I really can't compliment Autumn's system enough.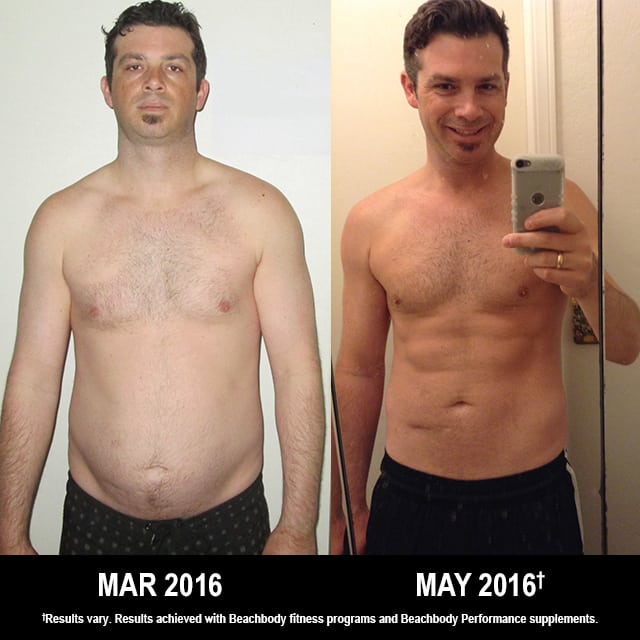 What in particular did you like about the program you chose?
The Master's Hammer and Chisel has great routines, but it is really Autumn's portion-control system that made the motivation and dramatic change to my approach to fitness, and the results showed. The workouts are fun and challenging, and the eight weeks flew by. I was so stoked on the program that I jumped right into Round Two.
Describe the results you achieved with your Beachbody program. Which achievements are you proud of?
This time I was most impressed with how my eating habits changed. I look at food differently and eat a lot more combinations of vegetables with fewer carbs. My energy levels feel better since I feel much lighter. By keeping track of my meals, I would often look at them in the evening to make the right dinner choices and to stay away from unnecessary calories.
How has your life changed since completing your Beachbody program?
I'm much more inclined to push harder on my nutrition than my weights. I learned about the portions my body needs to be fueled well enough to work out every day yet shed pounds on a steady pace over time. I'm surfing better, my clothes are loose, and every morning I wake up eager to knock out a workout and then complete six sets of healthy eating. I still indulge, but I actually have far fewer cravings than I did before I started. Now, with four Beachbody programs to choose from and the portion-control system, I'm going to see how far I can take my results. I've never been more motivated to do better than my last round of a program.
You can change your life, too. Take the Beachbody Challenge for the tools you need to Decide, Commit, and Succeed! Complete any Beachbody program, and enter your results for a free gift and a chance to win cash and prizes. What program are you committing to next?

†Results vary depending on starting point and effort.