The Best Shoe for Every Type of Workout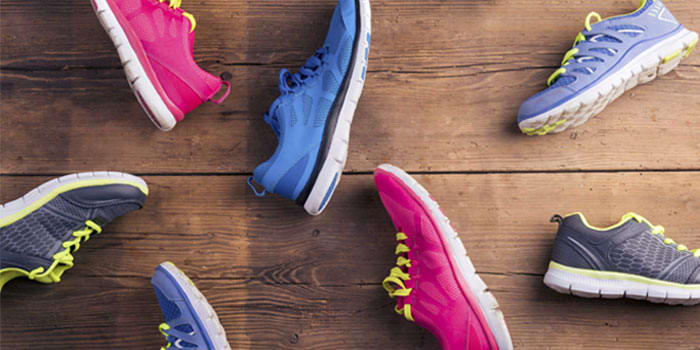 When you're scrounging through your closet before a workout, odds are you have a few shorts and tops to choose from, but probably only one pair of workout shoes. At most, you might alternate between sneakers for everyday wear and running shoes for your 5K training.
But there's a whole world of specialized workout shoes out there that are designed to help maximize performance and avoid injury in specific kinds of workouts. What makes the best workout shoe depends entirely on what workout you're doing.
It wasn't until I got the chance to review a few pairs of shoes made specifically for weight training that I realized what I had been missing — a wide, flat sole, a stable, secure heel, and a tight, snug fit across the top of my foot.
It only took a few squat reps to understand why sport-specific shoes are so important. My heels felt secure when I dropped down, and the wide, stable sole supported me as I pushed up, helping me feel stronger and more powerful than before.
Here's a list of the some of the most common activities for which you should use certain shoes, and a rundown of why they're right for that sport. And remember: Experts agree that after about 300 hours of use (or around 400 miles of running) the foam cushioning in most shoes will start to break down, so toss them and treat yourself to a new pair.
The Best Workout Shoe for Every Exercise
Cross-training
The popularity of multi-modal workout programs like CrossFit and 21 Day Fix has spawned workout shoes that can handle everything from agility drills to powerlifting. "Cross trainers" (as such shoes are often called) distinguish themselves from traditional running shoes with tougher uppers, wider toe boxes, minimal heel-to-to drop, and more flexible soles, all of which are designed to enhance stability and better support multi-directional movement.
Inov-8 F-LITE 235 V2, $130
Men's | Women's
Nike Metcon DSK Flyknit, $160
Men's | Women's
Reebok CrossFit Nano 7, $129.99
Men's | Women's
Weightlifting
There are two primary differences between weightlifting shoes and cross trainers. First, weightlifting shoes have a slight heel rise, which allows strength athletes to drop deeper into the squat thanks to increased ankle mobility. Second, the sole is a lot stiffer to maximize stability in big lifts. Most also feature a Velcro strap across the upper to create a tighter fit (and less lateral foot movement — again, for stability). If your workouts don't include the snatch or the clean and jerk, and if your focus isn't on improving your one rep max in the squat or deadlift, you'll likely be better off with cross trainers. But if big lifts are your ham, check out the shoes below.
Adidas Powerlift.3, $90
Men's | Women's
Inov-8 FastLift 325, $160
Men's | Women's
Reebok Legacy Lifter, $200
Men's | Women's
Court sports
These shoes are ideal for sports like basketball, volleyball, tennis, racquetball, squash, etc. (You know, any sport played on a court.)Stability, flexibility, and traction are key for these shoes. They should have responsive cushioning, which is a firmer support that allows you to have a stronger push off the ground without losing energy. Depending on the surface of the court, these shoes should also have a sole with a specialized designed pattern to meet the traction demands of the sport.
Tennis:
NikeCourt Zoom Vapor 9.5 Tour, $140
Men's | Women's
Adidas Adizero Ubersonic 2.0, $120
Men's | Women's
Basketball:
Nike Lebron Witness, $100
Men's
Nike Zoom Lebron Soldier 10 iD, $180
Women's
Under Armour Torch Fade, $99.99
Men's | Women's
Running
Generally, running shoes have a raised heel from greater cushioning and decent stability. Since runners' feet pronate (how they roll to distribute impact force) in different ways, there are specific kinds of running shoes to accommodate the differences.
There are under-pronators, who land on the outside the foot; over-pronators, who land on the inside of the foot; and neutral pronators, who land more or less evenly on the foot. Under-pronators tend to benefit from a neutral or more cushioned shoe. This kind of shoe is slightly curved from front to back which promotes a neutral pronation. For the over-pronator, a motion-control shoe with an extra stabilizer (a firm, supportive strip) on the inner edge of the sole should help move your gait back to neutral. For normal, or neutral pronators, you can wear a wide assortment of shoes, but the best choice is a stability shoe that offers a little bit of of pronation control to keep your stride in line. To find out what kind of runner you are, look at the soles of an old pair of shoes to see where they are most worn down, or go to a local running shoe store, where your gait and foot strike can be analyzed and matched with the ideal shoe.
There are also minimalist running shoes that feature near zero offset (heel to toe drop) and minimal padding and support to better mimic the natural biomechanics of running unshod. Studies have shown that it may lead to less impact and fewer injuries for runners who strike on their forefoot or midfoot. But another study found that minimalist running shoes actually lead to an increase of injuries, especially for heal strikers. So it depends on your running style whether or not this kind of shoe is for you.
Asics DynaFlyte, $140
Men's | Women's
Brooks Launch 4, $110
Men's | Women's
Hoka One One Bondi 5, $150
Men's | Women's
Walking
Walking shoes are similar to running shoes as they feature lots of cushion and decent stability. It's best to have a separate pair of walking shoes and keep your running shoes strictly for jogging since different body mechanics go into each activity — walking more evenly distributes your weight across your foot, while running produces more of an impact on specific spots of the shoe, depending on your running style. Walking shoes have a more flexible forefoot section to allow for greater range of motion as you roll your foot from front to back, and tend to have a stiffer arch support. If you have pain in your feet, consider walking shoes that have a slightly rounded sole, also called a rocker sole. This type of sole better distributes your weight through a rolling movement, which can help relieve pressure across the foot.
Hoka One One Hupana, $115
Men's | Women's
Kuru Quantum, $125
Men's | Women's
New Balance 1865, $129.99
Men's | Women's
Hiking
When setting out on the trails, you need a stiff shoe (or boot) with an aggressive tread to tackle gnarled roots, rocky patches, and muddy spots. If you're crossing wet terrain you should select a shoe with a breathable, waterproof inner lining to prevent soaked feet while allowing moisture (read: sweat) to vent. Hiking shoes also have extra cushioning in the sole to minimize the repetitive impact of pounding on uneven ground. You also want to be sure you have a shoe that has a sturdy construction with abrasion resistant materials so a rouge, spiky branch doesn't tear it to pieces.
Garmont 9.81 Speed III, $140
Men's | Women's
Salewa Lite Train, $129
Men's| Women's
Vasque Breeze III GTX, $179.99
Men's | Women's
Boxing
Although you don't need specific boxing shoes for most MMA-inspired workouts like CORE DE FORCE, boxing shoes are help if you step into a ring. Boxing shoes feature a snug fit with tall uppers that extend to mid shin to give you the stability and support you need while bobbing and weaving around the ring. They also have a thin, flat, grippy sole to keep your feet light and allow for better traction when quickly pivoting and twisting to dodge those right hooks.
Rival RSX-ONE V.2, $89.99
Unisex
Title Predator Boxing Shoes, $99.99
Unisex
Cycling
Used exclusively for locking into pedals on a road, mountain, or stationary bike, these shoes — called clipless shoes — have a light upper with a solid plastic sole with holes in the bottom used to attach to a cleat. The cleat snaps in to the pedal of the bike to give you better efficiency and balance when cycling. There are two main types of cleat systems: the two-hole system, which can be found on both road and mountain bikes, and the three-hole system, which is most commonly found on road bikes only. Before you buy a pair of cycling shoes, check to see which version your bike or the bikes at your gym require.
Road:
Shimano RP3, $120
Men's | Women's