Sweet Potato Ricotta Gnudi in Pumpkin Sauce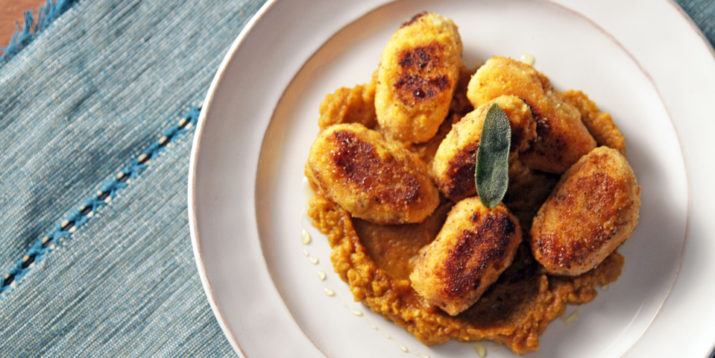 I'm addicted to Italian food: As soon as my favorite Italian joint adds an unfamiliar dish or new recipes for gnudi pop up on Pinterest, I head straight for the kitchen.
Case in point: this recipe for Sweet Potato Ricotta Gnudi in Pumpkin Sauce from Ultimate Portion Fix creator Autumn Calabrese and her brother, chef Bobby Calabrese.
Fun fact: "Gnudi" is Italian for "naked."
This recipe reflects the depth and complexity of Italian cuisine, as well as the modern adaptations we make in order to eat healthier.
As Bobby mentions in this episode of FIXATE, it is a bit of an advanced recipe, but it's not that it's at all difficult to make. This is a recipe that takes finesse.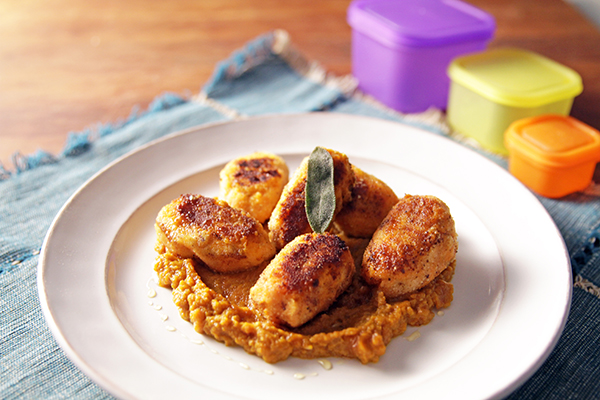 If you've ever wondered how to make those beautiful crisp sage leaves, this episode has the technique covered. Luckily, Autumn and Bobby go over the entire recipe step by step, taking the time to not only explain what to do but detailing the importance of mastering the timing of each.
Bobby worked hard to make the classic recipe Fix-friendly, which is great for people following the Ultimate Portion Fix nutrition plan.
This pasta-free recipe essentially makes a sweet potato ravioli filling into a dumpling of sorts, and nestles them in a perfectly spiced pumpkin sauce.
For our gnudi, Bobby uses part-skim ricotta and one hearty egg yolk to bind the rich creamy dough together.
And before they go into the pan, he rolls them in a light coating of coconut flour to ensure they get nice and crispy.
With all natural pumpkin puree, cinnamon, nutmeg, and cloves, the flavor of the pumpkin sauce has all the essential flavors of fall, but you'll want to eat this dish year-round!
To get the recipe and find out the Container Equivalents and nutritional information, watch the FIXATE episode on Beachbody On Demand!