Sweet Potato Chicken Wraps
If you've ever grabbed chicken wraps at an airport or a coffee shop, you'll know the sinking disappointment that is a soggy chicken wrap.
Wraps just don't keep well, no matter what you put inside, so historically, they don't make good meal prep foods.
21 Day Fix creator Autumn Calabrese and her brother, chef Bobby Calabrese set out to solve this chicken wraps conundrum in delicious fashion.
Their Sweet Potato Chicken Wraps address that old soggy wrap with a bit of healthy ingenuity.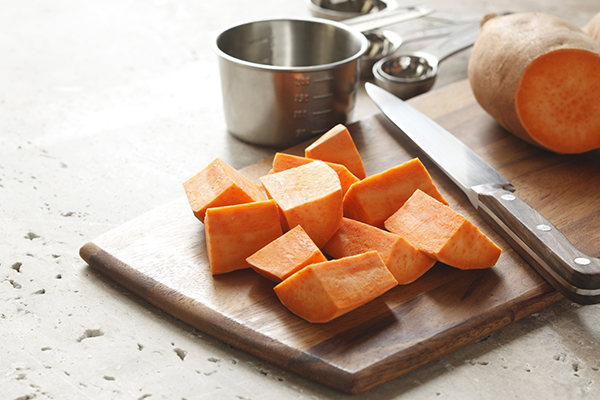 In this episode of FIXATE, Autumn and Bobby use hearty collard greens to take the place of that absorbent tortilla or lavash wrap.
This better-for-you wrap eliminates empty carbs from your lunch, leaving more room for nutritious ingredients like a savory sweet potato mash, fresh bell pepper, and succulent chicken breast.
A touch of melted ghee adds a nutty flavor and buttery texture to the wrap, while a basil-honey mustard dressing adds that tangy finish.
(Okay, we know what you're thinking, collards have a crazy thick stem. Bobby has a clever trick for reducing the center stem, allowing for easy wrapping.)
Not only is this is an excellent 80 Day Obsession recipe, but it's also designed to be an ideal meal prep recipe.
To get the recipe and find out the Container Equivalents and nutritional information, watch the FIXATE episode on BODi!