Snack Combos that Will Rock Your Meal Prep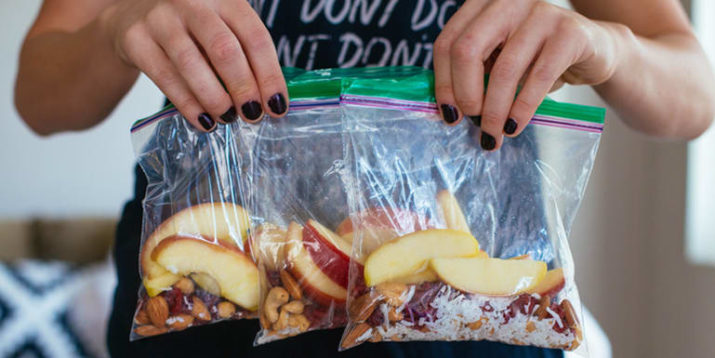 Raise your hand if you've ever been guilty of eating the same thing day after day after day. We know, we've done it too. It's just so darn easy to fall back onto the trusty snack of carrots and hummus! While there's nothing wrong with eating the same snack so often that people start calling you "that-cheese-and-crackers girl," it can be a load of fun to shake things up from your usual routine. Not only does a new take on your afternoon treat break up the monotony of the day, but it can also be a great way to find new and interesting food combinations. Everyone knows that apples and peanut butter go together like… well, apples and peanut butter. But what about apples and coconut?
This week, challenge yourself to branch out of your comfort zone and into a snack-lovers' paradise by trying these creative snack combos. Trust us, you won't be disappointed.
Edamame, cherry tomatoes, and parmesan cheese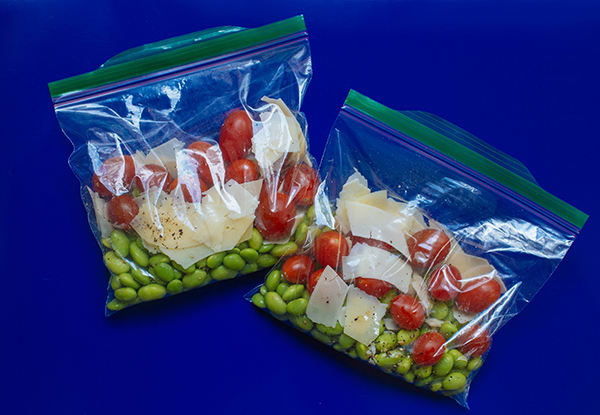 The sharp, nutty flavor of parmesan. The smooth, velvety texture of edamame. And a burst of juicy tomatoes. This snack combination is as much poetic as it is delicious! These three unassuming ingredients come together to make a snack that would make most side dishes jealous. Pack this delectable bite to eat in a plastic bag or a container, and keep it in the fridge until you're ready to devour it.
Spinach, blueberries, strawberries, pineapple, and Vanilla Shakeology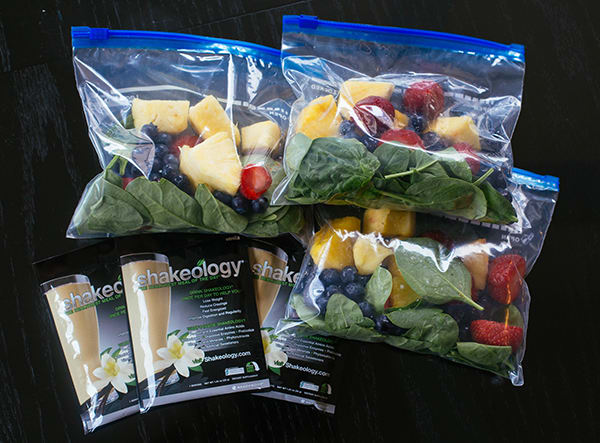 We love Shakeology just as much as anyone, but sometimes plain old vanilla just isn't going to cut it. When you need to wake up your afternoon with something that's a bit more on the wild side, take a cue from this tropical smoothie bag. With flavorful fruit and vitamin-packed spinach, not only will this combo transform your normal Shakeology routine, but it will also make it even more nutritious. Want to get extra crazy? Experiment with different kinds of fruit, like mango, papaya, or kiwi. And to get next-level meal prep expert points, pack the ingredients in a plastic bag. Then, all you have to do is dump it into the blender with a scoop of Shakeology, liquid, and ice, and blend.
Apples, almonds, cashews, cranberries, and shredded coconut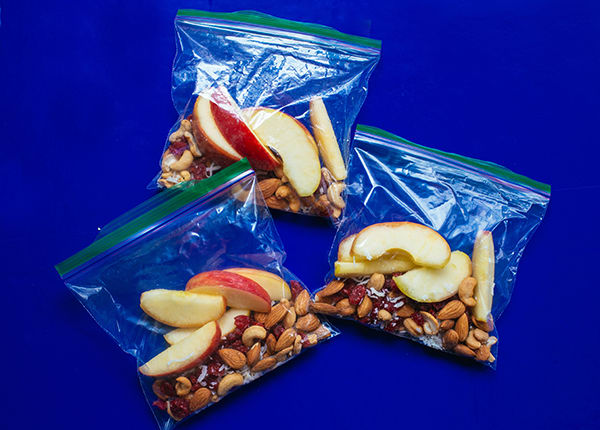 Take the classic apples and peanut butter combo to the next level. By mixing apple slices with almonds and cashews, you still get that nutty flavor with an extra crunchy texture. Tart cranberries are a delightful contrast to the sweet apples, and the shredded coconut? That's the real game-changer. It adds a lighter nut flavor to the mixture, making this a unique munchie that will jazz up your afternoon.
Cucumber, jicama, pineapple, watermelon, mango, lime juice, and chili powder.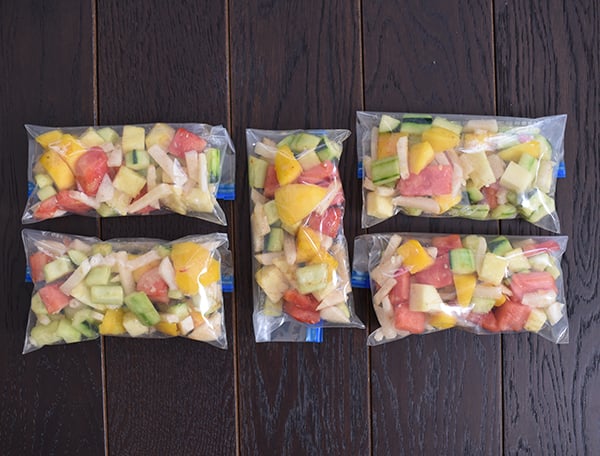 This spicy concoction first appeared in our Mexican Food Meal Prep. But even if you're not eating Mexican dishes all week long, you can still integrate it into your meal prep to give your taste buds a kick of heat. To make five days worth of this snack, combine 2 cups chopped cucumber, 1 cup chopped jicama, 1 cup chopped pineapple, 1 cup chopped watermelon, 1 cup chopped mango, the juice of two limes, and chili powder to taste. You can eat that alone, or serve it with 2 Tbsp. unsweetened shredded coconut and ¾ cup cottage cheese.
What's your favorite snack combo? Let us know in the comments below!
Photos by Amanda Meixner, Dani Paris, and Kirsten Morningstar.